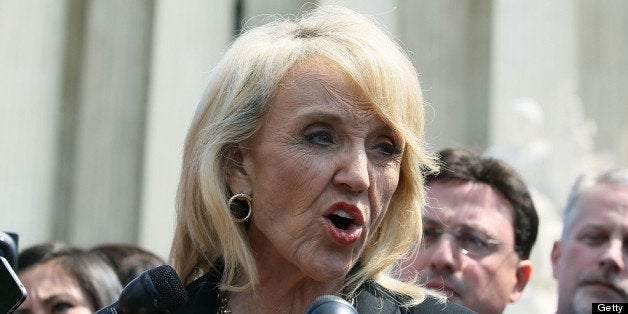 Arizona Gov. Jan Brewer (R) said Sunday she supports a border security amendment to the comprehensive immigration reform bill being considered by Congress, a significant move from a governor who passed one of the harshest anti-unauthorized immigration bills in the nation.
"I think that what we're seeing taking place in the Senate is a victory for Arizona," she said on Fox News. "I'm glad that they finally decided to talk about the 'border surge' that we've called out for since 2010, asking them to take control of our border, operational control."
Brewer's comments come as the Senate prepares to vote on an amendment designed to draw in additional Republicans. The amendment, co-sponsored by Sens. Bob Corker (R-Tenn.) and John Hoeven (R-N.D.), would send additional funding and agents to the U.S.-Mexico border, along with a 700-mile fence, measures Brewer has long demanded.
"What they're getting ready to debate on Monday ... is a step in the right direction and it's about time," Brewer said.
The "gang of eight" -- a group made up of four Democrats and four Republicans -- has only two members who come from the same state: Republican Sens. John McCain and Jeff Flake of Arizona.
The bill also would provide a path to citizenship for undocumented immigrants, which the sponsors have argued is not amnesty because of the long wait time, fines and border and enforcement improvements required before immigrants could gain legal permanent residency.
Brewer said "the first step" should be resources on the border, before legalization can move forward.
Her support for the amendment is particularly notable, because Brewer signed SB 1070, a controversial 2010 law meant to drive undocumented immigrants out of the state. She has said Arizona needed to pass such a bill because the federal government refuses to act to police illegal immigration and secure the border.
UPDATE: 2:55 p.m. -- Brewer wrote on Twitter later Monday that she was endorsing the border security increases in the amendment from Corker and Hoeven, not the entire gang of eight bill.
This post has been updated to reflect Brewer's clarification around her endorsement.
REAL LIFE. REAL NEWS. REAL VOICES.
Help us tell more of the stories that matter from voices that too often remain unheard.
BEFORE YOU GO
PHOTO GALLERY
Now We Want Immigration Reform!