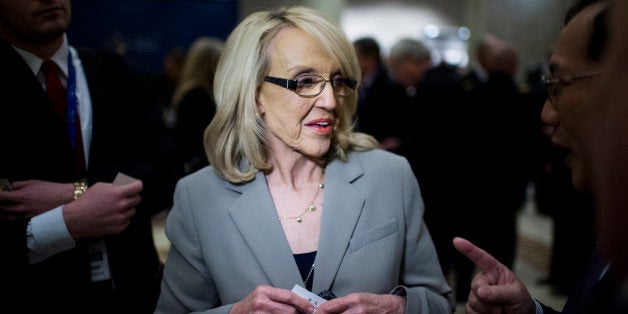 She signed the bill that ushered in a new era of immigration politics. She presided over the banning of a controversial Mexican-American studies curriculum. She refused to let Dreamers drive legally in her state.
And early next year, she'll leave office.
Arizona Gov. Jan Brewer announced Wednesday that she will not seek a third term. The state constitution forbids governors from serving more than than two terms in a row, including partial terms, but Brewer had fed speculation by calling the article's wording ambiguous. With her time in office now coming to an end, Brewer leaves a difficult legacy for Latinos in her state, many of whom opposed the hard-line immigration policies she championed.
For a number of Arizona's Latinos, SB 1070 will define Brewer's years in office. Signed by Brewer in 2010, the law requires Arizona law enforcement to check the immigration status of the people they stop. Many Arizonans, particularly conservatives, applauded SB 1070, seeing it as a way to stem illegal immigration in the face of federal inaction. Immigration activists deplored it, viewing it as an expansion of a deportation machine that ensnares approximately 400,000 undocumented immigrants into deportation proceedings every year. Many Latinos raised concerns about the possibility of racial profiling.
But Brewer battled the Obama administration all the way to the Supreme Court. In the summer of 2012, the Supreme Court declared several of the law's provisions unconstitutional, but left standing the part requiring that police check the immigration status of those they stop if they have reason to suspect the person is undocumented. The ruling left open the possibility of a new round of litigation over racial profiling allegations after implementation.
In her enthusiasm to defend SB 1070, Brewer played up widespread fears of a crime wave spilling over an insecure border, often disregarding the facts. As the state homicide rate plunged from a peak of 10.5 per 100,000 in 1994 to 5.5 per 100,000 in 2012, according to FBI statistics, Brewer told stories of headless bodies appearing in the desert that she later admitted were untrue. In another series of comments in June 2010, Brewer inaccurately said that most undocumented immigrants are "drug mules."
"Her legacy is one of the most horrible legacies of any governor in Arizona," Erika Andiola, an activist and the co-founder of DRM Action Coalition, told The Huffington Post. "I don't know if any governor could be any worse."
The challenge that Arizona Republicans now face, Andiola says, is to convince Latino voters that the hard-line immigration policies and harsh rhetoric that characterized the Brewer years will come to an end along with her administration.
Brewer's office did not return a request for comment.
Not all Arizona Latinos viewed Brewer's position on immigration with hostility. In 2011, Arizona Rep. Steve Montenegro (R-Litchfield Park), a Salvadoran immigrant, explained to New America Media why he supported the law.
"I think it's wrong to attribute illegal immigration to the Latino community, when the fact is that the majority of Latinos in this country and in this state are people that have followed the laws and are here legally," Montenegro said. "This is an issue that every country deals with. For people to automatically say this is a racist issue, I feel that is wrong."
Israel Ortega of the conservative Heritage Foundation echoed the idea, saying that Brewer's messaging at times might have done more to alienate Hispanics than her actual policies.
"There's a way to have a conservative position on immigration without turning people off," Ortega told HuffPost. "I think what Brewer was doing was really a response to the fact that we haven't had a federal fix to the problem of illegal immigration. So you're going to see states do what they need to do."
For Andiola and other activists, however, Brewer's tenure highlights that the problems they face in Arizona stem from federal policies that will remain in place once the governor is gone.
"The reason why Arizona has been so good at scaring people into leaving our state is that Arizona has been very good at using the powers the federal government gives the states," Andiola said. "That is going to continue to happen until someone stops them."
Carlos Garcia of the activist group Puente Arizona expressed a similar sentiment, noting President Barack Obama's record-setting pace of deportations.
"I don't think that today is a day of celebration, but rather a day of reflection, where we can look at the people that created these policies that did all this damage," Garcia told HuffPost when Brewer announced her decision. "I think one thing that happened with Brewer and [Maricopa County Sheriff Joe] Arpaio is that they often get blamed as if they were the ones doing all this on their own."
SB 1070 wasn't the only policy that put Brewer at odds with Arizona Latinos. When the Obama administration announced in 2012 that it would defer deportation and offer work authorization to people brought to the United States illegally as children, Brewer responded by issuing an order forbidding the state from offering them driver's licenses.
In 2010, Brewer signed a law aimed at prohibiting a progressive Mexican-American studies curriculum from being taught in Tucson public schools. Arizona conservatives, led by then-Superintendent of Schools Tom Horne and then-state Sen. John Huppenthal, pushed the measure, saying that the courses bred anti-white resentment among Latino students. Supporters of the classes pointed to independent research showing that the courses boosted Latino student achievement and fostered critical thinking skills.
"Her legacy will be the censorship of a group's history," said Jose Gonzalez, one of the former teachers of the classes now forbidden under Arizona law. "She signed off on a law that banned the history of a group of people in the United States of America -- in our supposedly post-racial society, which makes it even harder to swallow."
Over her five-year tenure as the highest elected official of Arizona, Brewer alienated more people than just activists and educators. Campaigning as one of the country's harshest immigration hard-liners likely didn't help her case with everyday Latino voters either. Even Latino voters who identified as Republicans backed away from Brewer in elections.
"I was actually sitting in a big Hispanic function right before she signed SB 1070," said Edmund Marquez, Chairman of the Southern Arizona Hispanic Republicans, a group that works to bring Latinos into the GOP. "People were pleading with her not to sign it." Marquez, whose group focuses on fiscal rather than social issues, faulted SB 1070 for harming relations with Mexico, a country that pumps billions of dollars into Arizona's economy through trade and tourism.
Sylvia Manzano of Latino Decisions recalled how former California Gov. Pete Wilson, a Republican, drove Hispanics away from his party by championing Proposition 187, a law passed by referendum in 1994 that would have barred undocumented immigrants from attending public school or receiving public health services. A federal court found the law unconstitutional, and it was never implemented.
"Jan Brewer is to SB 1070 as Pete Wilson is to Prop 187," Manzano said. "She will inextricably be linked with that. Her obituary will contain a line about that."
Manzano said the Latino Decisions polling data shows that Brewer had a negative impact on Latinos' perceptions of the Republican Party that will likely endure after she's gone.
"Wilson won the short game -- he won reelection just like Jan Brewer did," Manzano said. "But he lost the state."
Calling all HuffPost superfans!
Sign up for membership to become a founding member and help shape HuffPost's next chapter