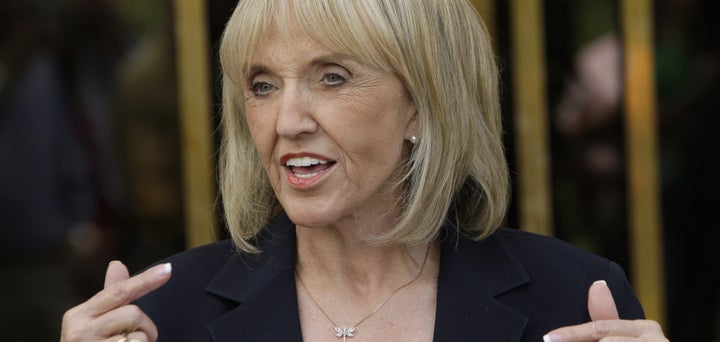 Arizona Governor Jan Brewer is facing intense criticism and scrutiny for declining requests to hold a special session to reinstate medical transplant coverage, which for some patients was covered by the state until recently when the health care program ended.
The Tucson Sentinel reported on Tuesday:
Mesa resident Randy Shepherd, a 36-year-old father of three, has been living with a pacemaker for several years and now is facing what he says is his last treatment option: a heart transplant.

But Shepherd's hopes for a transplant were dashed when the state cut Medicaid funding for certain transplants under the Arizona Health Care Cost Containment System.

"Look at all of us who need these transplants," Shepherd said, joined Tuesday by three others who say they are unable to get live-saving transplants due to the cuts. "It's not an option for us; it's a necessity."
Tiffany Tate, who told the Arizona-based outlet that she was diagnosed with a chronic lung disease when she was a young child more than two decades ago, addressed the stakes she faces if she is unable to receive treatment.
"The state needs to come together so we can have a second chance at life," she explained. "I want to travel, to play basketball again. It would mean everything to me."
Democratic legislators again called for Brewer to hold a special session or use discretionary federal stimulus funds to reinstate cuts for certain transplant coverage through the Arizona Health Care Cost Containment System.

Brewer maintains her position that unless legislators provide a solution to what her office calls a $1 billion gap in funding for the Medicaid agency, she will not call a special session.
"This "Brewercare" has set up real death panels here in Arizona and it is outrageous and disgusting," said [Arizona Democratic state] Rep. Anna Tovar, who had bone marrow transplants in 2001 and 2002 to treat leukemia.
The Medicaid cuts have also reportedly been criticized as "Brewer death panels."
Even physicians with decades of experience telling patients that their lives are nearing an end are having difficulty discussing a potentially fatal condition that has arisen in Arizona: Death by budget cut.
...
Just before the Oct. 1 deadline, Mark Price, a father of six who was fighting leukemia, learned he needed a bone marrow transplant. But his doctor, Jeffrey R. Schriber, found donor matches for his transplant the very day the new rules went into effect, and Mr. Price no longer qualified for coverage by the Arizona Health Care Cost Containment System, the formal name for the state's Medicaid program.

What happened next was at once inspirational and heart-rending.

Out of the blue, an anonymous financial donor quickly stepped forward and agreed to cover the hundreds of thousands of dollars needed for Mr. Price's surgery. But Mr. Price died last weekend, after his cancer returned before the operation could be done. He was buried on Thursday, next to his grandfather.
According to Arizona Fox affiliate KMSB-TV, Arizona ranks below average on a list of the healthiest and least healthy states in the country. The local outlet reported that the Grand Canyon state came in 31st as suggested by the data put out by the the non-profit United Health Foundation.
On Wednesday, the Arizona Republic reported on a small silver lining to the tragic and dire situation:
As a result of news coverage, patients registered in the National Transplant Assistance Fund have seen a surge of donations. As of Saturday, Laveen liver-disease patient Francisco Felix had raised $74,124 and Mesa heart-transplant hopeful Randy Shepherd had raised $52,720, according to the organization. Both need to raise hundreds of thousands of dollars more.
Calling all HuffPost superfans!
Sign up for membership to become a founding member and help shape HuffPost's next chapter