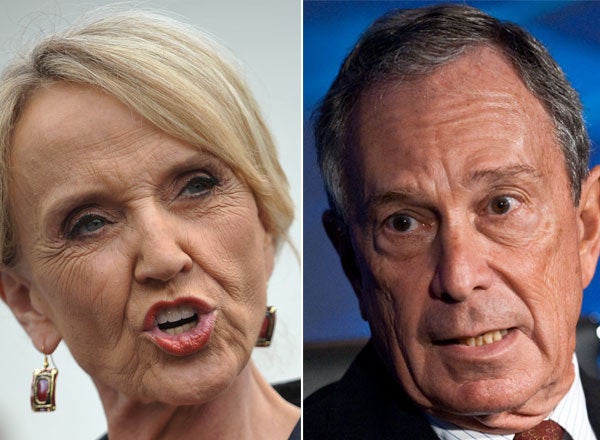 Arizona Gov. Jan Brewer (R) hit back at New York City Mayor Michael Bloomberg this week, suggesting that his undercover sting to expose lax Arizona firearms laws was an indication that he thought he'd already taken care of business at home.
"I find it interesting that he's out here in Arizona solving our problems," Brewer said in an interview on Fox News. "I guess he believes that he has solved all the problems in New York."
The governor went on to explain that Arizona was a "big Second Amendment state," and that she supported the current version of its firearms laws, a line similar to one she took in the immediate aftermath of the video's release earlier this week.
Brewer then seemed to argue that both individual patrons, as well as merchants, should be working in conjunction to ensure that firearms laws were enforced.
"Those people that buy guns from private owners at a gun show have the responsibility, if they knowingly realize it, someone cannot pass a background check or if they suspect that maybe they are mentally incompetent, it is a state felony and a federal felony," she said.
Bloomberg's videos showed undercover investigators purchasing weapons at a Phoenix gun-show without first submitting to background checks, and at times indicating to vendors that they didn't believe they would pass one if asked. In releasing the evidence, the mayor argued that Congress needed to work to find a legislative fix to the gun-show loopholes that permitted the proliferation of weapons such as the one that alleged Tucson shooter Jared Lee Loughner used last month.
According to a Fox News report on the blowback of the investigation, Bloomberg has justified his undertaking by claiming that guns put in the hands of individuals through these gun-shows often ended up in New York City. Some in Arizona, however, instead see it as an encroachment on their state's affairs.
WATCH (comments begin at 4:45 mark):
Popular in the Community