 WILLIAMSBURG, Va. - Arizona Gov. Jan Brewer (R) said Saturday night that the debate over presumptive Republican presidential nominee Mitt Romney's tax returns is a "distraction," adding she believes the nation should focus on other issues instead.
"I think it is a distraction from the Obama campaign to distract from the huge issues, like the economy and jobs," Brewer told The Huffington Post.
Brewer, who is attending the National Governors Association meeting here, said one such issue is states' rights, something she believes President Barack Obama does not understand.
"We need a president that understands states' rights and new federalism," Brewer told HuffPost. "President Obama does not respect that."
Brewer has been pushing a "new federalism" agenda for months, particularly with respect to immigration issues and health care reform.
She described Romney as "honest and upright" and said she believes he has talked about "real issues" during the campaign.
Romney has faced mounting pressure to release multiple years' worth of tax records but has repeatedly declined to do so. While Romney has released only his 2010 tax returns and an estimate for his 2011 filing, Obama has released tax records dating back to 2000.
Other Republican governors attending the meeting agreed with Brewer that Romney's tax returns should not be the focus of the presidential race. Puerto Rico Gov. Luis Fortuno said that he does not believe voters are looking to see the tax returns and want to hear the candidates discuss "jobs and the economy" instead. Utah Gov. Gary Herbert said that he wants a president who "understands the free market," adding that he would not be calling on Romney to release his tax returns.
Herbert, who became governor after Obama appointed Jon Huntsman ambassador to China, said that he believes Romney's business experience is what matters, rather than his tax returns and the date he left Bain Capital.
"We have people in the Obama campaign calling [Romney] a liar and a felon, and that's despicable," Herbert said.
Before You Go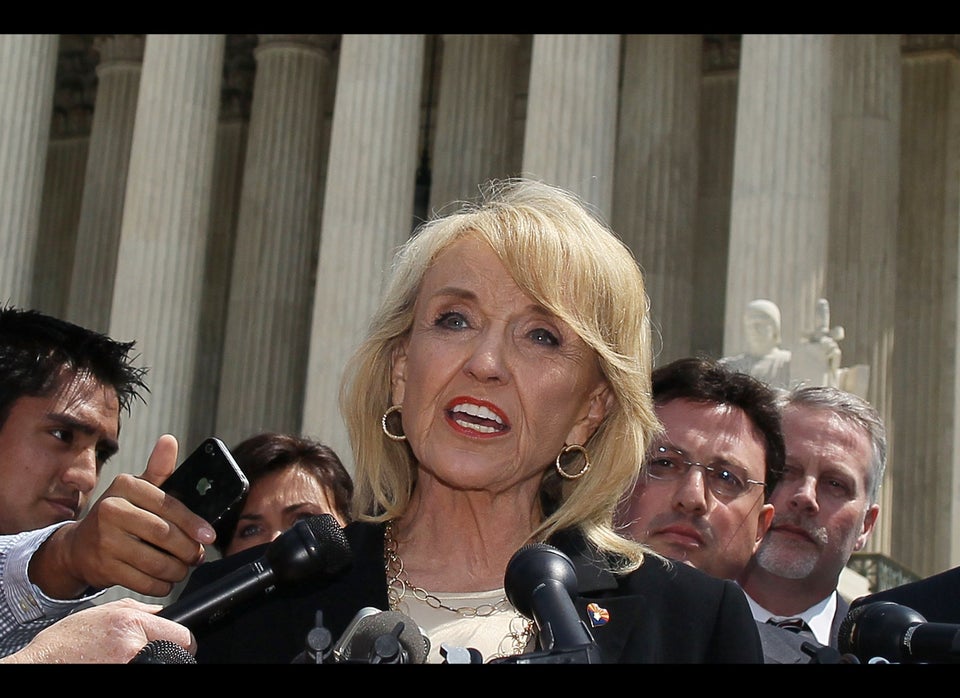 Political Reaction To SB 1070 Ruling
Popular in the Community