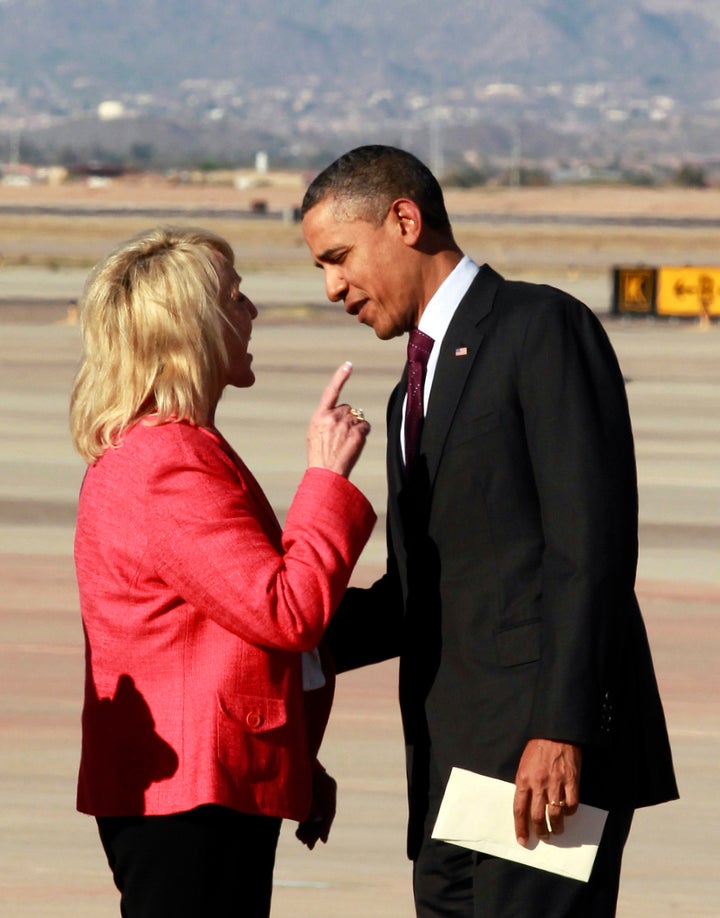 Leonard Clark, a former music teacher, filed paperwork last week with Arizona Secretary of State Ken Bennett (R) to circulate petitions statewide to place a referendum recalling Brewer on the November ballot. Clark primarily cites Brewer's proposed changes to the state's personnel system in his recall, but said the Obama incident helped finalize his decision to file.
"The whole finger wagging incident crystalized it," Clark said. "She is embarrassing our state."
Clark faces long odds in being successful in placing a recall against Brewer on the ballot. He has until June 2 to submit 424,021 valid signatures to Bennett with no organization currently backing his effort. A 2011 recall effort against Brewer, launched by another group, failed after it received roughly 32,000 signatures. Clark has previously led unsuccessful recall drives against a Republican state legislator and U.S. Sen. John McCain (R-Ariz.).
Clark is not deterred by the long odds, saying that he believes he can have an impact whether or not his recall effort succeeds. Clark claims to have between 75 and 80 people committed to attending a rally Saturday in front of Brewer's Phoenix office.
Though issued a week ago, Clark said that the local media has yet to respond to invitation to attend the rally as well.
Clark told HuffPost that Brewer's proposal to change the state's personnel system to move toward at-will employment and Republican proposals pending in the state Senate to do away with collective bargaining for public employees also factored into his decision to initiate a recall of Brewer. Brewer has not indicated her position on the collective bargaining bill, noting that she will not consider the legislation until after the Republican-controlled legislature takes up her personnel proposal.
Last week, state legislative Democrats and union leaders who oppose the collective bargaining ban suggested the possibility of a recall against Brewer, much like an effort against Wisconsin Gov. Scott Walker (R) for leading the campaign for a similar ban in his state. Clark said that has not met with labor leaders or others about his effort, but he would be interested in doing so. He also said he was starting up his effort in order to provide a framework for other groups to join in.
Rebekah Friend, the executive director of the Arizona AFL-CIO, said she is aware of Clark's effort but said no decision has been made in labor circles about joining with him or whether organized labor wants to launch their own recall effort against Brewer.
Brewer's spokesman declined to comment on Clark's effort.
Calling all HuffPost superfans!
Sign up for membership to become a founding member and help shape HuffPost's next chapter
BEFORE YOU GO