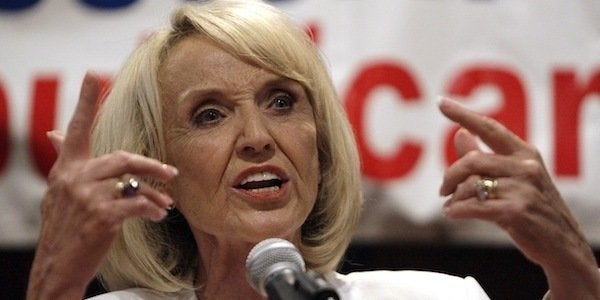 Arizona Gov. Jan Brewer (R) is standing by a comment she made in June, in which she stated that the majority of undocumented immigrants coming to Arizona are "bringing drugs."
In an interview with Univision's Jorge Ramos that aired on Sunday, Brewer refused to apologize or say she was wrong in her earlier comments, although she clarified that many undocumented immigrants may be drug mules without knowing it:
RAMOS: But you understand people were upset that you said that the majority of undocumented immigrants were drug mules when in reality they are not. The majority are not.

BREWER: Well, if you know; if you are coming across with the drug cartels, and you're hauling drugs, then you are. And they're probably not doing it willingly; they are probably not doing it willingly.

RAMOS: Do you still believe the majority are drug mules? The majority of undocumented immigrants are bringing drugs to this country?

BREWER: I think that it has increased. I think that it has increased.
"I actually don't see a lot of new in her statement," said the National Council of LaRaza's Clarissa Martinez. "I think that the ongoing conversation on the issue of immigration really continues to serve as evidence that the main motivator in moving forward with this law is political. If the concern is the movement of human smugglers and drug and arms trafficking, then 1070 does very little to solve that problem."
Ramos asked Brewer about perceptions in the Hispanic community that she is racist. "I feel that I'm somewhat hurt that they would think that I would be a racist, you know," Brewer replied. "And I was... and a bigot and that I would stand by and allow any kind of racial profiling or anything like that to take place." She also said she has many Hispanic friends. "I love them from the bottom of my heart," she added. "I love everybody, Jorge, from the bottom of my heart."
Brewer did again apologize for saying that there were "beheadings" at the border that justified the state's controversial immigration law, SB-1070. "Well I think that was a misunderstanding. We know that there have been reports of violence and beheadings south of the border," said Brewer. When Ramos responded, "But you mentioned our law enforcement agencies; I mean the US enforcement agencies," Brewer quickly said, "I did and I apologized for that. I apologized for that, and I did that immediately."
Brewer also addressed the awkward 10-plus seconds of dead air during her recent debate against Democrat Terry Goddard. "I will tell you it was the longest ten seconds or sixteen seconds of my life," she said. "I got a brain freeze for whatever the reason and I've been in contact, people have contacted me, debate coaches and people like that saying that is not unusual, that does happen to people and it happen to me in front of the whole wide world I guess. It happened, but I got 28 years of solid good experience of leading the state and I will continue to do that in the best manner that I know how to do it and I think I've done good." She also refused to commit to another debate against Goddard.
*************************
What's happening in your district? The Huffington Post wants to know about all the campaign ads, debates, town halls, mailings, shenanigans, and other interesting campaign news happening by you. E-mail us any tips, videos, audio files, and photos to election@huffingtonpost.com.