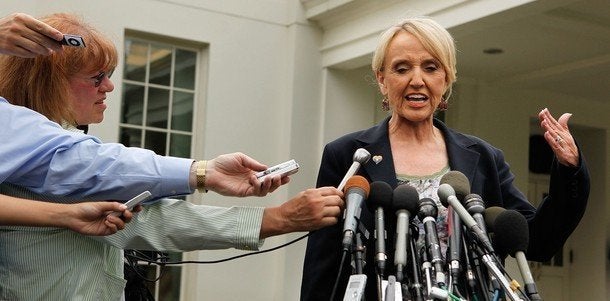 Weeks after a coalition of unions, progressive groups, and Hispanic organizations pledged to boycott Arizona over the state's tough new immigration law, Gov. Jan Brewer said on Thursday that there has been no tangible effect.
"At this point in time, I don't think we have felt any of that impact," the Arizona Republican told the Huffington Post when asked if there had been economic impact from the anti-tourism campaign launched by critics of the new law.
Speaking shortly after a meeting with President Obama, Brewer said that she continued to feel vindicated about the law she had signed, which would grant far-reaching ability for local law enforcement officials to question law-offending suspects about their citizenship.
"I feel very confident about what we have done in the past," she said. "It was the right thing to do. I believe that we are protecting the people of Arizona and beyond that I believe we are protecting the people of America."
Brewer and President Obama talked inside the Oval Office for roughly 30 minutes on Thursday, the White House said. The governor requested the meeting.
Obama has been critical of the law signed into law in Arizona, saying it has the potential to promote racial profiling of Hispanics and directing the Justice Department to "examine the civil rights and other implications of [the] legislation." Both he and Brewer talked about the bill's impact and his concerns on Thursday, in addition to the president's plans to dispatch 1,200 National Guard members to the Mexico-U.S. border.
The number of guardsmen coming to Arizona "are not fixed," Brewer said. "From what I understood today he felt the majority of all the resources will probably be coming to Arizona."
Asked by the Huffington Post whether the dialogue with the president would be continuous, Brewer replied: "I would hope so. I think that we said, we hoped that we would have better dialogue and he did agree that the correspondence that was mailed to him [from her] was not responded in a timely manner and that he would make sure that that would not happen any more."
Watch video of Brewer's remarks outside the White House on Thursday:
Calling all HuffPost superfans!
Sign up for membership to become a founding member and help shape HuffPost's next chapter