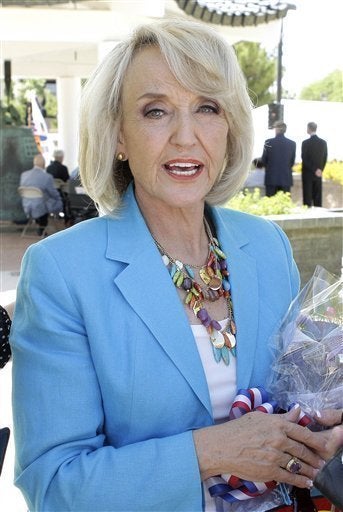 Arizona Republican Gov. Jan Brewer suggested earlier this week that law enforcement agencies in her home state have discovered "bodies in the desert" either "buried or beheaded" in addressing crime related to illegal immigration; however, local agencies say they have never come across the cases she described.
Brewer made the claim in during an interview with local NBC affiliate 12 News. "Our law enforcement agencies have found bodies in the desert either buried or just lying out there that have been beheaded," she said.
But a report released Thursday from the Arizona Guardian appears to dispute the validity of Brewer's statement:
... officials with six county medical examiners offices in the state, including four from counties that border Mexico, say they have never heard of such attacks.

The Arizona Guardian contacted the coroners' offices in Yuma, Pima, Pinal, Maricopa, Santa Cruz and Cochise counties. All of them said they'd never investigated an immigration-related crime in which someone's head had been cut off.
Brewer spokesman Paul Senseman didn't waste any time in firing back at the factual challenge to the Arizona Governor's remarks. "Even a cursory check of news stories on the internet suggests otherwise," he said. Brewer's camp reportedly acknowledged she may have made "missteps" in not citing statistics to back up her claim, but ultimately stopped short of saying she misspoke on the immigration matter.
Arizona Attorney General Terry Goddard -- who is running as the Democratic nominee to unseat the Republican governor in November -- didn't hold back in seizing upon the apparent "beheaded" bodies misstatement.
"When she is asked for evidence of her untrue claims, she has nothing," Goddard said in a statement this week. "The list of untruths and misstatements grows every time Jan Brewer speaks."

Popular in the Community