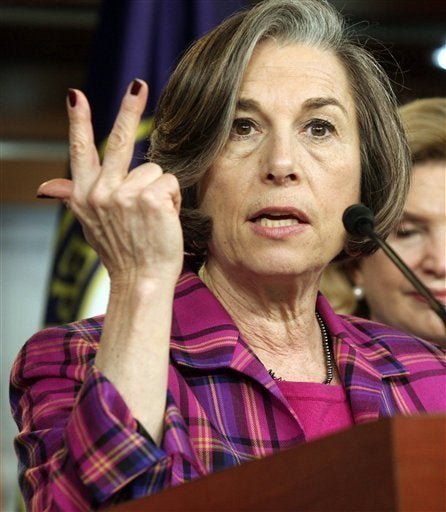 WASHINGTON -- Rep. Jan Schakowsky (D-Ill.), a member of the Congressional Progressive Caucus, announced on Wednesday that she will introduce a progressive-minded budget outline aimed at putting more than two million people to work.
Titled the "Emergency Jobs to Restore the American Dream Act," the plan would cost $227 billion and would be implemented over two years. It would be financed by separate legislation introduced by Schakowsky called the "Fairness in Taxation Act," which would raise taxes for Americans who earn more than $1 million and $1 billion. It would also eliminate subsidies for big oil companies while closing loopholes for corporations that send American jobs overseas.
The congresswoman said that her plan would create 2.2 million jobs and decrease the unemployment rate by 1.3 percent.
"If we want to create jobs, then create jobs," Schakowsky said in a press release. "I'm not talking about "incentivizing" companies in the hopes they'll hire someone, or cutting taxes for the so-called job creators who have done nothing of the sort. My plan creates actual new jobs."
Schakowsky's proposal reads more like a progressive wishlist than legislation likely to be signed into law. But it does provide a template of sorts to help Democrats frame their budget argument as lawmakers enter the high-stakes super committee negotiations.
Under her plan, the following policies would be implemented:
The School Improvement Corps would create 400,000 construction and 250,000 maintenance jobs by funding positions created by public school districts to do needed school rehabilitation improvements.
The Park Improvement Corps would create 100,000 jobs for youth between the ages of 16 and 25 through new funding to the Department of the Interior and the USDA Forest Service's Public Lands Corps Act. Young people would work on conservation projects on public lands including the restoration and rehabilitation of natural, cultural, and historic resources.
The Student Jobs Corps would create 250,000 more part-time work study jobs for eligible college students through new funding for the Federal Work Study Program.
The Neighborhood Heroes Corps would hire 300,000 new teachers, 40,000 new police officers and 12,000 new firefighters.
The Health Corps would hire at least 40,000 health care providers, including physicians, nurse practitioners, physician assistants, nurses, and health care workers to expand access in underserved rural and urban areas.
The Child Care Corps would create 100,000 jobs in early childhood care and education through additional funding for Early Head Start.
The Community Corps would hire 750,000 individuals to do needed work in communities, including housing rehab, weatherization, recycling, and rural conservation.
In addition, the bill would give priority to the longterm unemployed -- the so-called "99ers" who have exhausted both their state and federal unemployment benefits. Federally extended unemployment benefits are set to expire this year, even though nearly 14 million Americans remain out of work and it takes the average worker nine months to find a new job.
"The worst deficit this country faces isn't the budget deficit," Schakowsky said. "It's the jobs deficit. We need to get our people and our economy moving again."
Popular in the Community