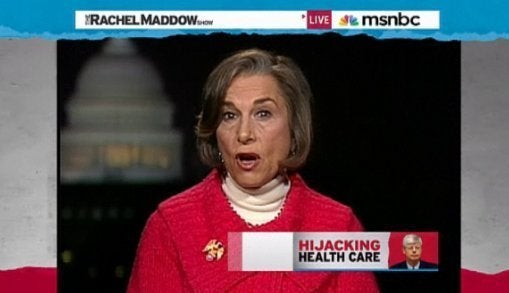 Illinois Congresswoman Jan Schakowsky appeared on MSNBC's Rachel Maddow Show Tuesday night where she discussed her plan to end private military contractors via the Stop Outsourcing Our Security Act and discussed how Michigan Democrat Bart Stupak's anti-abortion language in the Health Care Reform Bill won't stick if the bill is going to pass.
Maddow asked Schakowsky, who has supported women's issues while serving in Congress since 1999, whether Stupak's controversial additions to the bill--which go well-beyond the "status quo" on abortion--would fly in the bill's final draft.
While the Hyde Amendment initially banned public funding of abortions except in cases of rape, incest or the life or health of the mother, Stupak's amendment could end abortion coverage for people whose health insurance currently covers the service. His amendment would ban women who get government subsidized insurance to enter into a plan that covers abortion services--even if women wanted to pay for the plan themselves.
"[Stupak's amendment] went way past the current law," Schakowsky told Maddow--adding that Stupak talked several Democrats into thinking his plan was the status quo. "The pro-choice members [of Congress], 42 of us who signed a letter that said we want to maintain the status quo and will not vote for [the bill] if it has the Stupak language."
When Maddow asked Schakowsky whether the pro-choice members of Congress would vote down the health care bill if it included the Stupak language, Schakowsky said they "absolutely" would.
"That is the understanding of those that are working [on the final bill]. It's not going to pass if it has the Stupak language in it."
Maddow went on to say that attempting to change abortion law through health care reform is a "political and practical disaster."
Schakowsky also discussed her plan to ban private military contractors with Maddow, saying that contractors like Blackwater are "putting our own troops in danger, ruining the reputation of our country, murdering people and still getting tax payer dollars."
For more on Schakowsky's plan for national security, read her Huffington Post blog here.
Watch Schakowsky on Maddow's show here:
Calling all HuffPost superfans!
Sign up for membership to become a founding member and help shape HuffPost's next chapter