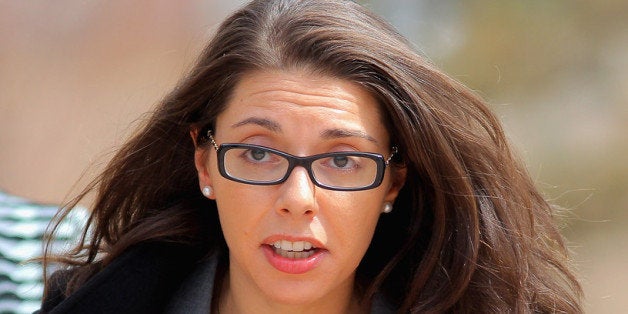 A Colorado judge postponed a hearing for Fox News reporter Jana Winter, who may have to reveal her sources regarding a story she wrote about the contents of the theater shooting suspect's notebook.
Back in July 2012, Winter quoted two unnamed law enforcement sources when she broke a story about James Holmes having allegedly mailed a notebook "full of details about how he was going to kill people" to a University of Colorado psychiatrist before the theater massacre. According to Winter's report, the notebook contained "drawings of what he was going to do" including drawings of "gun-wielding stick figures blowing away other stick figures."
Holmes' attorneys say that those law enforcement officers violated a gag order when they spoke to Winter and they want to see those officials punished by the judge. They also say that several police officers may have lied under oath when denying being Winter's sources, which undermines their credibility as trial witnesses.
Judge Samour hasn't said if he will force Winter to reveal her sources, but Winter has said she will refuse such an order.
Samour wrote in Tuesday's opinion granting the delay that if the reporter refuses, there is "the real posibility that Winter may face indefinite jail time in this case as a remedial sanction for her refusal to disclose her confidential sources."
Should Winter be jailed, it could have a chilling effect on journalists and their ability to report on sensitive information from sources who expect to remain anonymous.
In April, the National Press Club -- a group that includes journalists from every major news organization -- released a statement in support of Winter.
"Courts have the right to enforce the confidentiality of investigations, and that may in some cases require punishing leakers," National Press Club President Angela Greiling Keane said in the statement. "But attempting to get that information by subpoenaing reporters in order to learn their anonymous sources goes too far. It jeopardizes a value of greater significance. If anonymous sources believe their identities can be dredged up in court, they will be less likely to disclose to the press information of vital public importance. That's not a risk worth increasing."
In August, a New York state appeals court upheld a lower court's decision to enforce a Colorado subpoena that demands Winter reveal her sources or go to jail. Winter has appealed the decision to New York's highest court.
The delay will give Winter time to hear if the New York appeals court will grant her request to reject the Colorado subpoena seeking her sources' names.
Winter's attorneys say she is protected under the First Amendment as well as Colorado's "shield law" which protects reporters from being forced to disclose their sources.
Calling all HuffPost superfans!
Sign up for membership to become a founding member and help shape HuffPost's next chapter
BEFORE YOU GO
PHOTO GALLERY
Batman Premiere Shooting At Century 16 Cinema