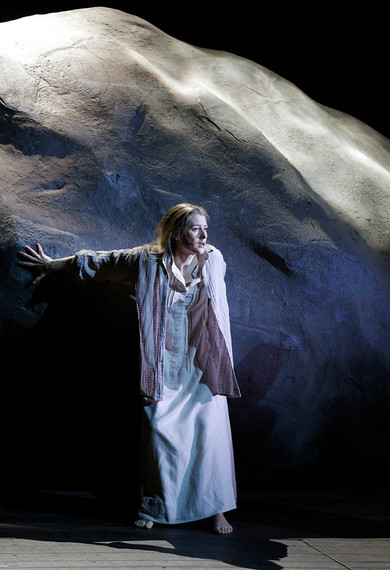 I've always had a particular fondness for San Francisco Opera's trio of Summer Operas. They have at times been creatively grouped under a theme like "Gamble of Love" or "Summer of Madness." Outgoing General Director David Gockley's final summer trio once again was a blast. A scandalous Carmen (which I called high-end Eurotrash), Verdy's Don Carlo (star-studded with spectacular singers) and finally a bold leap into the 20zh century with Janacek's Jenufa.
According to the press, the vast epic of Don Carlo was a project close to Gockley's heart, a good-bye gift to himself and everyone else, but Jenufa gave the great finishing touch to this creative summer, showing the director's consistent vision of guiding audiences from the classics into the 20th century and beyond.
Jenufa (from 1904) tells a story of the rural oppression of women, a daughter's pregnancy out or wedlock and a stepmother's desperate attempts to keep up appearances, even at the price of life.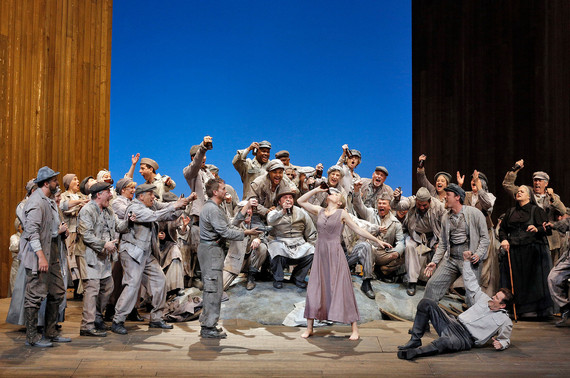 I saw the second performance, a matinee, and the many open seats made me wonder if local opera lovers have not yet caught on to the fact that Jenufa is one of the most thrilling operas of the 20th century repertoire. It was written in the fertile period after the turn of the century, a period still under the spell of Wagner but edging toward modernism. Janacek's music is beautifully placed on that edge, with gripping harmonies, great sweeps of dramatic intensity, suspenseful modern rhythms and lyrical, folklore-based tenderness. His particular interest lay in the melodic lines and rhythms of natural speech, which he brilliantly managed to translate into the dialogues and monologues of his operas (The Makropulos Case, Kat'a Kabanova, etc.). He has a unique way of weaving the sung lines into the fabric of his orchestration, without losing a beat in the transitions (a technique contemporary composers would be wise to study to avoid the paralyzing stiffness and monotony of the recitative-ish speech-writing that is the fashion today.)
Gockley made sure to engage Janacek-expert conductor Jiri Belohlavek and ideal singers for this finale to his ten-year tenure--a cast that will stay in memory long beyond the last curtain call.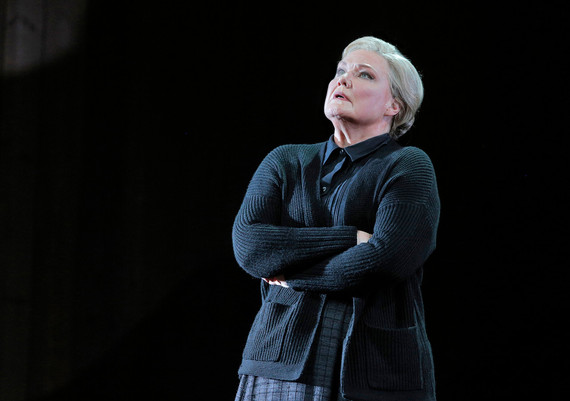 Finnish soprano Karita Mattila is one of the great singer-actresses of our time. She was one of the most spectacular Salomes (at the Met), a radiant, touching Elisabeth de Valois in Don Carlos (Paris Chatelet) and a stunning 200-year-old Emilia Marty in SFO's The Makropulos Case, in 2010. She also has sung the title role of Jenufa to great acclaim, and now, a little older, she is stage-debuting in the role of Kostelnicka, Jenufa's intimidating stepmother whose pride ends up ruining her. The stepdaughter, beautiful Swedish soprano Malin Byström, who is making her role and SFO debut, is an exciting discovery for opera lovers in this country. She is a stand-out singer-actress like Mattila, and her voice has a similar crystal focus and mother-of-pearl sheen on top. With her sturdy, burnished mid-range her voice is a pleasure throughout, and the extensive mother-daughter exchanges match the two women as if by a genetic vocal bond.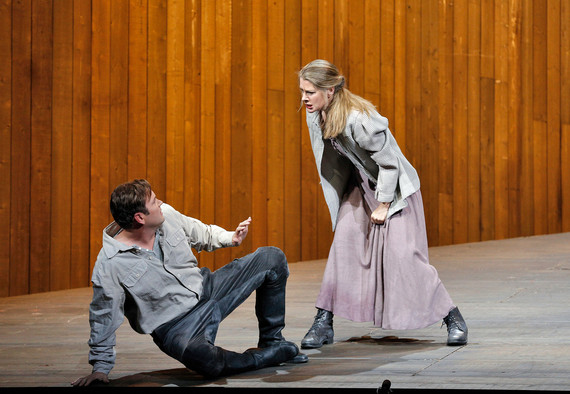 The story shows the young girl, Jenufa, toying with Laca, the lowly mill worker who is obsessed with her, while counting half-heartedly on mill owner and pretty-boy Steva, who got her pregnant--if only he weren't such a silly sod, skirt chaser and drunken reveler. Mother Kostlenicka despises the weakling and forbids the marriage. Jenufa takes out her anguish on Laca, mocking and provoking him to the point where he slashes her face, and thus both mother and daughter kick loose the boulder that will turn into an avalanche, tearing everything down with it.
By conceptual design of French director Olivier Tambosi and German set designer Frank Phillip Schlössmann, the stage shows the narrowness of village morals by closing it off with unattractive wooden walls. The center is dominated by big and small rocks that are repeatedly referred to in the text as weighing on someone's heart and mind. One giant boulder casts a gruesome presence in the middle of the room where Jenufa, now disfigured and abandoned by Steva, has just given birth in shame, hidden away by her relentless stepmother. (The same production team will bring back The Makropulos Case next season, with Nadja Michael replacing Mattila.)
Soprano Byström impresses with the three vastly different facets of Jenufa's personality: she takes Jenufa from the young, spoiled village beauty to the fragile, devastated new mother, to the mature bride who has seen all and forgiven all--every facet utterly convincing and engaging.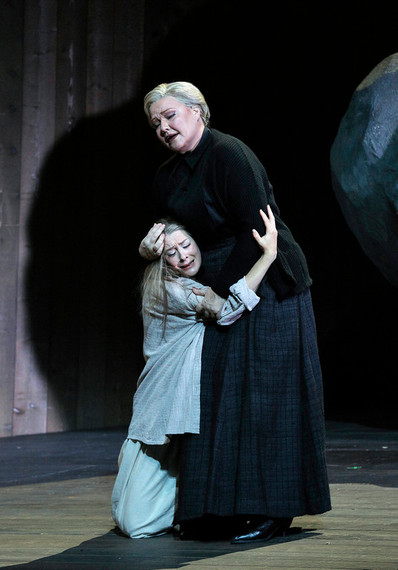 Mattila's dark, rock-like presence, her jaw set in scorn and bitterness, arms crossed over her chest, reminded me of the stony superiority of Don Giovanni's nemesis, the Commendatore. But her Kostalnicka breaks down in heart-rending moments of pity for her miserable daughter. Her pride gives way visibly, in every limb of her body, and there are high points of drama when Kostelnicka is trapped in her own manipulative net and is torn to near-madness by guilt. These big dramatic moments for Mattila in Act 2 and 3 come with the fierceness of a vocal tempest.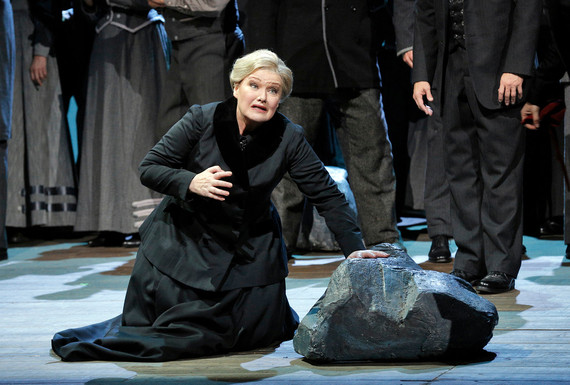 Steva, sung by Scott Quinn, is an almost too charming and fun "life of the party" boy, while Laca, sung by William Burden, perhaps acts too much the nasty, angry low-life to make his later transformation into Jenufa's worthy husband believable, but it doesn't matter. Both American singers convince with beautiful, clarion tenor voices and Janacek's powerful, deeply emotional music makes up for any staging details that leave something to wish for.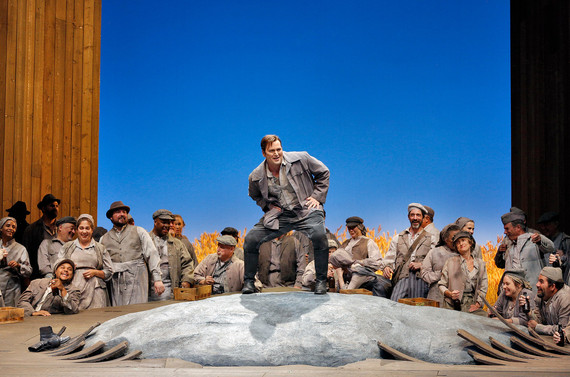 Every small role is well cast (Jill Grove as the grandmother), partly with gifted young Adler Fellows (Matthew Stump as the Foreman at the mill), and the SFO chorus does its usual outstanding best. San Francisco is fortunate not to lose its opera director right away to his retirement. A new post has been created for him: as General Director Emeritus, David Gockley's creative impact will be felt not just in the next few seasons that he already has planned out. Every opera lover will have her or his special memories to cherish from Gockley's ten seasons. For me, it's on the one hand the courageous, grandiose flops like John Adams' Doctor Atomic or Jake Heggie's Moby Dick, and on the other, lasting triumphs like Francesca Zambello's 2011 All-American Ring Cycle--all part of Gockley's passion for the "exotic and irrational entertainment" that is grand opera.
REAL LIFE. REAL NEWS. REAL VOICES.
Help us tell more of the stories that matter from voices that too often remain unheard.