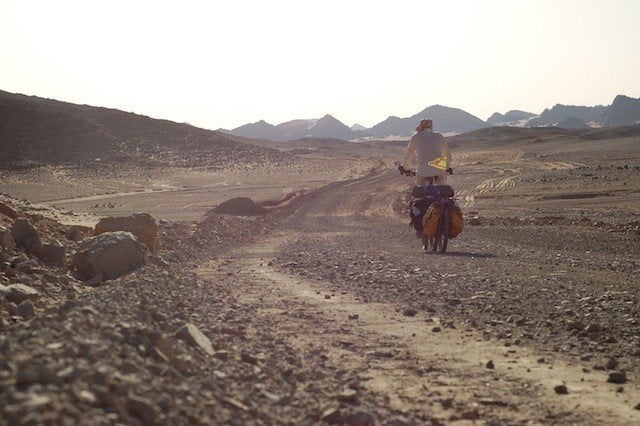 The open road is like a blank page. To riders and writers each promises as much risk as reward. So much empty space in which to find -- or is it to fill with? -- meaning. Such vast, lawless and relentless expanses to traverse, foot by meter, letter by syllable; such satisfaction when, at a pause for breath -- in both cases, a full stop -- you look back and see a landscape conquered, full of experiences.
I know this feeling intimately. I have earned my bread as a writer for nearly 20 years, which is not as long as I have been an avid long-distance cyclist. For the better part of a decade, I helped steer the course of a Paris-based bicycle tour operator, guiding avid two-wheelers along Europe's byways. Then, in 1997-98, I led BikeAbout-the Mediterranean, a pedal-powered full circumnavigation of the Mediterranean Sea, from Morocco to Gibraltar -- the long way around.
Over the course of nine months, and with the collaboration of dozens of sponsors and partners, and hundreds of local participating organizations and schools, a team of five riders wrote and edited more than 150 educational, multimedia travel "dispatches." Yeah, we called them dispatches. It was blogging before blogs, and an attempt to use new (at the time) digital technology as a vital curricular tool. Through educational partners, our trip was followed by thousands of classroom children in the U.S.
In 2007, at the happy-long-road-ahead age of 23, Englishman Tom Allen launched into the world. He headed out of his village with plans to "cycle a lap of the Earth." Three and a half years, 12,000 mapless miles and 32 countries later -- after crossing Europe and West Asia to Armenia and then Iran, heading back to the Middle East, then continuing to the Horn of Africa and Moscow and Mongolia -- he returned home. Unexpectedly, the biggest adventure of them all was falling in love with an Iranian-Armenian girl studying in Yerevan, Armenia.
"Janapar," which is the Armenian word for journey, is the story of his travels (which now also include a pedal in the far north of sub-zero wintry Scandinavia), not the least of which was his emotional trip. It's an "an honest and life-affirming tale of finding what you're looking for when you least expect it."
As a veteran of ambitious bike experiences, I am in awe of Tom's accomplishments, not only as a velocipedist, but as an artist. After returning home, he did what I always dreamed of doing after BikeAbout, but didn't. He parlayed his strength in the face of the open road into discipline in the face of the blank page. And wrote a book about his travels (the production of which was successfully funded by a completed Kickstarter campaign). Even better, with incredible foresight and talent, he filmed 300 hours of his travels, which, under the guidance of producer-director James Newton, have been cut into a highly personal feature-length film.
Says Tom: "The open road is the place where you find out who you are. Every decision you make has an immediate and palpable effect. This is not just about finding your way; it's about the decisions that shape the experience in its completeness. How will I overcome this obstacle? What will happen if I accept this invitation? What do these people and places have to teach me? That's what the open road means, and that's why no two journeys on it are ever the same."
They're words to live by and to be inspired by. Even for Tom himself, who confessed that "Bicycle travel hasn't lost its appeal or relevance to me. I'm still doing at least one substantial journey every year."
"Janapar," the movie, complete with an original score by award-winning composer Vincent Watts, had its world premiere on September 28, 2012, at the 20th Raindance Film Festival in London.