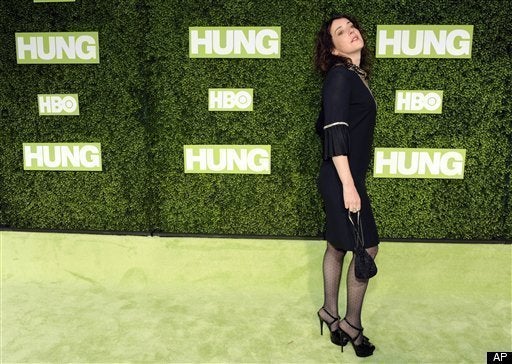 Actress Jane Adams, star of the HBO show Hung, not only stiffed a waiter on her meal tab (and his tip), but later contributed to his getting fired for Twittering.

Adams pulled a "dine and dash" after being served by waiter Jon-Barrett Ingels at the Beverly Hills restaurant Barney Greengrass.
Tues: Jane Adams, star of HBO series "Hung" skipped out on a $13.44 check. Her agent called and payed the following day. NO TIP!!!
His not-so-subtle Tweet later came to Adams' attention (and his boss's).
According to Brand X (and Ingels), here's how it all started:
Ingels dropped off the bill, which came to $13.44. Adams' face turned red as she fumbled through her purse, Ingels said. "I left my wallet in my car!" Ingels recalled Adams saying."I'm so sorry!"

Ingels told Adams it was OK to go to her car and come back when she found the checkbook. "Her face was plastered on billboards all over town," Ingels wrote on his blog after the incident. "It's not like I wouldn't remember who she was."

"She never came back that day," Ingels said on the phone from his home in West Hollywood.

The next day, a representative for Adams came in to pay the actress' tab -- sans tip.

About a month later, Adams finally got wind of the Tweet. She returned to the restaurant, stormed up to Ingels, and gave him (finally) his $3 tip -- noting that she'd read his snarky post on Twitter.
Ingels later tried to undo the damage with some complimentary Tweets about Adams:
For the record I think Jane Adams (Hung) is a great actress!!

1.I love Jane Adams (Hung)!! 2.Jane read my tweet about not tipping and came in today to leave me $3. 3. Power of Twitter
Not a chance. He was fired about two weeks after his second run-in with Adams, and has been documenting his joblessness via Twitter ever since:
"Just sold my bed and TV at a yard sale. Yep, that's what it's come to," he wrote October 3, 2009.
Related
Popular in the Community