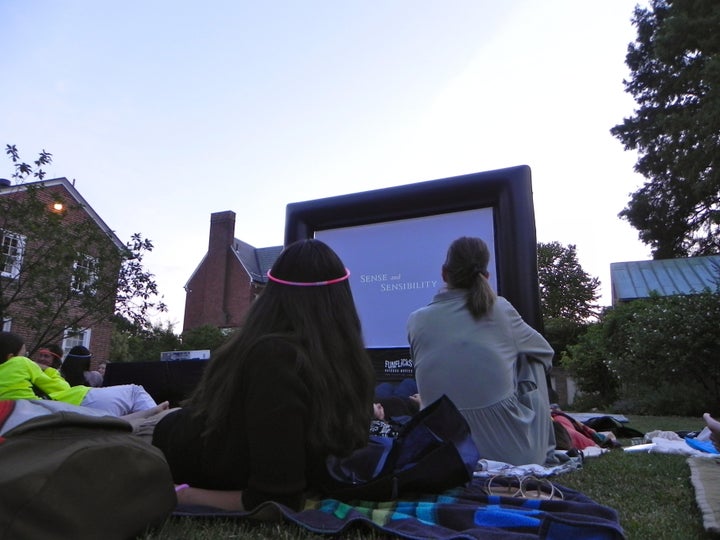 What better place to watch Jane Austen's books-turned-movies than a historic home dating from the same period as Austen's classic novels?
Dumbarton House kicked off its Jane Austen outdoor film festival last night with Ang Lee's 1995 Sense and Sensibility. Around 200 free tickets were claimed in advance for the screening, and viewers set up blankets on the lawn to watch the film adaption of Austen's 1811 novel.
Dumbarton House has a long history in Georgetown, dating back to the Nourse Family, who lived in the home from 1804-1814, the time period Austen was most active as a writer. Charles Carroll, who signed the Declaration of Independence, was also a resident. Today the house is open as a museum.
Sense and Sensibility is among the most popular of Austen's six novels. The 1995 film, which won Emma Thompson an Oscar for Best Adapted Screenplay, stars Thompson, Kate Winslet, Hugh Grant and Alan Rickman. It follows tried-and-true Jane Austen formula: girl meets boy, girl and boy dance around their feelings, girl and boy have a misunderstanding, true loves triumphs.
Fun fact: Thompson wrote her screenplay entirely longhand, just as Austen wrote her novel.
Dean & Deluca and Sprinkles Cupcakes provided snacks, while Tradewinds Specialty Imports sold wine and champagne by the glass. The night's sponsor, Long & Foster, handed out glow stick necklaces and bracelets that illuminated the night sky.
Two more Jane Austen movie nights are planned at Dumbarton:
July 11: Emma (1996 Gwyneth Paltrow version)
July 27: Pride and Prejudice (2005 Keira Knightley version)
Despite completing only six novels during her lifetime, Austen is one of the most popular writers in history, her books having inspired countless adaptations and imitations. Share your favorite Jane Austen book or move in the comments, and see below for a slideshow of Dumbarton House's film festival and a clip from Sense and Sensibility.
PHOTO GALLERY
Jane Austen FilmFest at Dumbarton House
Calling all HuffPost superfans!
Sign up for membership to become a founding member and help shape HuffPost's next chapter