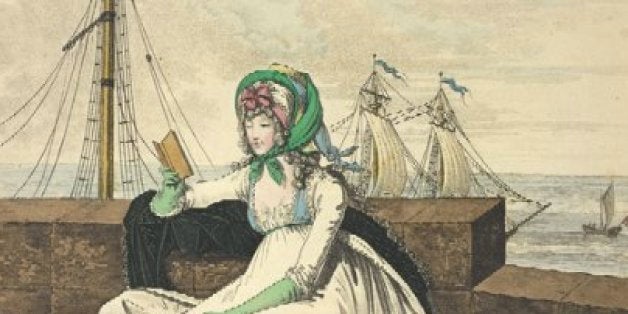 One of the earliest publications that can claim to be a fashion magazine in the modern sense is the Gallery of Fashion, published in London by Nicolaus Heideloff (1761–1837) between 1794 and 1803. Heideloff was a German who worked in Paris until the French Revolution, when he fled to London. He set out his intentions in the introduction to the first volume, which appeared in 1794.
The Gallery of Fashion was to be 'a collection of all the most fashionable and elegant dresses in vogue' which would appear monthly and contain as many as five full-length figures of ladies 'of rank and fashion' in each issue. Heideloff drew his fashions from the clothes worn by his patronesses and did not scruple to flatter them for 'that style of elegance, and that original taste, which is so peculiar to the British ladies'.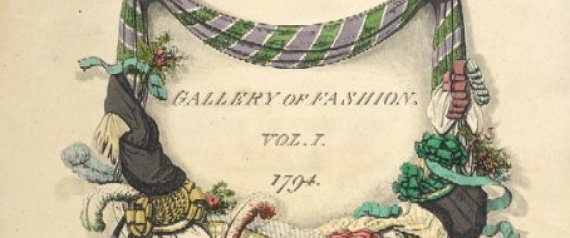 The Gallery of Fashion is sumptuous in its production. Each volume opens with an elaborately decorated cartouche containing the title, volume number and year, and the beautifully colored images show the latest styles in accessories as well as gowns. It depicts morning, afternoon and evening dresses, as well as ball dresses and even court dresses, and some of the illustrations have been touched with silver or gold highlights. A full description accompanies each plate, providing details of fabrics, colors, hairstyles, jewelry and accessories, including parts of the ensemble which cannot be seen at all, for example shoes. Thus it should have been possible for gowns, with all their trimmings and additions, to be made up for those ladies who purchased the magazine and liked a particular style. The dresses and accessories become noticeably plainer and simpler over the few years that the Gallery of Fashion was published, as fashions developed away from the decorative complexity of eighteenth-century rococo towards a more severe, early nineteenth-century classicism.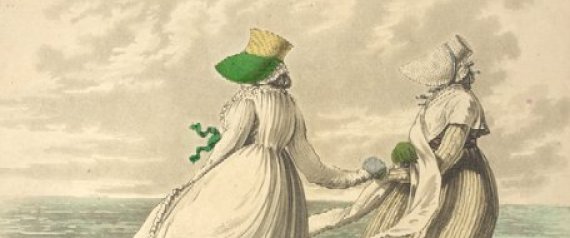 One exception to the changing styles was court dress. It maintained an incongruous pairing of a full hoop with much surface decoration on the petticoat (as worn in the mid-eighteenth century) with a fashionably high waistline throughout the 1790s and early 1800s. Ladies were shown enjoying a variety of leisure activities in the magazine's pages. 'Two ladies, en negligé, taking an airing in a phaeton' are precariously perched in their small open carriage drawn by two horses. A lady is shown seated on her horse, stylishly dressed for riding.
Another two ladies take breakfast in their dressing-room, while two more are shown at a fortepiano, considering the music to be played. Yet others appear in a box at the opera, or seated and standing in a pretty group dressed for the ball. Fashionable dress was even required for visits to the seaside, as demonstrated by the ladies standing on the cliff side above the seafront (bathing machines can be seen on the beach below). One of them has her hair 'undressed' (it cannot be seen in the picture) as a concession to the informality of the occasion, while the other wears a 'Quaker Dunstable hat'. Heideloff 's Gallery of Fashion is not merely a costume parade; it also provides insight into every detail of changing styles, as well as the daily round of society ladies – a lifestyle that many young women wished to emulate.
Check out some of the most stylish looks from Jane Austen's era:
Calling all HuffPost superfans!
Sign up for membership to become a founding member and help shape HuffPost's next chapter