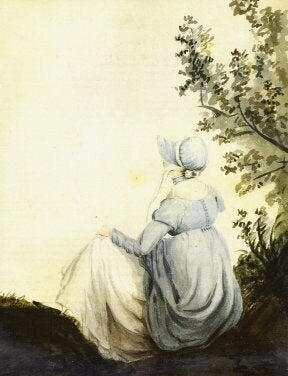 During my time as Writer in Residence at the House Museum of my great, great, great, great, great aunt Jane Austen (in Chawton, England), I sometimes masqueraded as a steward so I could chat with visitors. I remember a couple who wandered in hand in hand, and when they left, wrote in the visitors' book that they had just gotten engaged. There were parties of school children and pilgrims from around the world (some in period costume). Snippets of conversations stuck in my mind.
"Of course," said a woman in a neat navy blue mac, "we hardly know anything about Jane Austen. She's almost invisible. There are no diaries - very little proper information."
Jane warned her correspondents not to depend only on her advice, but to trust their own good judgement. Little did she know that people would be turning to her novels and letters for guidance two centuries later. In my book, I aim to give advice based on the principles by which an Austen heroine must learn to live. I used Jane's letters, novels, and what we know of her life, to suggest what she'd have advocated in each situation. The dilemmas in my book are all real ones suggested by friends, family and my students at the University of Southampton. Jane faced some pretty tricky dilemmas of her own. We know that she decided that there was no point in having a Pemberley if it came with a Mr. Rushworth or a Mr. Collins instead of a Mr. Darcy. Here are nine lessons in love as taught by Jane Austen.
Popular in the Community