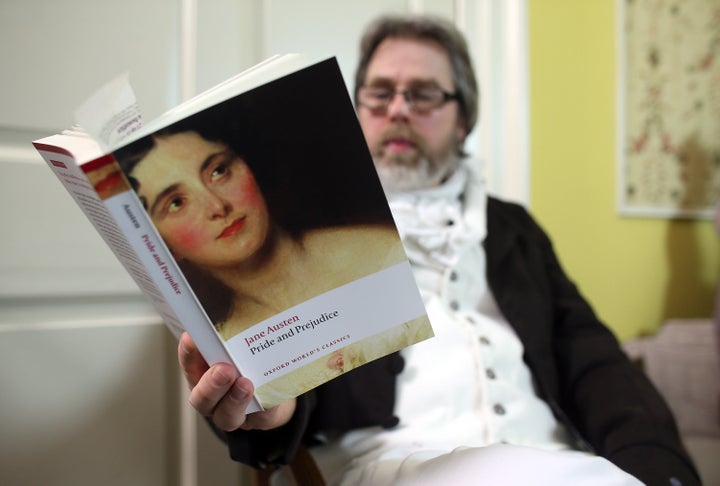 Reprinted from Jane Austen's Guide to Thrift by Kathleen Anderson and Susan Jones by arrangement with Berkley, a member of Penguin Group (USA) Inc., Copyright (c) 2013 by Kathleen Anderson and Susan Jones.

Jane Austen's novels feature both thrifty and spendthrift characters. The most likable characters are usually those who care for themselves and others through moderation. Charlotte Lucas of Pride and Prejudice, although we don't necessarily love her husband, is the model of a prudent housewife. Through her careful planning, her home becomes her castle — and Mr. Collins is often ejected beyond the moat into his little garden or sent up to his study to work on his sermons and snoop on the neighbors.
Compare her with the younger Bennet daughters. Lydia and Kitty, of course, are utterly improvident in what they do. And even if Lydia can see how to make good her poor purchases, her impulsive spending and wild ways provide a glimpse of her bankrupt future. Kitty may grow up and improve her character with Lydia gone from the house, perhaps even marry, but Mary is so self-centered, we can't imagine her setting up her own household or being other than a dependent of easygoing Jane and Charles Bingley (on the plus side, at least she'd scare away the even more irritating Caroline Bingley!).
We have more hope for Catherine Morland. She is a joyous, energetic character, who is also trained to thrifty living from the first we see her. Her mother has common sense and good health, and living in a large family has given Catherine considerable freedom, but she has also had the excellent household management of her mother to emulate.
When the Allens invite her to vacation with them in Bath, her mother advises her to keep track of her money while she is there and gives her an account book for the purpose. Her father gives her ten guineas, a relatively generous amount of spending money, but not so generous as to offer Catherine infinite pleasure without having to watch her pennies; he promises to send her more money when she needs it. Although Catherine is a little immature in her understanding of the world, her ideas of thrift have been carefully cultivated in a happy family.
What about Emma? Emma has more than enough money to meet her needs, a house over which she presides as mistress and hostess, and the prospect of freedom to choose to marry or to remain single. Although like Catherine she is immature emotionally, she is very provident with her time and money. She takes up with Harriet Smith, a young woman of lesser means, and mentors her, although rather selfishly. She attends to the needs of the poor, bringing provisions and advice to the families under her care. What she does not do is give the example of conspicuous consumption and pride that we see in characters we like a lot less, characters like Fanny Dashwood of Sense and Sensibility or the Bingley sisters of Pride and Prejudice. She is the kind of woman that Mr. Knightley finds attractive, because she will know how to care for and conserve his estate.
Harriet Smith, Emma's young friend whose origins are uncertain, has considerably less money to work with, and she is saving of what she has. Although her taste is certainly not on a level with Emma's, she spends a great deal of time mulling over every purchase. Perhaps savoring the decision-making process is a part of her thrift; it helps her enjoy the shopping experience. Even Mrs. Smith of Persuasion, one of the most impoverished of Austen's characters, does her best within her straitened means. Her wealth has been utterly reduced through the actions of a scoundrel who led her husband into poor investments (a Bernie Madoff). Crippled with complications of rheumatic fever, she has come to Bath in hopes of getting better. In spite of the fact that she is burdened with her terrible difficulties, Mrs. Smith learns to be useful. She learns to knit and to work projects that can be sold to benefit those poorer than she is. In the lowest possible condition of life, through her thrifty use of her time and circumstance, she thrives. This, Austen tells us through Anne Elliot, is "the choicest gift of Heaven."
We can learn from all of these characters, and more important, we all can benefit from Jane Austen's habits and attitude and those of her most sensible characters. Living the thrifty life opens wide opportunities to enjoy the world. What could be a happier prospect than living within one's income and never having to juggle bills or dread the day the mortgage or rent is due? What could be a greater benefit than creating habits that lead to savings and security for the future? What could lead to a better future than practicing a thrifty lifestyle that becomes entertaining in itself, getting rid of the frantic desire to accumulate trendy possessions and replacing it with a new sense of values?
It doesn't make any difference whether you are like Mrs. Smith and your prospects have been reduced through the actions of someone else, or whether you are just starting out like Charlotte Lucas. In today's economy, you probably find yourself asking, like Sir Walter Elliot in Persuasion, "Can we retrench?" The spirit in which you answer that question can make you as happy as you determine to be. This is the moment when you can embrace your inner Jane and find a new way of life in thrift.
Anne Elliot understands the ins and outs of living within an income, even if her father and sister never will. Her mother had been a woman of "method, moderation, and economy," so the family lived within its income during her lifetime. However, left to his own devices, Sir Walter tends to live from fancy to fancy, redecorating, going to Tattersall's to gamble, acting on his impulses without a thought to the future, and certainly not paying his bills. Anne's sister Elizabeth thinks the way to retrench is through slighting her sister and acting less charitably. Anne and her friend Lady Russell come up with a plan, a plan that offers freedom from debt in as short a time as possible consistent with family comfort. All it requires is a little trimming of expenditure here and there and a greater attention to savings.
This is the same kind of method, moderation, and economy we can practice ourselves. And it does begin with a plan.
The beauty of a plan is that it opens us to new experiences, new opportunities, because we are no longer operating on autopilot. Living the Jane Austen lifestyle does not mean pinching pennies so severely that all the pleasures of shopping are lost.
Instead, it means finding more happiness by determining to spend wisely and live more.

REAL LIFE. REAL NEWS. REAL VOICES.
Help us tell more of the stories that matter from voices that too often remain unheard.
BEFORE YOU GO
PHOTO GALLERY
Jane Austen Life Lessons