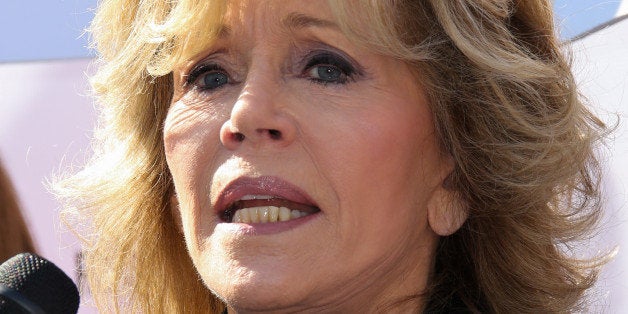 Jane Fonda has been crying -- and fleeting time may be to blame.
In a new, emotional blog post aptly titled "Crying," the 76-year-old actress explains how emotional she has been over the last few months. Most recently, while at the baby shower for Kerry Washington, she wept when she saw Washington pregnant for the first time and then again when the "Scandal" star's mother spoke about raising children.
She said, over the past few months, she has cried during workshops and while reading an email from Gloria Steinem. She has cried over the beauty of animals and author Elizabeth Lesser's new book.
I find my emotions are way more accessible than they were when I was younger and I've come to feel it has to do with age," she wrote. "I have become so wonderfully, terribly aware of time, of how little of it I have left; how much of it is behind me, and everything becomes so precious. With age, I am able to appreciate the beauty in small things more than when I was younger perhaps because I pay attention more. I feel myself becoming part of everything, as if I bleed into other people's joy and pain. Maybe, without my being conscious of it, there's the reality that in a few decades (if I'm lucky) I will be in the earth, fertilizing some of the very things I look at now and tear up over.
"Maybe because I'm older my heart is wider open, like a net that wants to catch all the things that matter," she wrote, later concluding, "I have to only wear waterproof mascara from now on."
Back in 2011, Fonda released Prime Time, a book about aging gracefully in both mind and body. She researched her family history and reflected on her personal journey. Aging, she found, is not so bad.
"You have this long backward perspective -- you've been there, and you've done that," Fonda told The Huffington Post that year. "When you really look at it, you discover that some of the hardest parts of your life were the things that you learned from. You don't make mountains out of molehills. You know where the tiger is looking in the bush -- you don't keep going and looking for it. You get lighter. You know what you can overlook. You know what you need and what you don't need. You lose your eyesight but you gain insight. Picasso said it takes a long time to become young."
Calling all HuffPost superfans!
Sign up for membership to become a founding member and help shape HuffPost's next chapter
BEFORE YOU GO
PHOTO GALLERY
Celebrity News & Photos