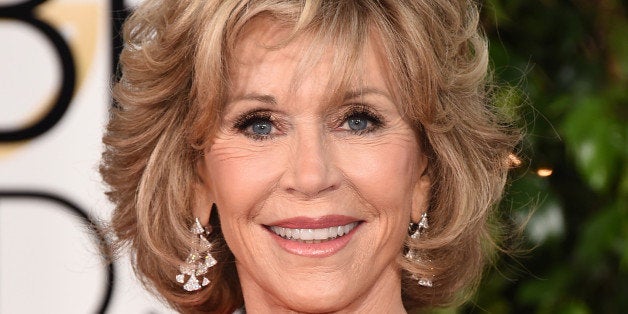 Sorry, men. It seems your bromances are totally overrated -- at least according to Jane Fonda. The 77-year-old actress and fitness guru says it's actually female friendships that are the strongest and even the healthiest. "I think that is one reason why women live longer than men. Friendship between women is different than friendship between men," Fonda told Vanity Fair. "We talk about different things. We delve deep. We go under, even if we haven't seen each other for years ... It's my women friends that keep starch in my spine and without them, I don't know where I would be. We have to just hang together and help each other."
Fonda even went as far as to say that hormones are released in female friendships that have stress-busting, life-lengthening benefits. She also debunked the myth that women are constantly competing with one another. "The growing myth is that women don't support each other. Women fight each other. But this [brunch] just shows that we don't," she said, speaking at the Women in Film brunch at the Sundance Film Festival.
Fonda also reflected on her early days charting the waters of Hollywood as a young woman. The actress herself is known for being something of a sex symbol, which she once used to "take the easy road for a while." But that all changed with her 1968 film "Barbarella." At that point, Fonda became more of an activist and realized she "didn't want to be put in that slot anymore."
"I wasn't (happy with being a sex symbol) if you really want to know," Fonda said in a 2011 interview. "I think being stuck with a label like sex symbol can be very limiting. If a man I care about thinks I'm sexy then great, but I don't want to be labeled anything."
She went on to say it's up to us to "shame the studios" for being so gender-biased.
Let's hear it for girl power.
Calling all HuffPost superfans!
Sign up for membership to become a founding member and help shape HuffPost's next chapter
BEFORE YOU GO
PHOTO GALLERY
Jane Fonda Quotes