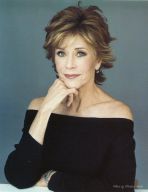 Communicating with Jane Fonda
Not content merely to speak to her Broadway audience eight times a week through a critically acclaimed performance, Jane Fonda is blogging daily and twittering nightly. She finds herself hooked on the instant feedback.
In her memoir, My Life So Far (Random House, 2005), Jane Fonda reveals how it wasn't until age 60, after many life lessons in what she calls her "third act," that she felt she discovered her voice. Now that she has it, she is determined to find meaningful ways to use it, through the many channels that she finds opening up to her.
Ironically, Fonda was in the process of writing her next book on aging for Random House, when playwright Moises Kaufman sent her the script for a play called 33 Variations. Fonda had just been writing about how many renowned artists like Matisse and Beethoven did some of their best work later in life, and the part Kaufman was offering to her was an American musicologist who becomes obsessed with why Beethoven, in his later years, was driven to write 33 variations on a waltz by Anton Diabelli. Fonda, who loved the script, took it as a sign, and returned to Broadway after 46 years to star in the play, currently performing to rave reviews and standing ovations.
In addition to acting in plays and films that inspire her and working on her next book, Fonda has also been drawn to some of the newer media outlets emerging -- no surprise since media has long been one of her interests; she is a co-founder (with Gloria Steinem and Robin Morgan) of the Women's Media Center. Fonda, who had been slow to join the Internet and had only googled for the very first time last year, decided to launch a blog and her own web site, in large part to "show you can teach an old dog new tricks." Explains Fonda, "I had just turned 71. It was the start of a new year, and I was going to Broadway after 46 years. I thought it would be interesting to keep a daily journal to take folks through the process -- the good and the bad, the ups and the downs." She adds, "It has been fun."
It has been fun for her visitors as well, who get exclusive access to personal photos and backstage details of interactions with famous friends like Gloria Steinem, Robert Redford and Lily Tomlin, as well as personal musings about whether or not to read her reviews, having to perform while sick, the ritual of her daily nap, the times she felt unsure of herself and the moments when it all clicked in. Her blog has been flooded by supportive comments from friends and fans, including those who have just seen the show. Asked what she likes best about entering the blogosphere, she answers, "Keeping a record and getting feedback."
Fonda has even taken to the latest craze of twittering lately, delivering live tweets during intermission about who is at the show, or when her dog ran out on stage during a curtain call. She already has close to 9,000 "followers" on twitter. Asked whether she is feeling hip and with it these days, she answers, "You betcha."
Her blog, which is candid and revealing, can at times feel like her autobiography, but as Fonda points out, the process is very different. "My memoir was far deeper and more detailed. I do the blog very quickly...five minutes a day maybe."
Fonda sees both benefits and parallels through being able to communicate different aspects of herself on all these levels -- artistically through the play, and literally through writing her blog. Says Fonda, "It's immediate audience feedback and immediate blogosphere feedback. Oddly, I think it helps me be present in the moment."
In addition to chronicling her experience doing the play, Fonda also has been using her site to promote organizations such as V-Day, the Women's Media Center, the Georgia Campaign for Adolescent Pregnancy Prevention, The Jane Fonda Center at Emory University, and the Sisterhood is Global Institute -- all causes dear to her heart. The site includes an Activist section and a section titled "Matters that Move Me." Visitors are also treated to a slide show of photos from her past and present, as well as videos, and sections like "Family and Friends" and "Ask Jane." I ask her what her goals are for the site. "It's too soon to say anything definitive about my website 'goals,'" she responds. "There are many interesting aspects to my life and I thought I might as well expose them -- my non-profit involvements, activism, as well as my professional matters, my books and videos."
She is thinking of how the site might develop in the future. "I may do another video to go with my book on aging--'maybe' being the operative word. But if I do, a website is a good way to sell them, and books." People have already begun pitching her on other innovative uses for the site. "Someone suggested that I sell canvas bags with my 1971 mug shot on them as a way to raise money for my non-profits. Maybe from this post I will hear from folks if they think this is a good idea or not. I'm kind of learning as I go and the feedback I get will help inform my decision about whether or not to continue blogging after the play." As it goes, time itself may tell. "I am planning two films this year and there are interesting adventures in the future so there may be reasons to continue writing about what's happening. If I feel I don't have anything worthwhile to write about then I will stop."
Asked whether she is enjoying herself with all her many activities and media outlets, she answers, "Frankly, I have never been happier. I won't go into the details of this happiness because I'm writing a book about it, but it is something. It's like all the strands of my life are coming together."
Popular in the Community