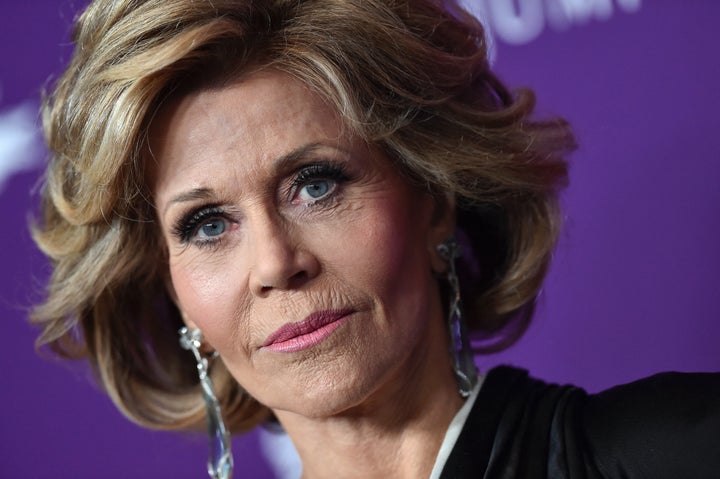 Everyone is familiar with Jane Fonda the actress, but it's time we get to know Jane Fonda, the survivor.
Speaking with Brie Larson in a powerful interview for The Edit to commemorate International Women's Day, Fonda revealed that she was raped and abused as a child as she discussed the insidious ways the patriarchy traumatizes women.
"I've been raped, I've been sexually abused as a child and I've been fired because I wouldn't sleep with my boss," she said. "I always thought it was my fault; that I didn't do or say the right thing."
The "Grace and Frankie" star, who has fought long and hard for women's rights throughout her decades-long career, explained that many internalize this abuse. Fonda goes on to credit the women's movement for liberating her from that mentality and helping her process her painful experiences.
"I know young girls who've been raped and didn't even know it was rape. They think, 'It must have been because I said 'no' the wrong way,'" she continued. "One of the great things the women's movement has done is to make us realize that [rape and abuse is] not our fault. We were violated and it's not right."
Their passion for women's rights bonded the actress and Larson, who's been an outspoken advocate for sexual assault survivors, in the wide-ranging interview about feminism, gender equality and mistreatment in the entertainment industry.
Larson says that Fonda paved the way for actresses like her to speak out about injustices and have zero tolerance for both the explicit and subtle ways misogyny manifests in Hollywood.
"I didn't know how to stand up for myself. Now, I would say, "No. This is a piece of shit. I don't like the way you're treating me,' and leave. If only I knew then what I do now."
To read the full interview with Fonda, head over to The Edit.
Popular in the Community