 If you're ready for a raucous ride on the innocent side of wild, see Academy Award winner Jane Fonda strut like the many fancy chickens she keeps in Peace, Love & Misunderstanding, opening in limited release this Friday. In this real good, feel-good comedy-drama, Fonda plays Grace, a stylish, pot-growing hippie in a town known for peace and love -- Woodstock, New York.
Wearing colorful flowing dresses, tie-dye belts and handmade jewelry and sporting a mountain of long, graying curls, she appears to be the town matriarch.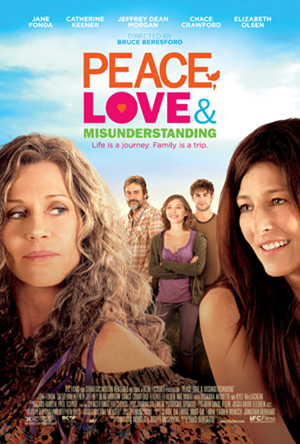 Besides the pot and paintings she sells residents, she barters to make a living. She's also a party host, protest sign-maker and leader of full moon, women-only. drum-beating rituals. "The government expects people to burn out, but we stay involved. We protest war every Saturday," she explains. Get the picture?
Let me repeat that. Get the picture -- go see it and feel your cares slip away as if you'd taken a drive in the country. Grace will help you, vicariously, as during this film she acts magnanimously in the face of her own emotional pain. Abandoned 20 years earlier by her only child Diane (Academy Award nominee Catherine Keener), an uptight conservative New York attorney who was constantly embarrassed by her mother, Grace has made the townspeople her surrogate family. Instead of weeping for herself, she brightens others' lives.
Suddenly, long-lost Diane shows up at Grace's with her two teenage children. They've never met their grandmother. It's Grace's dream, her chance to share her life with grandkids and repair the breach with her daughter. The catalyst for Diane's sudden appearance? Her husband wants a divorce. Diane's criticism starts immediately. Seeing chickens wandering about the house, Diane asks Grace, "Why chickens?" Grace responds, "Why humans?"
What other conflicts have authors Christina Mengert and Joseph Musynski brought us? Though these conflicts can cause divorces and tear friends apart, Australian director Bruce Beresford (Driving Miss Daisy, Tender Mercies) brings them to us gently enough to keep this film positive, often funny. We get city life versus country life. Conservative versus liberal lifestyles. Black or white versus colorful clothing. Alcohol versus marijuana. Criticizing versus forgiving. Judging versus enjoying. Frowning versus smiling. Vegetarians versus carnivores.
The teenagers, college-aged and vegan Zoe (Elizabeth Olsen) and her younger, film-making brother Jake (Nat Wolff), represent the middle ground between their mom and grandmom. They are malleable and like Grace's happy outlook. On their last night with her, Grace lights up some of her homegrown to give them the experience. The next day she warns, "Be careful. No brown stuff, no needles and nothing up the nose."
This is not a chick flick (although as I hinted, there are quite a few chickens). There are strong male characters who live and work in Woodstock, and due to male-female attractions, they help steer the city females in more heart-centered directions. Diane meets Jude (Jeffrey Dean Morgan), a handsome, sensitive musician who crafts furniture. They talk about songs from the '60s. During a town festival, after Jude coaxes Diane up on stage to sing with him, he plants a warm kiss on her, freaking out her daughter. "She's still married!" Zoe shrieks. It is Jude who gently tells Diane the truth about herself -- that she constantly fights against people and things that aren't fighting back.
Zoe, too, becomes attracted to a man, young Cole (Chace Crawford). The feeling is mutual. But she's disgusted because he's a butcher, complaining to her mom, "He dismembers animals for a living!" She later learns Cole has returned to Woodstock after college because he believes selling local meat helps local farmers who want to be organic. She weakens when she hears his motive:
My father was a farmer. He taught me a lot. He was a good business man, ran a great farm. He refused to plant GMO seeds (genetically modified). But the neighboring farmer did, and his seeds blew into our farm. Dad sued and lost his farm after an expensive lawsuit with the biggest GMO manufacturing company. They were crooks.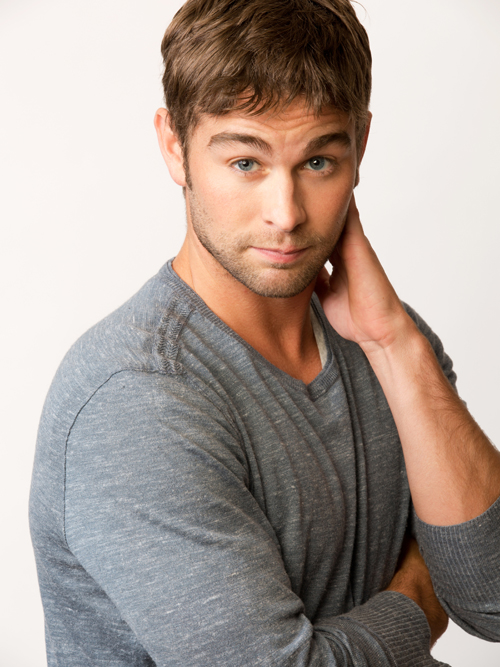 Actor Chace Crawford / Portrait by Leslie Hassler
I talked with these two actors, Jeffrey Dean Morgan and Chace Crawford, about their experiences being in this film. You may remember Morgan as the Irish love interest in P.S. I Love You with Hilary Swank. He was in Grey's Anatomy, too.
Chace, you're from Plano, Texas. Life in films must be very different from life in the Dallas area:
CC: Yes, it is. I was an athlete in high school, mom was a school teacher and dad, a dermatologist -- they're both good Republicans.
Are you a Republican, too?
CC: No, I'm a bit of both parties.
I read that your mother suggested you try acting when you were out of college and undecided about what you wanted to do.
CC: My mom didn't push me into acting at all. She just suggested I might try it. I'd taken an aptitude test in high school that suggested I'd do well in the performing arts. So I looked for an agent and signed with the first one I interviewed with. Then I started acting studies and did quite a lot of that.
This is a big break for you being in a movie with Jane Fonda, isn't it?
CC: Yes, it is. It was really fun watching her move around with so much energy and force. She was amazing to watch.
Jeffrey, you play hotel owner Ike Evans in Starz' new series, Magic City. You're a gangster hotel operator who smokes cigars. Yet in Peace, Love & Misunderstanding you don't smoke anything.
JDM: I smoke EVERYTHING in Magic City, but you're right, I'm not smoking in this film. And that's a good thing.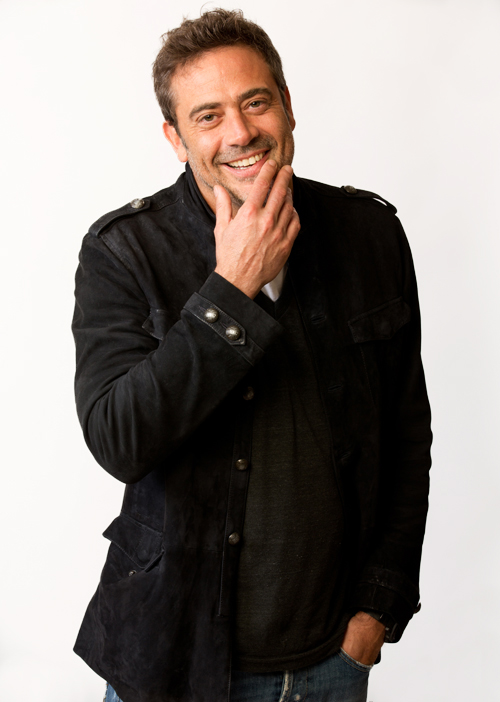 Actor Jeffrey Dean Morgan / Portrait by Leslie Hassler
As Ike Evans, you are clean-shaven. But in this film and in most of your films and photos, you have facial hair. What's the real you like?
JDM: I'm like most men. We don't really like to shave. So when I'm not making a film, and lately, that's been rare, I don't shave. This film was made near Rhinebeck and New Paltz in the Hudson Valley (New York). I liked the setting of this film so well, I shopped around and bought a log cabin in the middle of the woods. I'm looking forward to using it as a getaway, a place where I can be as scruffy as I want.
(Jeff and his girlfriend, actress Hilarie Burton, are raising their 2-year-old son, Gus.)
You're from Seattle, a seedbed for musicians. You play guitar and sing in this film. Did you hang around with musicians back home?
JDM: I know many of them and liked the turn to grunge in the 90s, but by then it was too late to participate. Had I not taken the acting route, I might have joined a band earlier on.
When you sang and played guitar on stage in this film, I thought of George Clooney in Oh Brother, Where Art Thou. But his role required him to be looney and stylize his singing.
JDM: Yea, that was great work. I would certainly rather have had to do something like that than to sing in my normal voice and manner. I am not really a musician. So it was hard to play myself really. I was very self-conscious! (laughs)
In the film, Grace's freely dispensed advice to her daughter and grandkids takes a sexual turn when talking to young virginal Jake. "Do you carry a condom?" she asks him. "No, I don't need protection," he says. "Why not?" Grace asks. "Girls and I don't, well, hit it off," he explains.
"Oh, I see," muses Grace. "Then you still need protection -- from boys." (She's gotten the wrong message.) "Grandmom, I like girls, but it's just that they, well, don't want to... (he makes gestures with his fingers to explain)... with me." Grace admonishes, "It's called 'making love,' Jake. "Call it by it's name. It's a beautiful thing, and you have a lifetime to learn about it."
With such honesty, Grace's free spirit proves to be good for her grandkids. Grace and friends were good for me, too. As an ex-hippie, I was reminded how important it is to be in community with lighthearted, happy, forgiving people. Surely you will breathe more deeply of the fresh air that exudes from this film. Some of you may even dig around for that old hookah or bong you packed away 35 years ago and breathe deeply from that, too.
Follow Leslie Hassler on Twitter here.
REAL LIFE. REAL NEWS. REAL VOICES.
Help us tell more of the stories that matter from voices that too often remain unheard.