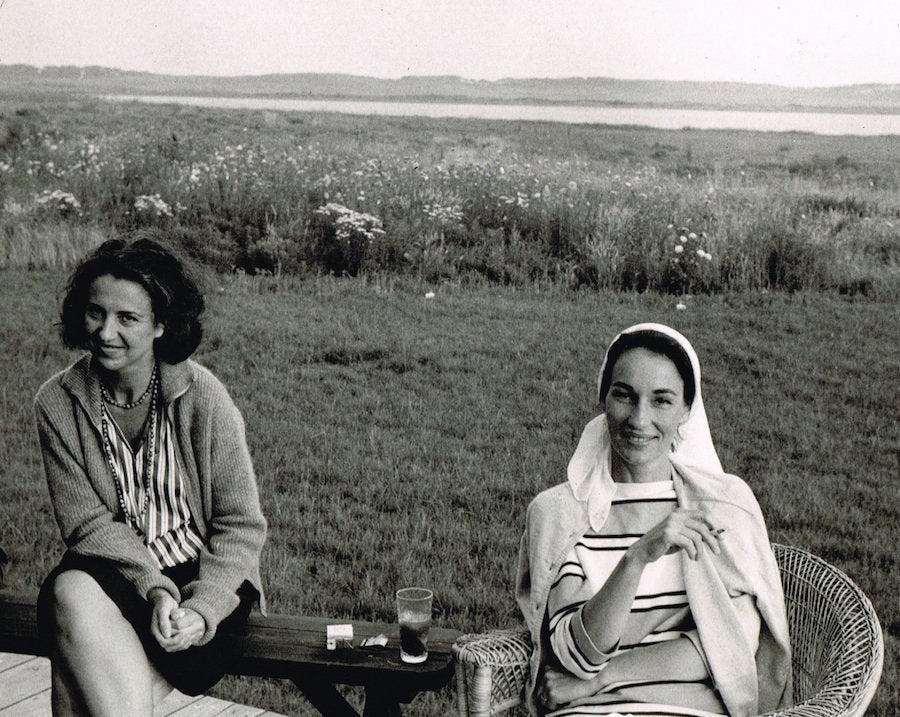 In 1924, Jane Freilicher entered the world via Brooklyn, New York. That same year, some ways away, Jane Wilson was born on an Iowa farm. The two women would not cross paths for quite a while -- not until they were both grown up and fairly successful artists, showing their respective works in New York. 
An exhibition titled "Jane Freilicher and Jane Wilson: Seen and Unseen" chronicles the friendship that blossomed between the two artists and the ways their mutual support and aesthetic inclinations shaped their respective art practices. "There was some sort of affinity in our painting, but it wasn't actually that we influenced each other," Freilicher said of their relationship, in a catalogue accompanying the show at the Parrish Art Museum in New York. "Maybe a certain reinforcement."
When Jane met Jane, the two were both respected painters in New York, working in the only accepted, "serious" style of the time -- abstraction. Specifically, Abstract Expressionism, a movement dominated by hyper-macho figures like Jackson Pollock and Willem de Kooning, known for their violent brushstrokes, occasional punches of the canvas, drinking problems and chauvinist depictions of women. The two Janes bonded over their insider-outsider status in the New York art scene and a friendship -- and creative partnership -- was born.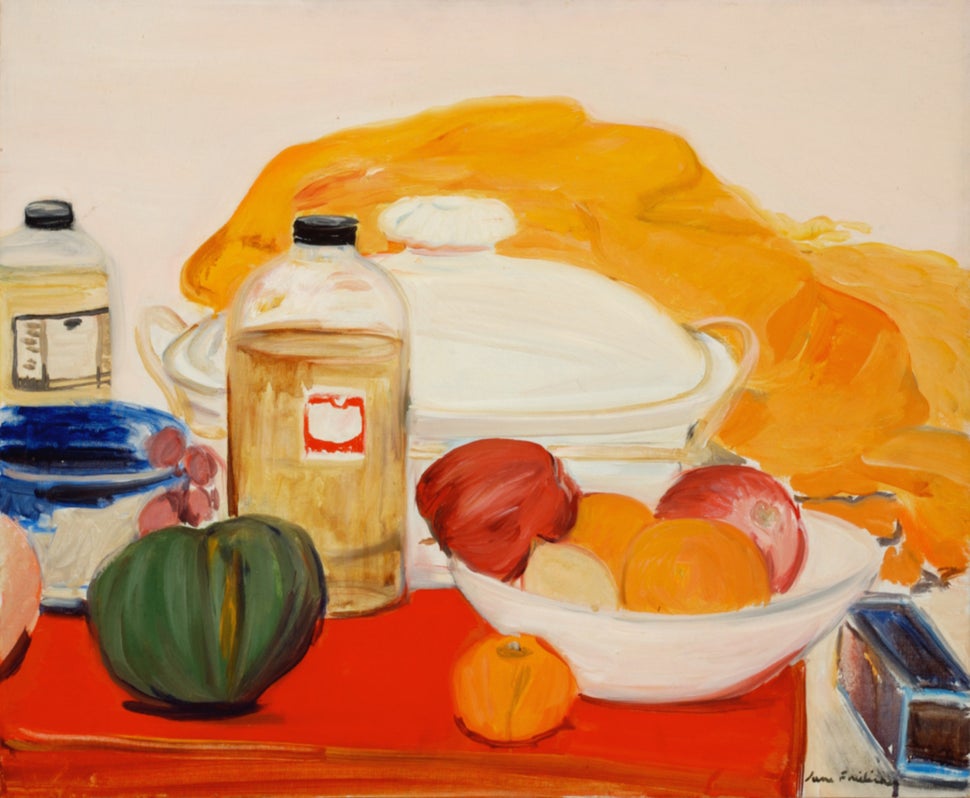 Neither Jane nor Jane felt fully ignited by the laws of abstraction. And yet, they felt pressure to conform to the popular modes of art-making. "Realism, or almost any kind of figuration, was thought of as something reactionary, old hat, not intellectually serious," Freilicher said in 1986. And yet, she felt an undeniable urge to represent modern life through her work, no matter how unpopular the sentiment. "To strain after innovation, to worry about being on 'the cutting edge' (a phrase I hate), reflects concern for a place in history or for one's career rather than for the authenticity of one's painting."
Freilicher had an interest in rendering the "seen," rendering observations through a fluid, painterly handling. Green apples, grey skies, tangled onions, foamy ocean waves -- Freilicher's subject matter was a return to figurative forms without feeling tethered to realism. "I paint the way I do because I have no imagination," Freilicher once joked, explaining, "It's not that I lack imagination, but I look out at the world and there's always some kind of refreshing thing I see. I don't have to dream up subject matter."
Her humorous artworks injected sensuality and meaning into everyday spaces, teasing you to look closer, unhinge the objects on view from their everyday realities. In her uncanny renderings of familiar spaces, sight is never removed from the human elements of processing, feeling, contorting.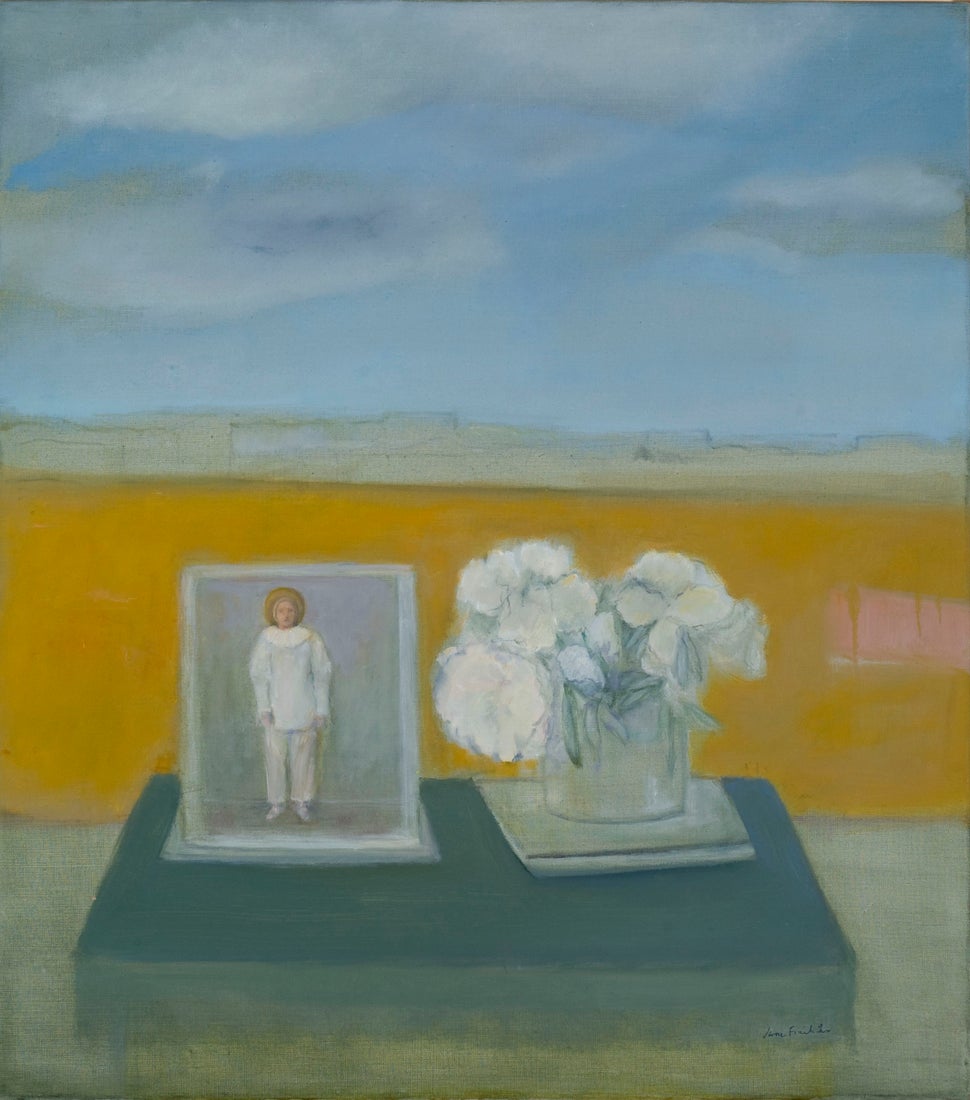 While Freilicher found inspiration from opening her eyes, Wilson did just the opposite. Privileging the "unseen," Wilson used paint as a vessel through which her feelings could reach the outside world. Greatly inspired by Philip Guston, she hoped the thrust of her work would emanate from the liquid pigment itself, not the subjects it depicted.
Wilson described her work as featuring "no palpable substance whatsoever, yet [something] which we experience every day. Of course my paintings have intimations of land and sea but really they're about the other part, the insubstantial part." Through her work, Wilson was determined to let paint speak for itself, so she created atmospheres, sparked moods, created tension and heat. "All perceiving is also thinking, all reasoning is also intuition, all observation is also invention.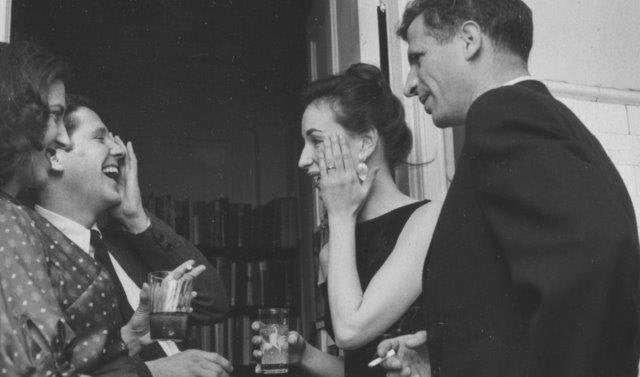 Despite their stylistic differences, both artists were inspired by the town of Water Mill, New York, where they lived, where the weather was tranquil yet all-consuming. By 1960, Jane and Jane's bond was strong, and their friendship contagious. Travel writer Eunice Telfer Juckett summed up their covetable relationship in a column reading:
"Two good friends in Water Mill have many things in common. Jane Wilson and Jane Freilicher, the two well-known artists with a flair for unusual landscapes have spent the past summer preparing for 'one-man' art shows this fall ... While many housewives might bemoan the constant battle against the dust which cultivation of field crops inevitably drives inside, the two artists are much more interested in the quiet, peaceful country atmosphere which such a location provides. In fact, Jane Freilicher comments, 'It makes one feel good just being here. I'm at home. I feel better here than I do in the city; it's not as distracting.'"
The platonic love between Jane and Jane remains widely unknown despite the influence the two had in loosening up the collective bond connecting mid-century budding artists to painted abstraction. The two artists continued painting for six decades; Freilicher passed away in 2014, Wilson in 2015.
Their legacy features, to start, the bravery to forge one's own path, the resilience to remain an outsider with a passionate appreciation of sky, sea, earth, and, of course, paint. And, let's not forget, faith in an ever-fluctuating female friendship that carried the Janes throughout their lives.
Their exhibition, "Seen and Unseen," will be on view from October 25, 2015 until January 18, 2016 at the Parrish Art Museum. Check out a preview of the show below.
PHOTO GALLERY
The Multiple Facets Of Modern Feminism
REAL LIFE. REAL NEWS. REAL VOICES.
Help us tell more of the stories that matter from voices that too often remain unheard.