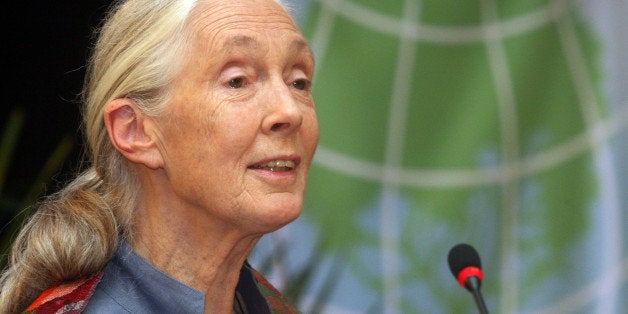 NEW YORK -- Jane Goodall wants to see SeaWorld go extinct.
The 81-year-old primatologist said whales and dolphins should never be held in captivity, and that the entertainment company known for its orca shows should be shuttered.
"They definitely should be closed down," Goodall said in an interview with The Huffington Post earlier this month.
She's not alone. SeaWorld's stock price has been plummeting since July 2013, when CNN released the documentary "Blackfish." The film exposed the misery endured by SeaWorld's trained orca and the dangers posed to trainers working with stressed-out carnivorous whales.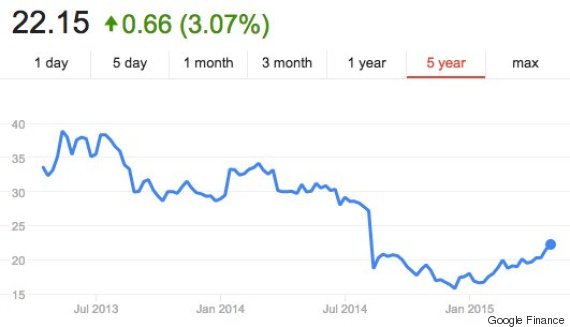 SeaWorld's stock price has declined precipitously since the 2013 release of "Blackfish."
One of the problems highlighted in "Blackfish" is that cetacea, the family of aquatic mammals that includes whales, dolphins and porpoises, communicate with sonar-like sound waves. When confined to tanks, Goodall noted, those waves echo back and create a hellish cacophony for the animals
"When they are contained in these tanks … that is acoustical hell," said Goodall, adding that her nonprofit organization, the Jane Goodall Institute, is urging aquariums across the country to free their whales. "The sounds bounce back from the walls of the tank."
SeaWorld aggressively refuted many of the film's claims, including allegations that its whales were unhealthy and that the company tried to cover up details surrounding the 2010 death of trainer Dawn Brancheau, who was mauled by an orca.
After the release of "Blackfish," SeaWorld saw a rapid decline in visitors, and with that, in the price of shares. But on Monday, Goldman Sachs upgraded the stock, optimistic that the company can retool its image as consumers start forgetting about the blockbuster documentary.
"Jane Goodall is a respected scientist and advocate for the world's primates, but we couldn't disagree more with her on this," Becca Bides, a SeaWorld spokeswoman, said in an emailed statement. "Zoos and marine mammal parks like SeaWorld allow people to experience animals in a way that is inspiring and educational."
Asked about the allegation that SeaWorld's tanks are detrimental to whales, Bides denied the claim, arguing that they are specially crafted to keep underwater noise levels quieter than the ambient ocean.
As of last December, SeaWorld held 22 orcas in its three U.S. marine parks, five of which were caught in the wild, according to the nonprofit advocacy group Whale and Dolphin Conservation. A total of 57 orcas are held in captivity around the world, the group notes. At least 160 orcas have died in captivity since 1961, and an additional 30 pregnant whales have miscarried or had stillborn calves.
Goodall said she remains hopeful that humans are gaining a greater sense of empathy for animals and losing interest in watching them perform for entertainment.
"It's not only that they're really big, highly intelligent and social animals so that the capture and confinement in itself is cruel," she said of the captive orcas, but also that "they have emotions like ours."
She welcomed the decision by Ringling Bros. and Barnum & Bailey Circus to eliminate elephants in its shows by 2018.
"If you see what happens to those baby elephants, the way they're trained, it's absolutely chilling," said Goodall, who had a pendant in the shape of Africa hanging from her necklace. "They lose all of their young elephant playfulness, and then they can be trained."
Support HuffPost
The Stakes Have Never Been Higher
Related
Popular in the Community