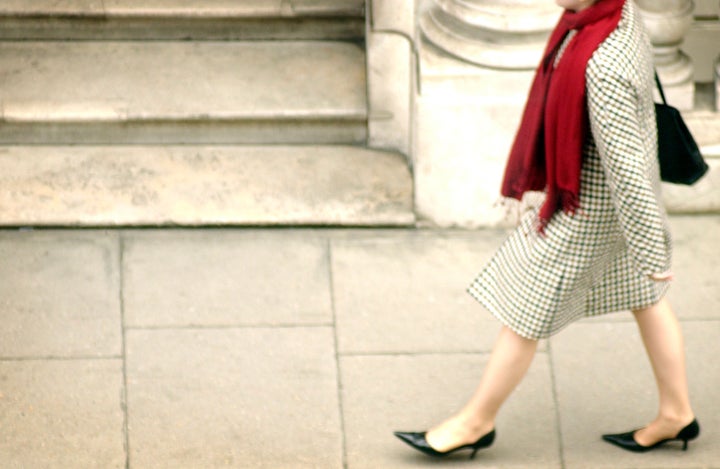 Jane Jacobs would be so pleased. Across this country, more than 120 groups will gather to enjoy a Jane Jacobs Walk to honor her legacy. It is not the numbers that would delight her the most, although the fact that hundreds of these free walking tours will occur around the world would certainly please her. It is instead the ingenuity of the gatherings, meant to bring neighbors, friends and strangers together to explore, observe, connect and discuss an area in their city.
A look at the U.S. map on JaneJacobsWalk.org illustrates how far and wide these walks are. But "Unicycling For Change" in Bozeman, Mont., has to take the prize. Sure, walkers, two-wheeled cyclists, wheelchairs and all mode of mobility are apparently welcome, but the underlying theme here seems to be change of a broad sort. Without going to Bozeman, it is difficult to know what "change" the organizers have in mind but one can assume that at least a concern for transportation choices will be central here.
One might wonder if residents of Charlotte, N.C., know what diversity enriches their city but they can surely discover by way of their stomach. The "Charlotte Munching Tour" will focus on the Vietnamese, Salvadoran and Somali offerings put forth by these immigrant communities, one small reflection of the diverse richness that Jane celebrated and that she early pointed out comes with the cultural and entrepreneurial spirit such newcomers bring.
And how clever they are in Sacramento, Calif., where the "Seersucker Ride" will follow a former streetcar route and invite participants to feel free to dress of the period to view local Victorian landmarks and the routes of the onetime assortment of public transit options that all cities once had. The need for a robust public transit system, Jacobs emphasized, was a basic requirement of well-functioning cities. Sacramento's six tours, in fact, touch on a number of fundamental concerns of Jacobs: basic infrastructure, mixed-use business and residential district, appealing parks, culture -- in this case an early rock 'n' roll history, and, of course, the State Capitol and its surrounding neighborhood. Jacobs would surely appreciate how this selection reflects many of her multiple concerns.
Jacobs, of course, was the 20th century's most articulate voice on behalf of the interconnectedness of urban functions, the idea that every city is like a fabric woven of many different threads all of which depend on each other for the strength of the whole. The Center For the Living City, of which Jane Jacobs Walks are an important program, was founded before her death to build on those fundamental ideas and on her multi-faceted legacy.

Jacobs was a staunch opponent of any kind of centralized control and a great proponent of what has come to be identified as self-organized action, of which the Walks are a great example. Not only are the walks a great example of just the self-organization Jacobs celebrated, but it is run exclusively by dedicated volunteers whose commitment to the Jacobs precepts brings them together in a totally organic way. Led by Nate Currey under the direction of Center Executive Director Stephen Goldsmith at the University of Utah in Salt Lake City, the volunteer team both manages the walks and are available to advise and assist walk leaders from everywhere. With a grant from the Google Non-Profits Grant Program, Currey has made the program's website accessible in new and interesting ways and developed technically rich content.
The interesting array of walks focus heavily on neighborhoods of one kind or another. Participants would do well, either before or after the Walk, to reread her chapter, "The Uses of City Neighbor-hoods." As with all of her writing, her insightful observations offer good food for thought. For example:
To hunt for city neighborhood touchstones of success in high standards of physical facilities, or in supposedly competent and non-problem populations, or in nostalgic memories of town life, is a waste of time. It evades the meat of the question, which is the problem of what city neighborhoods do, if anything, that may be socially and economically useful in cities themselves, and how they do it.
Jane Jacobs Walks USA are not limited to the first week-end of May to mark her birthday. East Austin, Texas, wasn't waiting and already held its neighborhood tour in mid-April focusing on the impact of Urban Renewal and other forces altered that community, what Jacobs called "cataclysmic change." On May 10, Seattle walkers will stroll the Pike/Pine Corridor to explore old and new development and and missed opportunities. Burlington, Vt., will hold two walks the week-end of May 12, also focusing on the negative impact of Urban Renewal, mainly the displacement of a vibrant Italian community. Apparently, former residents of that community will be on hand to share memories of what was lost. But also the walk will focus on a wide downtown street now targeted for redesign and the goal here is to gather observations and ideas from participants related to ongoing plans.
Several of the walks seem to focus on the unfortunate remnants of Urban Renewal and the positive efforts to rebuild such areas. This is great for the healing process. Some emphasize mobility and sustainability issues, others the unique appeal and hard-to-measure value of heritage areas whose historic appeal have retained a segment of the urban population that once fled cities. And others highlight the positive and negative effects of recent change. New Orleans has several walks focusing on the positive change occurring in areas of the city visitors never see and New York City has an overwhelming assortment of choices and not all just on the May 5th weekend.
How could Jane not be overwhelmed by the variety of tours that zero in on so many of the things she wrote about so eloquently? Significantly, walks that emphasize the positive at a time of such difficult change are even occurring in such challenged cities as Detroit, Hartford and Oakland. For example, the Rocky Ridge tour in Youngstown, Ohio, will be led by residents who view their neighborhood as the city's "hidden gem" and will share how the community helped shape the place and the place shaped the community despite the hard times this post-industrial city has and still is experiencing.
But surely Jane would chuckle over the "Ugly Houses Tour" in Karlskrona, Sweden. Any why not? No better way exists to awaken a public interest in positive change than to examine the negative to reveal possible remedies.
Calling all HuffPost superfans!
Sign up for membership to become a founding member and help shape HuffPost's next chapter