Midway through her new cabaret show, Jane Lynch performs a faithful, though endearingly cheeky, version of Nicki Minaj's "Anaconda," alongside Tim Davis, veteran musical director of "Glee," and "The Office" star Kate Flannery.
Easily the night's most buzzed-about moment, the number encapsulates the self-effacing, vaudevillian feel of "See Jane Sing!," which opened for a four-night stint at Joe's Pub at The Public Theater in New York Aug. 16. Fresh off her six-season "Glee" run, Lynch is a hell of a lot of fun to watch. Any doubts about how the star's vocals would hold up in a live setting are quickly dispelled by the jovial, innuendo-laden number, "Slappin' the Cakes," and a whimsical, pitch-perfect take on Irving Berlin's "Mr. Monotomy," both of which were highlights.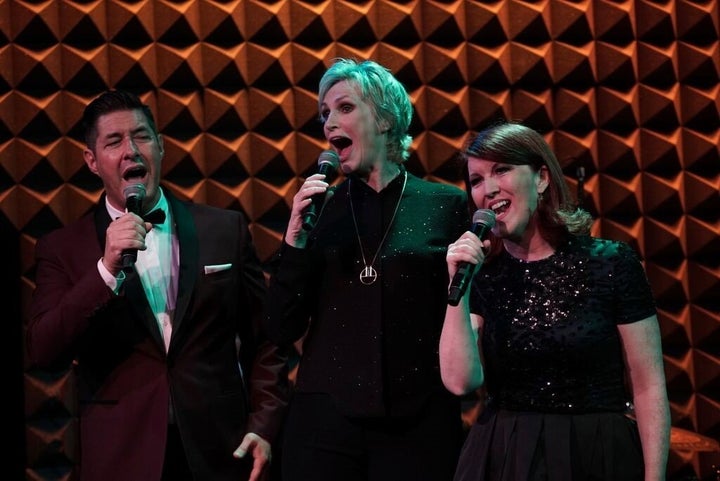 With the titular star being joined onstage by Davis and Flannery for all but two of the 14 numbers, it's also more appropriate to call "See Jane Sing!" an ensemble effort rather than the solo cabaret it's been billed as. Lynch offers coy humor in lieu of personal insight in her stage banter, cracking jokes about (among other things) a possible wardrobe malfunction given the audience's proximity to the stage.
Still, audiences familiar with Lynch's work in Christopher Guest's "A Mighty Wind" and "Best In Show" will appreciate her acerbic take on a maudlin medley of '60s era love songs, as well as "I'll Plant My Own Tree," penned for the 1967 cult flop, "Valley of the Dolls."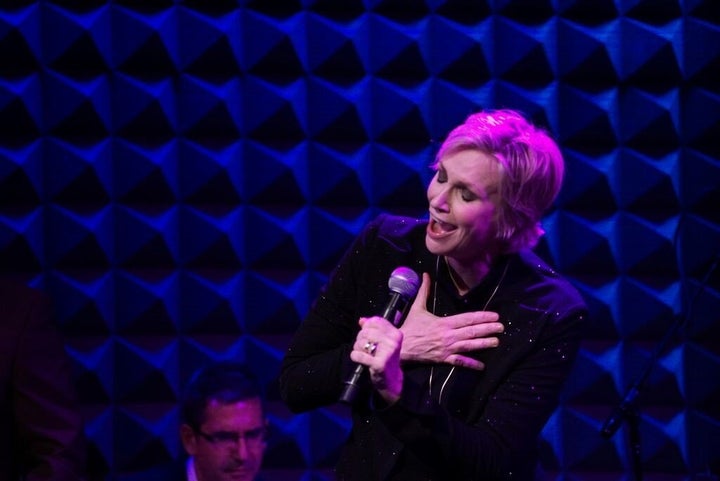 While some of her dryly humorous moments may be lost on young "Glee" fans, Lynch knows to play to her strengths, eschewing the torch songs that have become concert staples for Patti LuPone and Bernadette Peters and putting the emphasis squarely on the laughs instead. In "See Jane Sing!," she proves herself to be a warm, witty cabaret presence. 
After her four-night Joe's Pub run wraps Aug. 19, Lynch will bring "See Jane Sing!" to Chicago, Minneapolis and Madison, Wisconsin, among other cities. Head here for details. 
PHOTO GALLERY
Fox's "GLEE" 100th Episode Celebration
Calling all HuffPost superfans!
Sign up for membership to become a founding member and help shape HuffPost's next chapter