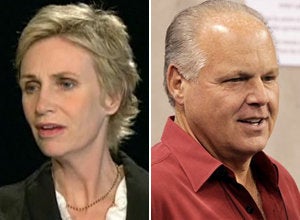 "Glee" star Jane Lynch appeared on Katie Couric's web show, @katiecouric, this week, and in Couric's regular word-association "Name Game" Lynch offered up a Rush Limbaugh diss.
When asked what she thought of Limbaugh, Lynch responded, "We could do without him, can't we?"
Lynch otherwise had positive things to say about the names Couric brought up, including Olivia Newton-John, Ellen DeGeneres and Jennifer Coolidge.
Elsewhere in the interview, Lynch -- who is a lesbian and is getting married to her partner next month -- spoke about being a gay actor in Hollywood, specifically prompted by the controversial Newsweek article that argued gay actors cannot convincingly play straight characters.
"I defer to Aaron Sorkin who wrote a wonderful blog on the Huffington Post and said, you can no more play gay than you can play Catholic," Lynch said. "It's kind of just one part of who somebody is, unless they're a flamer or a butch dyke, if you're going overboard with a stereotype. But I don't think it really matters...I play straight people all the time and nobody's upset about it."
Watch the full interview below:
Related
Popular in the Community