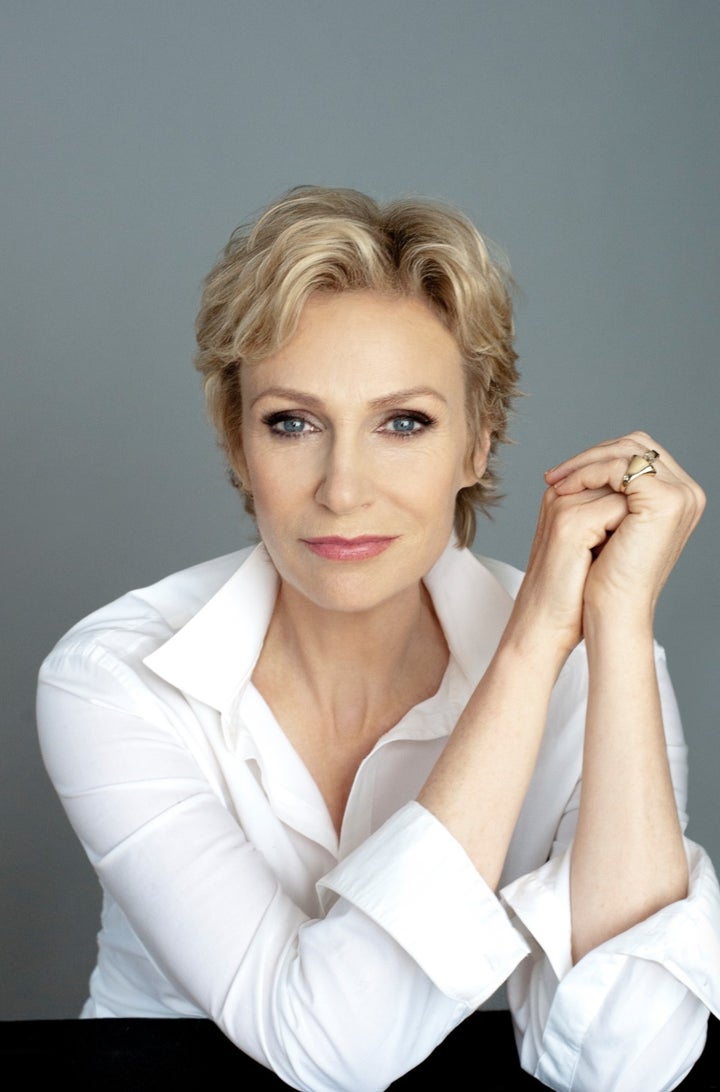 Celebrated quadruple Emmy Winner, actress, singer and comedian, Jane Lynch will be appearing live on stage at the Ridgefield Playhouse, (80 E Ridge Rd. CT.), on Saturday December 2 at 8:00pm. The name of the show is called, "A Swinging Little Christmas" and will also feature Kate Flannery (The Office) and Tim Davis (Boy Band). The three will be singing selections off their release, "A Swinging Little Christmas". Praised and admired for her role as Sue Sylvester, the main antagonist throughout Fox's sensational, musical dramedy "Glee", host of NBC's "Hollywood Game Night", and her recent guest appearance on the new "Will and Grace", her film, television and stage credits would require a novel to list, however just to touch the surface: "The Fugitive", "Best in Show", "The 40-Year-Old Virgin", "Role Models", Another Cinderella Story", "Spring Breakdown", Ice Age: Dawn of the Dinosaurs", and Wreck-It Ralph". Her television appearances include: "Manhunt: Unabomber", "The X Files", "Desperate Housewives", "Arrested Development", "Gilmore Girls", "Weeds", "Criminal Minds", "L Word", "Fraser", and "Saturday Night Live". Aside from that Lynch hosted the "63rd Primetime Emmy Awards", has received a Star on The Hollywood Walk of Fame", and has written an autobiography entitled, "Happy Accidents". Lynch also debuted in her own cabaret show, "See Jane Sing" with "The Office's" Kate Flannery. Kate Flannery and Tim Davis from ABC's "Boy Band", also recorded "A Swinging Christmas" which is a nostalgic Christmas album, laced with superb harmonies and fun filled tunes. A perfect way to celebrate accompanying Christmas dinner. Also recently, Lynch released a Christmas single and video with the iconic actor and singer, Dick Van Dyke, written via Tony Guerrero, and entitled, "We're Going Caroling".
I was honored to speak with the vivacious Jane Lynch in depth, regarding her Ridgefield Playhouse engagement as well as some of her other projects, future projects, and what she's been up to. She was warm, authentic and a regular blast!
What can the people at the Ridgefield Playhouse look forward to?
Oh, "A Swinging Little Christmas" time, which is the name of our album, and the name of the show. We have a wonderful 5 piece band. They really Swing and jazz out. We have an album called, " Swinging Little Christmas", and we'll be performing all songs from that album. If people want to bone up on it they should get it ahead of time and sing along with us. Kate Flannery who is "Meredith the Drunk" on " The Office" is my cohort in this, as well as Tim Davis who is the. Coal arranger of "Glee", and who is also one of the coaches on "Boy Band". He is a really good friend, handsome, beautiful voice, and the three of us do very tight three part harmonies. It a lot of fun. Anywhere there is Kate Flannery there is going to be fun. So, there's a lot of fun on stage, and the music in my humble opinion is gorgeous. We have an amazing band, Tony Guerrero Quintet, from Orange County in California. They've been playing together for years and are real throw-backs. They wear the skinny ties with the pocket squares, and they're fun, and handsome, and we are gorgeous, and it's a beautiful night.
I heard the album actually. It's a very cool album, full of swing....so wait a minute, Kate Flannery and Tim Davis will be performing with you?
That is so cool. So you were on the new "Will and Grace". Do you think your role might become a recurring role?
I don't think so, I think it was a one of, but boy what fun that was. I played a gay conversion therapy counselor. Of course, I was so gay it made your teeth hurt. My quote, unquote husband was Andrew Rannells, who couldn't be more game himself...which is a lot of fun. We got to do some really fun things with them. It was a great, great, great time.
I notice that you just recorded a Christmas single with Dick Van Dyke? How cool was that?
Yes, it was the best. Tony Guerrero our band leader wrote a song called, "We're going Caroling". Dick agreed to record it, I sang the backup, and so we made a little video. So that is something you can get on iTunes and Amazon as an extra when you buy the album. You can also go on my website: janelynchoffical.com to see all of this. We have three or four videos of our Christmas songs too. Real simple things, standing in front of a big mic, with great editing, and it's funny. He's just a champ, he's amazing. It was a dream come true for me, to stand next to him, singing that song.
I've heard you rap, but in the video you're playing the saxophone. Do you really play the saxophone?
No..... and I don't rap that well either, let's be honest.
I thought it was great, it made me laugh.
You have done so many projects in your career, you're an actor, singer, comedian, cabaret performer, 4 time Emmy Winner, you have a star on the Hollywood Walk of Fame", is there anything that you haven't done yet that you still wish to accomplish?
No. I have no bucket list. I never did really. I just kind of always took what came my way, I said, " hmm, I'll do this". I really love what I do, and I continue to love it, and if I didn't then I wouldn't do it. New things keep on coming in, and it's thrilling. Everyday is thrilling, I'm always doing something new.
Follow on Twitter @JaneMarieLynch
Popular in the Community