AUSTIN, Texas -- It's been a long week for Texas state Sen. Jane Nelson.
As Republican chairwoman of the Senate Health and Human Services Committee, Nelson has played a central role in ushering a controversial abortion bill through the legislative process.
She presided over a marathon hearing on Monday that heard public testimony from more than 3,800 people. Some shared gut-wrenching stories about being raped and getting pregnant. Some expressed regrets about abortions they wish they hadn't had. Scores of women fumed about the bill eroding their reproductive rights, with one woman making this point in the form of a poem: "If My Vagina Was A Gun."
Nelson presided over another hearing on Thursday, where pro-abortion rights Texans in the audience burst into song the "We're Not Gonna Take It" by Twisted Sister, and were led out of the room by security as Nelson and other Republican lawmakers voted to send the bill to the Senate floor.
Nelson will be among those voting Friday to pass the bill in the Senate, the last step before it heads to Gov. Rick Perry (R) to become law. Among its provisions, the measure would ban abortions after 20 weeks and require that all abortions -- including those induced by a pill -- be performed in ambulatory surgical centers. It would also shutter nearly all of the state's abortion clinics.
The Huffington Post caught up with Nelson on Thursday and asked if she was worried that the state's fight over abortion rights, which has sparked massive rallies and gotten national attention, could hurt Republicans politically when it comes to female voters, particularly in 2014. She responded with agitation.
"Now I gotta tell you, I am really angry about that phrase 'war on women," she said. "I'm a woman!"
Nelson, who came to the Texas Senate in 1993, touted her record on standing up for women's issues, saying she was "speaking loudly for women's rights" in college 40 years ago.
"My generation laid the groundwork for a lot of these young women," she said. "We were the generation of firsts ... We were the ones that broke into that glass ceiling and we paved the way for years."
She demurred, though, when asked if that meant she thinks the abortion bill helps women's rights.
"No, I'm saying the women's rights issue has been brought into this," she said. "There are many other women's rights issues that we could be talking about. This is not a war on women. This bill is, you know, trying to correct a war on babies that's taking place ... That's not anti-woman. Half of those babies are going to be women."
"This is not a women's rights bill," Nelson added. "It's not going to hurt the Republican Party."
Rep. Jessica Farrar (D-Texas), who leads the House Women's Health Caucus, called it "really puzzling" that Nelson would tout her background on women's rights while dismissing the abortion bill as unrelated.
"I don't know what she calls women's rights, but I think it includes a woman's self-determination," Farrar said. "This bill jeopardizes women's health."
Farrar noted that Nelson's voting record doesn't exactly reflect that of a leader on women's rights. In the last legislative session, Nelson was among those who voted to cut more than $73 million out of the state's $111.5 million family planning budget, which resulted in cutting off 147,000 women and closing more than 50 clinics. She also voted against legislation to bring the state into compliance with the Lilly Ledbetter Fair Pay Act of 2009, a federal law that makes it easier for women to sue employers over wage discrimination.
As for whether Republicans should expect a backlash in 2014 because of the abortion fight, Farrar didn't hesitate with a response: "Definitely."
Texas may be overwhelmingly Republican, but Farrar said Republican women in the state have already shown that they can be swayed to vote for Democrats. She cited Ann Richards, the former Democratic Texas governor, who she said was elected with the support of a substantial number of Republican women.
House and Senate Republicans rallying behind the abortion bill "have made a huge tactical error" for their reelection campaigns, Farrar said.
Before You Go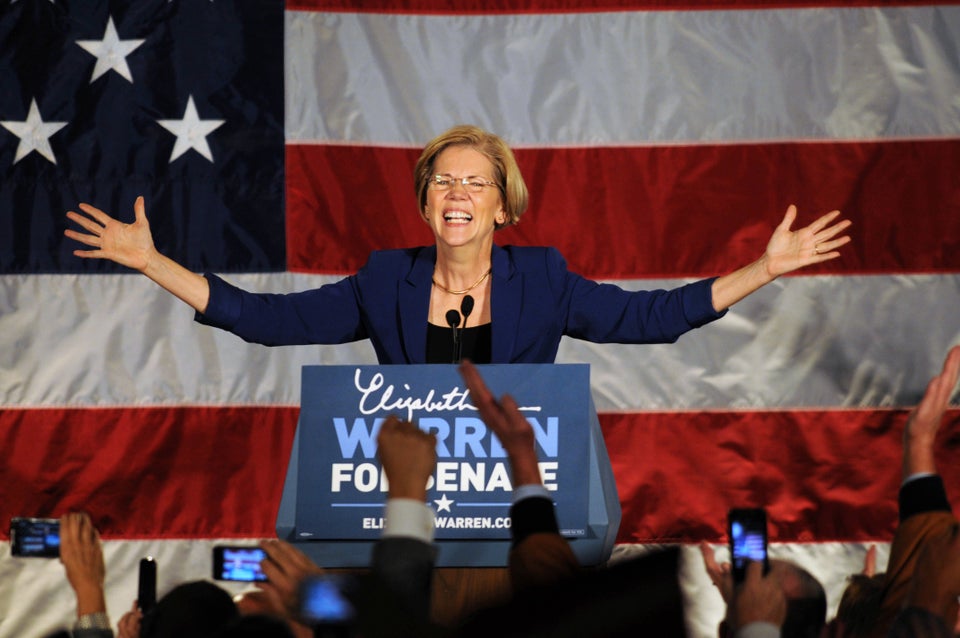 Women In The U.S. Senate
Popular in the Community