 A negative Yelp review could cost one woman close to $1 million.
Jane Perez, a Virginia woman who wrote a scathing Yelp review of the contracting company that worked on her home, is being sued by Christopher Dietz for $750,000, according to the Washington Post.
Dietz, the owner of Dietz Development, filed the Internet defamation lawsuit filed last month, stating that "plaintiffs have been harmed by these statements, including lost work opportunities, insult, mental suffering, being placed in fear, anxiety, and harm to their reputations."
Perez's Yelp review accused the company of damaging her home, charging her for work that wasn't done and of losing jewelry. The lawsuit follows an earlier case against Perez, which was filed in July 2011 by Dietz for unpaid invoices. According to the recent filing, the two were high school classmates.
Dietz isn't the first business owner to sue over a negative Yelp review, but we think he could have devised a more creative -- and less expensive -- way to vent his frustration.
Craft and Commerce, a restaurant in San Diego, plays recordings of some of the most negative Yelp reviews the restaurant has received over the bathroom speakers in an attempt to make light of the situation.
The growing trend has resulted in a crackdown in which Yelp employees stage "sting operations" to catch perpetrators. If caught, the Yelp page for the guilty company will host a red alert banner on the review page, informing consumers of the business' indiscretions.
UPDATE: Dec. 7, 8:45 a.m. -- On Wednesday Dec. 5, the judge granted a temporary injunction in favor of Dietz and ordered Perez to remove the reference to stolen jewelry from her review, according to the Daily Mail. He also ordered her to change a reference to the previous lawsuit because it included incorrect legal terminology.
Before You Go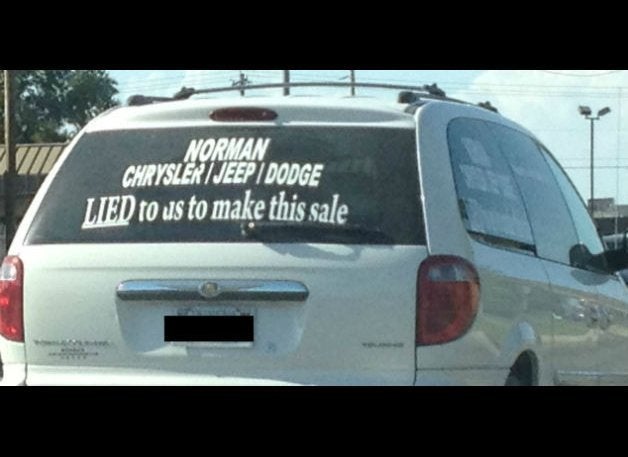 10 Ways To Retaliate Against Bad Customer Service
Popular in the Community