Just a few hours after the end of their 20-year marriage became public knowledge, Jane Seymour and James Keach hosted their 3rd Annual Open Hearts Foundation event, a non-profit charity organization, which donates funds to other groups doing important philanthropic work in the areas of health, sports, arts and education.
Having covered the event each year, Jane Seymour, who looked stunningly beautiful in an aqua gown, was noticeably reserved, but still poised, professional and direct during our interview just after she and James Keach posed for photos with guests and honorees.
The "Open Hearts" philosophy of selfless giving even in the face of adversity, originated from Seymour's mother, who survived a concentration camp in World War 2. The event went on as scheduled at the couple's Malibu residence, despite the uncomfortable headlines on many celebrity news sites earlier in the day. The couple exemplifies living the "Open Hearts" mantra.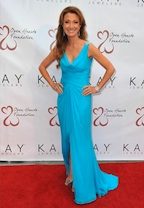 "[My mother] used to say to my sisters and I, when you're going through something insurmountable, your instinct will be to close off. If you can accept what's happened, be in the moment and reach out to help another... purpose, love and a solution will come into your life," Seymour said.
The "Open Hearts" symbol, was designed by Seymour, also an artist, as an international symbol of inspiration and love. In addition to the honorees receiving a bronze statue of the open heart symbol, presenters and guest were all given jewelry from Seymour's collection (available at Kay Jewelers), in celebration of the evening.
When asked about the recent announcement regarding the divorce, Seymour said quietly with her customary grace, "life is life and I practice my philosophy. We are working together on the charity and our kids. For us this is old news (Keach moved out several months ago). The news just broke, but as you can see we are working together tonight."
The couple selects four charities each year to be the recipient of the honor, which includes an undisclosed financial gift. This year they added another charity foundation, honoring a total of five recipients. The 2013 Honorees included:
• The Bob Woodruff Foundation- Helping to heal the physical and psychological wounds of war by diligently navigating the maze of more than 40,000 nonprofits providing services to veterans--finds, funds and shapes innovative programs, and holds them accountable for results. Bob Woodruff was unable to attend because he is on assignment in South Korea. His wife, Lee Woodruff accepted the award on his behalf.
• Maria D'Angelo-Children's Lifesaving Foundation which is transforming the lives of LA's Homeless & At-Risk youth & Families with programs that provide a cohesive platform of activities, including summer camps.
• Hannah Storm of "The Hannah Storm Foundation" which provides medical support for children and families suffering from Vascular Birthmarks and their related medical conditions. Storm herself has dealt with the fallout from having a large port wine stain on her face and is dedicated to helping others in similar circumstances.
• Steve Gleason of Team Gleason, which provides individuals with ALS and other neuromuscular diseases or injuries with leading edge technology, equipment and services. Gleason played for the New Orleans Saints from 2000-2008. In 2011, Gleason revealed that he was battling ALS, commonly known as Lou Gehrig's disease and has dedicated his life to helping others.
• Marie Tillman of the "Pat Tillman Foundation," which honors Pat Tillman's legacy and pays tribute to his commitment to leadership and service with educational scholarships with goals of building a diverse community of leaders committed to service to others. Tillman was an American football hero who enlisted in the Army Rangers after the events on September 11 and was later killed by "friendly fire.' His wife Marie honors his memory with the foundation.
Several past honorees were presenters including Susan Rizzo Vincent of "Drea's Dream" who spoke about the continued opportunities she has had due to "Open Hearts" and specifically, Jane Seymour's support, who she met through involvement with "Dancing With The Stars".
"It's challenging to convince people that dance therapy is life-changing, but due to a phone call made by Jane, our foundation is now helping patients at Valley Academy of Arts and Sciences in Los Angeles and I'm taking students to a VIP day at Dancing With The Stars," said Rizzo-Vincent.
James Keach opened the evening of festivities by saying "life is messy and we all get ourselves in situations we need to learn from and we get changed from. These people tonight have taken adversity and changed it for the better and that's what we all need to do."
Keach produces, writes and narrates all the videos for the event and is currently in post-production on a feature film about the life of legendary musician, Glen Campbell, who was an Open Hearts honoree last year. Although he was suffering from Alzheimer's disease he performed his music with his children and other VIP guests to standing ovations at last year's event.
"When you are moved by a story and you speak the language of film, which is my first language, these people empower you to tell their story from your heart, in this case from my heart," Keach said when asked about his involvement in the event this year.
Stellar musical performances entertained guests after dinner and a silent auction. Glen Campbell's daughter Ashley Campbell, opened up the evening as a soloist. New Acoustic-Blues band, "Kill It Kid," straight from Bath, England, wowed the audience with several new tracks. The pair just arrived in Los Angeles to work with legendary Seymour Stein on their debut album with Warner Music. The beautiful and talented Andra Day, also with Warner, belted out jazz numbers. Finally, Alex Band, former lead singer of "The Calling" showed off his four-octave range as he performed brand-new original music, then closed with Adele's "Skyfall."
Band also announced emotionally during his performance, he had recently been diagnosed with Parkinson's disease. He spoke later about being very moved by the video on Steve Gleason's diagnosis of ALS, produced by Keach.
"It got to me because what's happening to him over a long time, happened to me all at once. I had no idea what was going on. I thought, I'm a 31-year who's never done drugs, what's going on? I eventually lost feeling in the entire left side of my body before the diagnosis was finally made. Thankfully, I'm on a brilliant new medication thanks to Michael J. Fox's fundraising, which takes away 99% of the symptoms" Band said.
Seymour continues to be a busy actress in great demand. She just wrapped a pilot called "Adopted' from the producers of "Modern Family," where she had "fun playing the worst mother ever." She has a recurring role on Franklin & Bash as Peter Bash's mother and is in a feature film called AustenLand, made by the people who did Napoleon Dynamite, she calls "hysterical." Seymour is starring in the American Girl video called "Saige Paints The Sky." Keeping up with her love of dancing, she and Chelsea Kane play the same character in "Love Struck-The Musical," as a choreographer who wants her daughter to be a star.
Seymour's proudest accomplishment was clear... her new granddaughter, who was floating around the party with her mom, in a pink ballerina outfit and had Seymour gushing with love from her remarkable open heart, which is an inspiration for all of us.
PHOTO GALLERY
Jane Seymour & James Keach Open Their Hearts Despite Divorce Announcement
Calling all HuffPost superfans!
Sign up for membership to become a founding member and help shape HuffPost's next chapter