A glittering metropolis like Manhattan has many, many confectionary delights at Christmastime but one of the best is Jane Siberry's Holiday Hoes and Hosers show this week at Broadway's Iridium Jazz Club. Each night features a special guest culled from the vast treasure trove that is New York City.
I was lucky enough to attend the first night of Siberry's six-show residency. First, a word about the Iridium Jazz Club, the former home of venerable guitarist Les Paul who played there from 1996 to 2009. The club continues to honor his memory with Les Paul Mondays, reserved for guest guitarists to play and stand exactly where he stood. In addition, the club books a marvelously eclectic roster of talent throughout the year. Siberry's shows go through Sunday, December 21st. Upcoming shows include the Vernon Reid Power Trio, Dee Dee Bridgewater, and Paquito D'Rivera and Trio Corrente.
Siberry was accompanied by musical director Peter Kiesewalter on keyboards, cellist Kevin Fox, actress/singer Rebecca Jenkins and Australian singer Ali Hughes. Imagine, if you will, although you probably can't, so you must go to one of these shows (or all!) - three lovely ladies, festooned with festivus trees and sparkling blingyness, and the voices of sweet and wise-ass angels. Keyboardist Kiesewalter drove the train and cellist Kevin Fox, beautifully underpinned the melodies with his instrument and occasionally a lovely vocal as well.
The Holiday Hoes and Hosers called to mind one's most magical Christmas dreams from childhood, as well as dreamy David Lynch soundtracks, moon goddess chants, stream of consciousness poetry, kundalini yoga spirits, all celebrating the Prince of Peace. The feathery cello tickled the heart strings - in some cases (mine) drawing tears from the eye.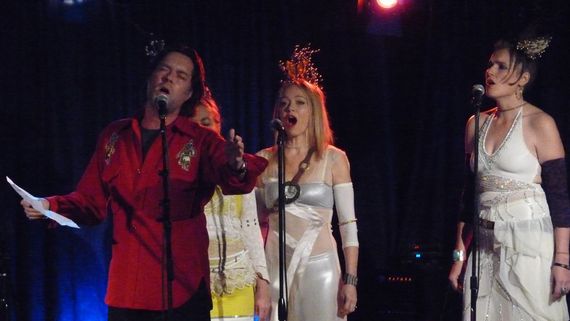 Rufus Wainwright Joins Siberry and her Hoes and Hosers
Photography (c) by Teri Landi, Used With Permission
Standout numbers among a night of artisanal delights included "Hockey," "Are You Burning, Little Candle?", and, of course, "Calling All Angels". Siberry also debuted a wonderful new song from her new album, Consider the Lily, slated for release next year. The highlight of the night was Rufus Wainwright's stunning read of "O Holy Night," which gave chills to my chills. Catherine Russell joins the festivities tonight, Ne-Yo/Ginuwine/Lupe Fiasco collaborator Brandon Howard on Saturday, and others yet to be announced for Friday and Sunday. Sunday's show will be taped for an upcoming PBS broadcast.
Summing up, you need to see this - there are still four more chances - get thee to the Iridium and open your heart to the divine.
Popular in the Community