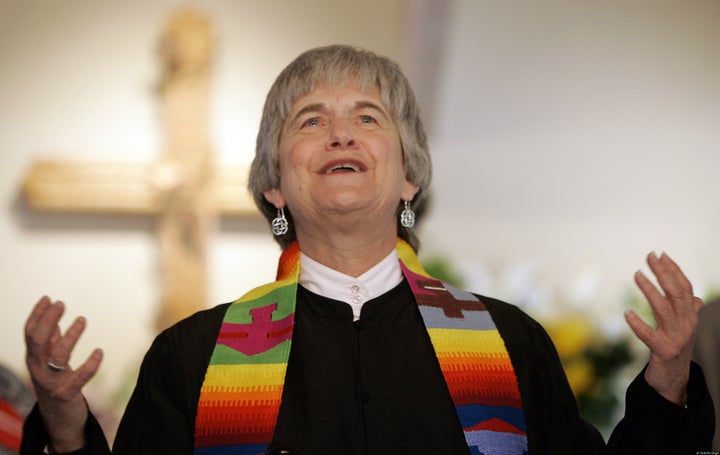 By Daniel Burke
Religion News Service
(RNS) For the second time in two years, the Rev. Jane Spahr is on trial in the Presbyterian Church (USA) for performing same-sex weddings.
A retired pastor and self-described "lesbian evangelist," Spahr, 68, was acquitted of similar charges by the denomination's high court in 2008. The same-sex ceremony she had presided over in 2006 was not really a "marriage" since neither church nor state recognized it as such, the court ruled.
Months after that ruling, Spahr again wed a same-sex couple. This time, however, same-sex marriage was legal in California. In fact, Spahr wed more than 16 gay and lesbian couples before California voters passed Proposition 8 and outlawed same-sex marriages in November 2008.
"These are marriages," Spahr said in an interview. "They were legal marriages that were done. There is no question about that."
Now, less than three weeks after a federal judge overturned Prop 8, a seven-judge church court in Napa, Calif., must decide whether Spahr broke church rules while following state law.
Liberal and conservative Presbyterians alike have little doubt about the outcome of the three-day trial that began Tuesday (Aug. 24). They expect the liberal Presbytery of the Redwoods to acquit Spahr.
More important, they say, is what the higher courts decide when the ruling is inevitably appealed, and how Spahr's case plays out in the court of public opinion. A decision from the Redwoods Presbytery court is expected to be issued early next week.
With about 2 million members, the PCUSA is the largest Presbyterian denomination in the U.S., though it has been losing members for decades, with dozens of congregations leaving amid a 40-year fight over homosexuality. On Sunday (Aug. 22), the 1,700-member Colonial Presbyterian Church in Kansas City, Mo., voted to leave the PCUSA to join a more conservative denomination.
Spahr's case also highlights a new dilemma for progressive Presbyterian pastors who live and work in the five states and the District of Columbia where same-sex marriage is legal.
At least a dozen Presbyterian pastors are marrying same-sex couples under the radar, said Pam Byers, executive director of the liberal Covenant Network of Presbyterians.
Under PCUSA law, pastors are allowed to bless same-gender unions, but are not permitted to call them marriages or represent them as such. Many progressive pastors say the rule creates a separate-but-unequal arrangement that alienates their gay and lesbian parishioners.
In Massachusetts, where same-sex marriage has been legal since 2004, a mid-level church court convicted the Rev. Jean Southard in June of violating the PCUSA's constitution and her ordination vows by officiating at the marriage of a lesbian couple.
Southard has appealed the conviction, which will now be considered by the PCUSA's highest court, the Permanent Judicial Council of the General Assembly. That decision will likely come before Spahr's case reaches the high court.
In July, delegates to the PCUSA's General Assembly voted to lift a ban on sexually active gay and lesbian clergy. But the ban must be ratified by a majority of the church's 173 regional presbyteries, where similar moves have been defeated four times in the last dozen years.
In the absence of a firm consensus on same-sex marriage and gay clergy, PCUSA courts have been reluctant to deliver rulings on the merits of cases like Spahr's, often tailoring narrow judgments around technical issues instead.
Some Presbyterians predict Spahr's trial will produce a similar result.
"A lot of time and energy and money will be spent on what in the end will probably not be a clarifying moment for the church," said the Rev. Jerry Andrews, a San Diego pastor and moderator of the conservative Presbyterian Coalition.
"It's doubtful it will stop at the lower level, and its interpretation (of church law) will be ambiguous, maybe intentionally so."
But Byers said the Spahr case provides progressives with another venue to make the case--both inside and outside the courthouse--for gay marriage.
"Jane's ministry is in two parts," Byers said. "It is primarily pastoral, but it's also a ministry of witness. So she has the three days of the trial to present lots and lots of witnesses. The actual import of this case and this ruling is educational."
Calling all HuffPost superfans!
Sign up for membership to become a founding member and help shape HuffPost's next chapter