"Odd how the creative power at once brings the whole universe to order." -- Virginia Woolf
"The camera makes everyone a tourist in other people's reality, and eventually in one's own." -- Susan Sontag
The images in Jane Szabo's Sense of Self exists at the intersection of multiple threads of contemporary photography -- self-portraiture generally, and by women artists in particular; a related exploration along the continuum of gender roles and the construction of identity; and as a purely formal matter, the narrative potential for serial images and the emotional depths of abstraction. Szabo started making this work following a period in which her series of environmental portraits called dis.place.ment explored parents photographed in their childrens' rooms and vice versa. Whether the subject was male or female was not as important to Szabo as was the sense of dissonance that the displacement of the person in the space created. The work ignited in Szabo the somewhat unsettling conviction that, as she says, "It was time to turn the camera around." The gestural, impactful, evasive, awkward beauty speaks to the vulnerability and self-examination Sense of Self was conceived to chronicle.
Susan Sontag and other public intellectuals engaged with the problematic charisma of photography often deconstructed the language of the medium, which is the language of the hunt. Take, capture, shoot. Its predatory leanings were especially apparent in the male photographer/female model structure that had inhabited all of art history and only grew more dominant with the advent of photography. In this context, female self-portraiture took on and continues to retain a special power within the genre -- a quality that telegraphs political, personal, psychological, literary, and emotional awareness. Yet to some degree this imbalance of power exists in every transaction where one person takes another person's picture. In that sense, Szabo's deployment of self-portraiture, inspired by her experience picturing others outside their comfort zones, is more concerned with matters of universal human nature.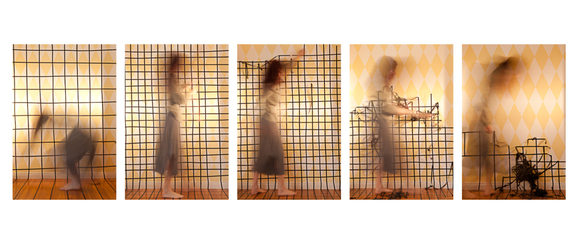 Though reminiscent of artists like JoAnn Callis (with less sexuality and more clothing) and Cindy Sherman (with less makeup and much less mess) -- whose staged self-portraiture overtly takes on the power dynamic -- for Szabo, Sense of Self is about her individual "struggle to maintain a sense of order in myself and my environment (a process that is failing)." It's an "attempt to contain chaos" that reflects her "urge to grid and sort" as a mechanism of control -- a trait that inevitably comes into conflict with what she calls her "desire to be free." In service of this idea, the evocative blurriness of the figures and the surreal, stylized yet minimal atmospheric architectural settings -- and the heavily symbolic interaction between the figures and elements of this environment -- suggest both regimentation and expressivity. Her use of serial imagery, what the artist calls "documenting a process" is part Eadweard Muybridge and part Virginia Woolf. Her background as a painter inheres in her photographic compositions, with her striking emphasis on pattern and color doing as much of the narrative work as the attitudes and actions of the figures (herself).
SENSE OF SELF opens Thursday, July 10 (7-9pm) at the Los Angeles Center for Digital Art (LACDA) during Downtown Art Walk.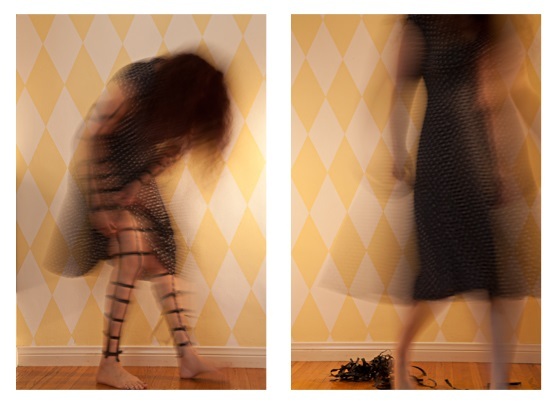 Related
Popular in the Community