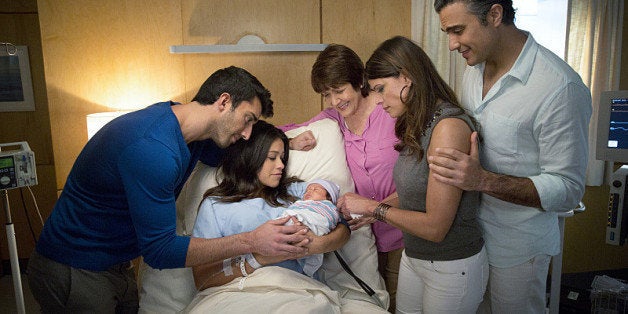 Where to begin with the "Jane the Virgin" Season 1 finale? How about with a phrase frequently uttered by its narrator: "Let's do this!"
Just over a year ago, members of the media began getting copies of the pilot for "Jane the Virgin." By August, there was hardly a TV reporter or critic who didn't have a mild or major crush on the show. It was so smart and precisely calibrated; it was bold and melodramatic at times, but it efficiently mixed heartfelt family drama into its telenovela constructs. The "Jane the Virgin" pilot was simply light-years better than most of the turgid, forced pilots the broadcast networks aired last year.
But did any critic really believe the show could sustain the impressive deftness of the pilot for an entire season? Asked to contemplate that possibility, critics tended to get worried expression on their faces. Of course, we wanted to bet on Jane Gloriana Villanueva and her family; we wanted to think it could be done. But TV is in the business of breaking hearts, and many a fine show has gone down in flames a few months, or sometimes just weeks, after a promising debut.
How awesome is it that "Jane the Virgin" rewarded our faith in it with an incredibly strong and entertaining first season. The finale energetically capped a series of season-long sagas that kept twisting and turning every week without generally losing their shape, and now that we know Jane, Rogelio, Xiomara, Alba, Michael, Rafael and even Petra better, nearly every moment of the finale landed with more force and every in-joke was that much more fun. Not only has a lot of old business been wrapped up, there will clearly be many soapy twists and tear-inducing moments when Jane, her little son Mateo and the rest of her clan return in the fall.
But without further ado, here are a few of my favorite elements of the fab Season 1 finale:
The baby! The idea of Jane becoming a mother is so familiar by now that it had practically become mundane — except, as things transpired in the finale, it wasn't! It was genuinely moving when Jane held her tiny son in her arms, and before that, the sight of the three Villanueva women together, with Xio cheering on Jane and repeating what Alba had told her during Jane's birth, was just magic. There has been a lot of turmoil lately when it comes to the men in Jane's life, but the show returned to its core strength in that scene: It focused on the three women of the family, whose love for each other and for the new member of the family could practically be felt in waves coming off the screen.
The name! When Alba started crying at Jane naming the baby Mateo, well, forget it. If you didn't at least get a lump in your throat, you're a monster. And if there is a sweeter and more emotionally effective scene on TV this year, I will eat my hat and then cry a little more.
The bus! Not a lot of TV shows feature multiple working-class characters, and shows that do tend to be serious, if not depressing or downbeat. One of the best aspects of "Jane the Virgin" is that it takes the Villanueva's budget and bills seriously, but it never assumes that the characters are downtrodden or unhappy about their lives — quite the opposite, in fact. The show celebrates their hard work and aspirations while not getting too sentimental about what it's like to have to think hard about where each dollar will go. In any event, the whole bus trip was delightful and hilarious, and it was typical of the way the show celebrates the way hard-working people look out for each other. The wild bus trip was also one of many callbacks to the pilot, which also showed Jane taking public transportation and being addressed by a talking Rogelio poster. In the finale, though, even the crosstalk by the bus passengers was a hoot ("Is there a doctor on board?" "I'm a vet.")
The narrator! The Latin Lover Narrator has been a delight from the start, but his presence has only become more enjoyable over time. The finale gave his lively personality even more room to shine ("Zoinks!"), as he alternated between narration modes, one minute cheering on Jane, the next minute commenting on the action and in other scenes, reminding us of various shenanigans that transpired during an eventful Season 1. I'll miss the show during the summer, but I may miss the warm voice of the narrator (Anthony Mendez) most of all.
Rogelio! "Jane the Virgin" is a busy show with lots of plots to keep spinning, which sometimes cuts into Rogelio's screen time, and I'm sure he would agree that that is a tragedy. Every moment of Jaime Camil's screen time in the pilot was gold, from his petulant conversation with Xio in Vegas to his clear desire to hashtag the birth of his grandson (#TeamMatelio).
A surprise Vegas wedding! Ro and Xio are married! Zoinks!
So many little things. Even as the show pulled off big moves— Mateo was abducted! Sin Rostro is back! Michael's spy-worthy stratagems! — it had fun with the smaller moments and less showy scenes. Michael and Rafael fighting over Jane and her giving them expert side-eye was great, as was our introduction to Rogelio's wake-up song ("It's another beautiful day to be Rogelio!"). Not only was the finale expertly constructed, it was just zippy and moved fast, but it didn't rush past any of the emotional moments, all of which were very effective. It's killing me that we have to wait until the fall for more "Jane the Virgin" goodness.
The stats! OK, this is cheating a little bit, given that this factoid relates to Season 1 as a whole, not just the finale. But this information is worth pointing out. During its first season, "Jane the Virgin" employed 15 directors. Nine of them were women, and four of them were women of color. And, as it happened, during its first season, the show received the CW's first-ever Golden Globe, its first-ever Peabody Award and lots of other attention and acclaim. Well, how about that?
Ryan McGee and I discussed the "Jane the Virgin" finale, as well as several other shows, in a Talking TV podcast that you can find here, on iTunes and below.
Calling all HuffPost superfans!
Sign up for membership to become a founding member and help shape HuffPost's next chapter