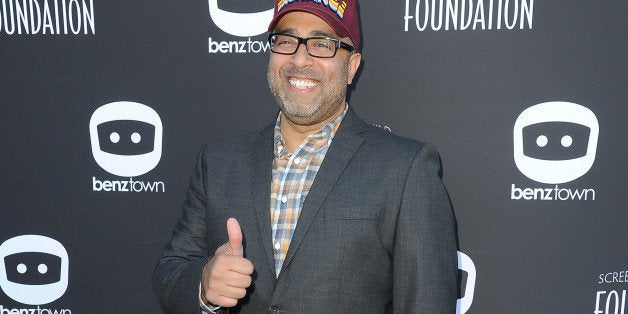 Anthony Mendez's deep, sultry voice has become synonymous with the CW's new hit series "Jane The Virgin." But fans will likely never see his face on screen.
As the show's narrator, Mendez guides the viewer through plot twists and the chaos that surrounds Jane. The bilingual voice actor recently told The Huffington Post that while he loves having such an important role in the series, he's also fond of the anonymity his job offers him.
What's it like being one of the most prominent characters on a hit show but never having your face on screen?

I like it. I've been doing voice overs now for like 10 years, and part of it -- what I love about it -- is that most people have heard my voice at one point or another because I do a lot of network promos but you still maintain that anonymity, which is good for the family. This ["Jane the Virgin"] has kind of brought me out of the vocal booth in a sense, but I still try to find that balance where I don't allow it to because you still want to maintain a certain level of mystery. But I like the fact that it's been critically acclaimed but yet nobody has seen me, and I don't think we will.
You're based in New Jersey but the show is filmed in California. So what is the voice over process like?
That's a good question. For the table read I Skype in, so what we do is called a phone patch. I have my own studio in my home, which is where I do the show from. So for the table read, I do get to read with the cast, which is great. I get some ideas and choices. But then for the actual episode recording, it's just Jennie Urman or Gina Lamar, one of the producers, that directs me. So I don't get to see [the cast] or play with them when it comes to the final stuff anyways. Besides, if you've ever been on set it's a lot of stop and go anyway, so they kind of have the same rhythm. So I wouldn't really get to play like let's say if you were on stage or something.
So you're the last stop in the filming process?
Yea I think in most productions -- whether that's an on-air promo for a network, whether it's a movie trailer or show -- voice overs are seen almost as post-production. So we're like the transition between acting and post-production I think.
"Jane The Virgin" has made a mark with it's unique use of a narrator and on-screen text. In the past you've worked on shorter voice over projects, so how do you approach this project that relies on your voice throughout every episode. Has it felt very different from what you've done in the past?
Yea, I usually do promos and movie trailers, and this has allowed me ... to really flex my acting muscles because it's telling a full story. I always tell people I'm just grateful to have more than 30 seconds, which is usually what I had before.
You mentioned the importance of anonymity for your family. Do you have any children who are fans of the show?
Yeah my daughters, but they're too young. They're 9 and 8. So I let them see certain things, when there's no murders or overt sexual things. So they get to only see the parts that I do.
They don't get to see you on screen, but I imagine they do recognize your voice.
They do! They can pick out my voice no matter whether I do a character or not. But they don't care. I was in the car one day, and a radio spot came on. And they said, 'Is that you daddy?' I said, 'Yea, that's daddy. Daddy's famous!' And they said 'And nobody knows it.' So they keep me grounded.
Calling all HuffPost superfans!
Sign up for membership to become a founding member and help shape HuffPost's next chapter