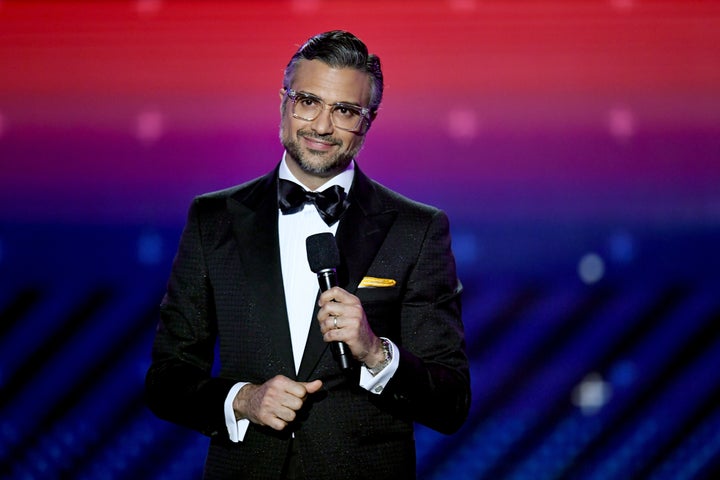 "Jane the Virgin" star Jaime Camil is so not here for the way award shows continue to ignore Latino talent.
The Mexico-born actor, who portrays Rogelio de la Vega on The CW show, spoke to Slate magazine in an interview that was released Friday about Latino representation on television. Camil did not mince words, pointing to how award shows like the Screen Actors Guild Awards overlook Latino actors and actresses.  
"I think this 'minority,' quote-unquote, is the economic engine of this country, basically," Camil told Slate. "It's ridiculous right now … Gina Rodriguez and everybody at the show, we were outraged about the fact that SAG-AFTRA and other award shows didn't nominate one single Latino in their shows. It is not that we want to get an award for free, like, 'Oh, the poor Latinos, throw them a little bone. Throw them a little award just for them not to feel ignored.' No, no, no. Fuck you. It's not about that."
"Do you think [Gina] should not be nominated for a SAG-AFTRA award or for a Critics' Choice or whatever? It's ridiculous … I mean, 'Modern Family,' again, for the 12th year, same nominations? Really? Can't we move on? Can we look to the other amazing shows that are being created, like 'One Day at a Time' with Justina Machado?"
The star also called out Hollywood and the Oscars for being righteous about inclusiveness and diversity while failing to recognize actors and actresses of color. The Academy of Motion Picture Arts and Sciences' Oscar nominees failed to include any Latinos or Asians in all four acting categories this year.
Rodriguez, too, was a vocal critic of the absence of Latino actors and actresses among Oscar nominees. 
The titular star of "Jane the Virgin" also called out the industry on the red carpet at this year's SAG Awards for not casting Latinos as leads.
"I mean, we do make [up] 55 million plus in the country — no big deal — you should throw us in a movie or two, it would make sense," Rodriguez said during an interview with E! News. "We do buy 1 in every 4 tickets every single weekend and make sure that your movies do well. So it would do you a service. And not only service, it would be — I don't know — integrity." 
REAL LIFE. REAL NEWS. REAL VOICES.
Help us tell more of the stories that matter from voices that too often remain unheard.