Paradigm Shifters is a series of interviews with a select group of women from eclectic walks of life. It will highlight real life insight on how women have been able to turn weakness into strength. Each interview is the naked truth about breakdowns that inspired breakthroughs. These women have experienced internal changes, which make them quintessential Paradigm Shifters.
Everything I have ever done has been focused on this underlying theme of shifting the paradigm because "what we think determines what we feel, and what we feel determines what we do." Hence why Seven Bar Foundation and Empowered by You takes lingerie, which has traditionally been seen merely as a tool of seduction, and makes it a tool of empowerment.
I hope after reading these stories you will look at your own situations, struggles and accomplishments through a different lens and, at the very least, be better equipped to change your own paradigm. At the end of the day, we are our own alchemists turning the silver we were born with into the gold we are destined to become.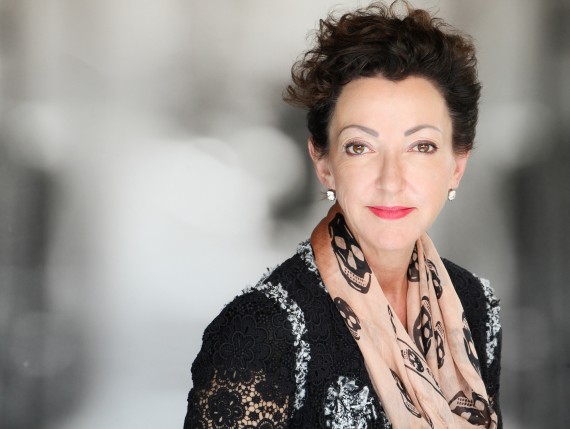 Jane Wurwand - Co-Founder and Co-Owner of Dermalogica and The International Dermal Institute
Jane you're a successful entrepreneur, and as such, you're an inspiration to all women, but your lifetime achievement is women's empowerment. How did you get to that?
We spoke about this idea that your greatest pain is often when your purpose is revealed. I've always said that if you could identify the greatest pain in an industry, then you've just identified the greatest opportunity, as an entrepreneur. In the professional salon industry there was a lack of education and training. We started teaching skin therapists how to build and run their business, and that became the International Dermal Institute. Three years after that, we realized the big opportunity was a product that was exclusively in the hands of a professional skin therapist. And that became Dermalogica.
Going back further than that, I thought of my childhood, because my mother was widowed at the age of 38 and she was left with four children. My mother trained as a nurse and had to fall back on that training, even though she hadn't worked since she got married. She taught my sisters and myself: You have to learn how to physically do something, it's not just about an education, so that at a moment's notice, you can provide for your family and put food on the table. No matter what happens in your life, you must always be financially independent.
It makes a lot of sense now that you do FITE, because it's all about setting women up in business so that they can be self-reliant.
FITE stands for Financial Independence Through Entrepreneurship. At Dermalogica, we wanted to develop a social impact piece that closely reflected my story of financial independence. It also reflects the industry, which puts more women into their own business than any other industry in the world. We wanted to tell a story of entrepreneurship and financial independence and we wanted to amplify it, so that we could make that impact to women outside of our industry. In 2010 we made a commitment to help fund 25,000 women into their own business over a two-year period, in a partnership with Kiva. Their technology allowed people to go online and read the stories of the women and then FITE funded those loans, as directed by our end consumer. It was an opportunity to engage our entire supply chain.
How do you come to women's empowerment?
There's an opportunity right now to really change the perceived value of women. Empowering a woman economically is not only the opportunity to change a GDP, but how you're solving most social issues. Women invest 90% of their income back into their family, so it's the quickest way to fight generational poverty. Through FITE, we believe that we can tackle some really difficult issues, and we have expanded our initial KIVA partnership to include education and training, so that women can build successful businesses and sustain them.
You've really turned Dermalogica into a social brand.
Yes, in fact, I believe, from a branding and business leadership point of view, if you have a brand or company, you have to develop a social impact piece that directly relates to the way in which you built your success. It is no longer enough to just make profits and maybe do something philanthropic. It has to be embedded in your brand and that's what will ultimately engage your end consumer.
Looking back, what advice did you wish you had starting out?
"Don't shrink yourself. Don't limit yourself." Don't allow anyone (including yourself) to minimize what your potential is or what your contribution could be. I believe that every single one of us has a unique level of potential and there is a purpose for us being here. Nothing is a coincidence. Every person we meet, every circumstance we're put into, even a challenging one, is there for a reason, and we have to figure it out. Your path is ahead of you and it's there waiting.
When you're having a tough day, how do you turn a bad thing into a good thing?
It's about resilience. It's about if you're strong enough and tough enough to get up even when things aren't going well. There's no day that's completely perfect, but I think that we each learn our way of coping. I think you need to figure that out, because there will be days when things aren't going great. What are your tools, what's helpful to you? And be disciplined about going to that place to help yourself. It's no one else's responsibility to make you feel better. Be brave enough to be vulnerable. Because in our vulnerability is where we find our courage and our bravery.
I met Jane on a rainy day just days before she would receive the Cosmetic Executive Women (CEW) Beauty Award. Jane is warm, with a particular focus and great energy. It was amazing to hear how her paradigm shift, from a tragic event early in her life, became the fuel for an extraordinarily successful career and a passion to impact thousands of women to gain financial independence through entrepreneurship.
REAL LIFE. REAL NEWS. REAL VOICES.
Help us tell more of the stories that matter from voices that too often remain unheard.