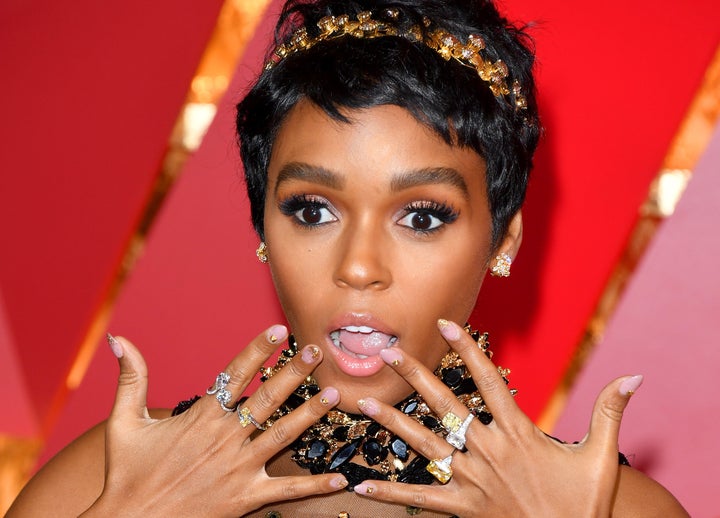 Janelle Monáe has an idea to get people to "start respecting the vagina."
In an interview for Marie Claire's May issue, the singer-songwriter and actress discussed empowerment, breaking down gender norms and why a sex strike might be necessary. Monáe did not hold back.
"People have to start respecting the vagina," she told Marie Claire. "Until every man is fighting for our rights, we should consider stopping having sex. I love men. But evil men? I will not tolerate that. You don't deserve to be in my presence."
She continued, saying that this year she's all about black girl magic:
If you're going to own this world and this is how you're going to rule this world, I am not going to contribute anymore until you change it. We have to realize our power and our magic. Because I am all about black-girl magic, even though I'm standing with all women. But this year? This year, I am so carefree black girl.
The "Hidden Figures" and "Moonlight" actress also discussed why it's so important to push back on gender stereotypes.
"It is important for women to be [in control], especially when gender norms and conformity are pushed upon us," Monáe told Marie Claire. "Women automatically are told that this is how you should look. This is how you should get a man. This is how you should get a woman. You need to fit into all these boxes to be accepted. I don't subscribe to that way of thinking."
In true Monáe fashion, the actress reminded readers just how important it is to stay true to yourself.
"I believe in embracing what makes you unique even if it makes others uncomfortable," she said. "I have learned there is power in saying no. I have agency. I get to decide."
Head over to Marie Claire to read all five of their May cover star interviews, with women like Emily Ratajkowski, Aja Naomi King, Zoey Deutch and Alexandra Daddario.
Support HuffPost
The Stakes Have Never Been Higher
Related
Popular in the Community