Etsy is a wonderful place that's full of epic fan art and handmade goodies. So, we weren't too surprised to see midi rings decked out in our favorite foods -- like a basket of fries, sushi and pizza -- selling on Jane Moate's Jane's Tiny Things shop.
And Jane's fingerlickin' designs couldn't be more relevant, according to the nation's current state in eating. While we're spending more money on salty goods, the Internet is a prime example of how snacks are manifesting themselves into our everyday lives, as explained by the snackwave theory.
So, we talked to Jane about her rad shop and learned the incredible process behind these delightfully greasy gems, also known as the yummiest jewelry we've ever seen.
What is the inspiration behind these rings?
As a nail artist and a nail decal designer, I'd hear from so many people that thought my designs were cool but couldn't imagine wearing crazy nail art. I love midi rings and I thought this was a perfect place to put something kind of quirky and silly. And since I'm just always thinking about food (seriously, breakfast ends and I'm already wondering what we're doing for lunch), I had to make them food-themed.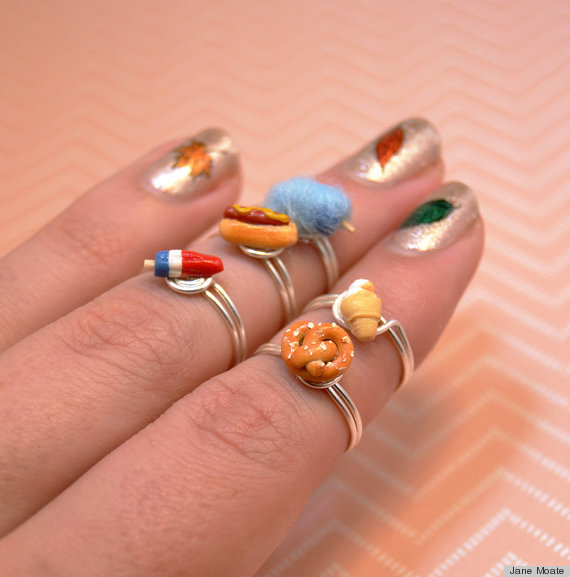 Have you always wanted to make accessories?
I have always wanted to own my own business. From when I was a little girl, writing out catalogs on folded pieces of paper, handing them out to my family, and then asking them to buy things like perler bead necklaces and pencils I had covered in wrapping paper. I tried a lot of different kinds of careers, including an accessories business I had with my sister about ten years ago. I do love making accessories. They can be your favorite thing of the moment or your favorite piece of a lifetime, and I love the personal nature of something that's on your fingers that you're constantly holding and touching.
What are the materials you use to make these?
I make each piece from polymer clay by hand. No molds: each one is completely sculpted. And the rings are actually made by me, too, out of brass or silver-plated copper wire.
What is the design process like? Do you bake them in an oven?
I start out looking at a million pictures of what I'm going to be making so I have reference of what the variation of colors and textures look like -- if the piece should be shiny or wet-looking or more matte or a mixture of the two. Then I use the ring itself as a size guide and start sculpting the piece. I add texture using pins and toothbrushes and crumpled up pieces of foil, and then brush on color using soft pastels to add those variations you see on actual food. And then they're baked in an oven and glazed, either with a a satin finish or a gloss.
What's the best-selling ring?
Best selling by far has always been the pizza slice. There's seriously nothing better than a perfect slice of pizza. That ring makes me hungry every time I wear it.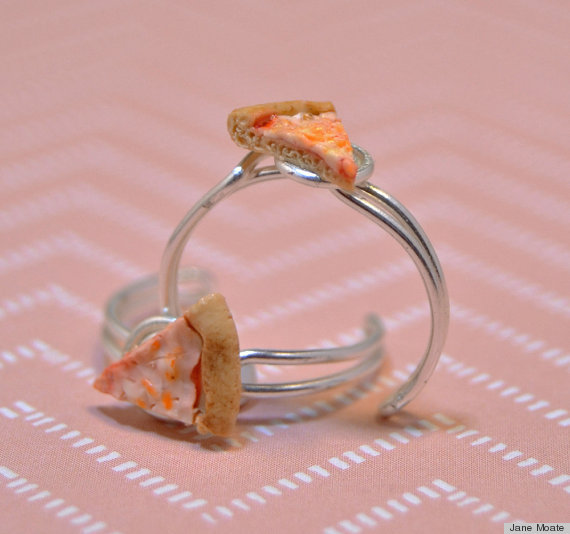 If there's one food you could make, what would it be?
I love to do foods that are a little off-beat, like the fish bagel. Something people wouldn't normally think of adorning their fingers with, but the ones that get it are always like, "Um, so this is the ring that I've been wanting all my life and just didn't realize it."
I'm from New Jersey and I absolutely love diners, so I'd love to do mini diner plates of food. Like, a bowl of matzoh ball soup, a chicken salad sandwich with a pickle and cole slaw, things like that. They'd be microscopic and you'd probably need a magnifying glass, but I think they'd be cute!
Speaking of which, is there a food that's super tricky to nail down?
Sushi is probably the hardest because there are a lot of little pieces that all need their own individual texture. Where you see "rice," there has to be a lot of texture to show that there are grains in there. The seaweed can't be smooth. Adding the fish roe takes a long time, because each piece is individually placed.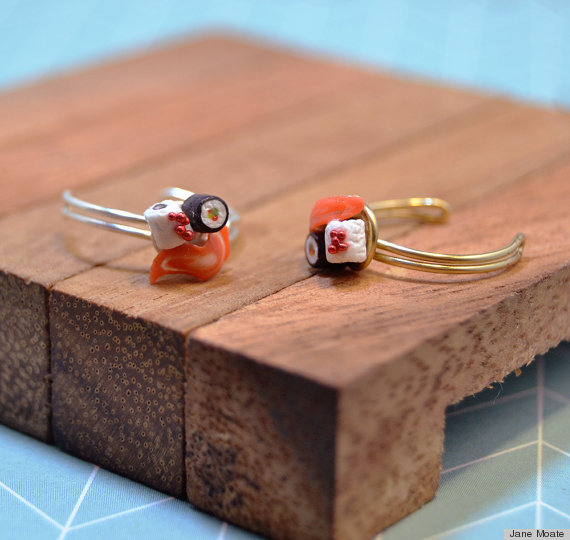 Do you ever get requests from customers?
Two of my customer favorites - the bacon, egg and cheese set, and the cheeseburger - both started out as custom requests. I love when customers want something special because food and jewelry are both super personal, and making someone's favorite snack come to life is a lot of fun for me.
This interview has been condensed and edited for clarity.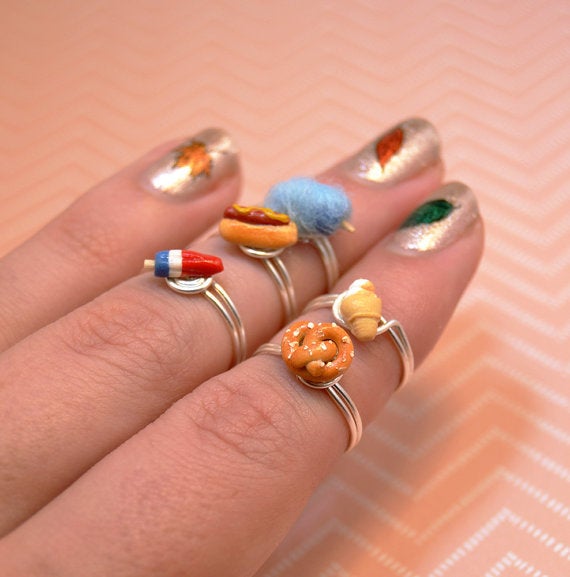 Jane's Tiny Designs Food Rings