Jane Jacobs (1916-2006), writer and activist, published her critique of post-World War II urban planning policy in her book, The Death and Life of Great American Cities. Jacobs begins her book with a pointed challenge: "This book is an attack on current city planning and rebuilding." For New Yorkers, these urban policies were personified by Robert Moses.
Jacobs held Moses responsible for the decline of many neighborhoods in New York City. They fought a David vs. Goliath battle with Jacobs in the role of the stone-hurling shepherd. Jacobs was determined to save city neighborhoods from Moses' grandiose urban renewal plans. But enough about him....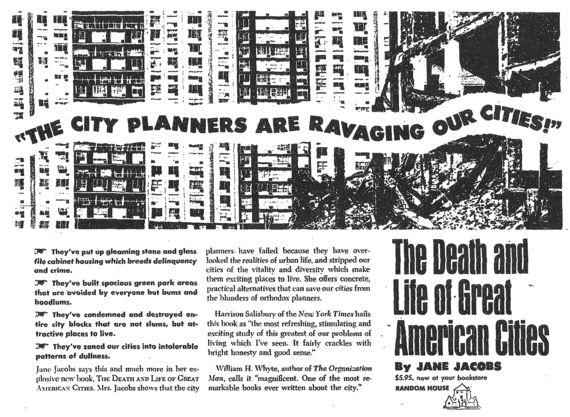 Photo by pdxcityscape via Flickr
Next week, the Municipal Arts Society (MAS),and other organizations in cities across the globe, are sponsoring Jane's Walk, a series of citizen-led walks throughout the five boroughs. The initiative is designed to get folks to tell stories about their own neighborhood, explore their community and connect with neighbors. It's a community-based effort in urban literacy. Let's just call it a celebration of the local; in plain sight, but often overlooked and unappreciated.
Jane Jacobs' work was inspired by her years living in Greenwich Village, a mix of townhouses and tenements on twisting and narrow streets that did not conform to the city's grid. She contrasted life in the Village, a cohesive community, with the grandiose plans of Robert Moses. His "towers in the park" concept, anathema to Jacobs, was then changing the face of New York City. But really, enough about him....
The Jane's Walks tours are listed by location and topic on the MAS web site. The theme of each walk is up to the volunteer organizer, and all walks are free and open to the public.
In Brooklyn, the Go Dutch in Flatlands! Jane's Walk led by volunteer Ellen Halliday, is actually a bicycle tour meeting at the Flatlands Dutch Reformed Church on Kings Highway. The church was built in 1848 for a congregation founded in 1654. The tour description reads: "Let's dish some history and gossip while we bike around with a side of vinyl replacement windows!"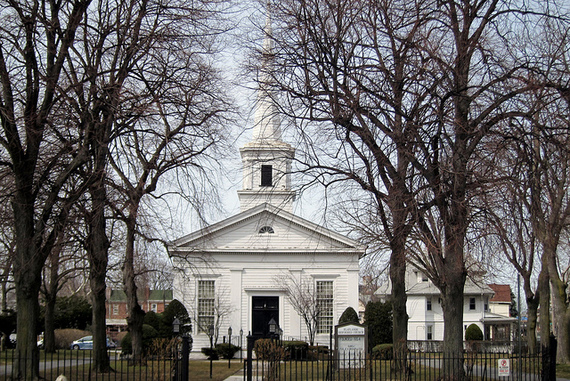 Photo by Wally Gobetz via Flickr
Volunteer Anna Araiza will lead the Old Croton Aqueduct Walk. Beginning in the Bronx, the tour will cross the Hudson River via the High Bridge, New York City's oldest bridge and end up in Manhattan at the Highbridge Water Tower and reservoir (now the Highbridge pool).
Says Araiza: "The summer of 2015 brought the inaugural re-opening of the Highbridge, the only pedestrian bridge connecting the Bronx and Manhattan. With the restoration project now complete, I invite you to explore the Old Croton Aqueduct..."
This year, which would have been Jane Jacobs' 100th birthday, the MAS lists more than 200 Jane's Walk offerings. There is no advance registration. Just turn up at the designated meeting site, explore a new neighborhood and meet fellow New Yorkers. Let's Get Walking!
Cities have the capability of providing something for everybody, only because, and only when, they are created by everybody.

-- Jane Jacobs, The Death and Life of Great American Cities
Related
Popular in the Community