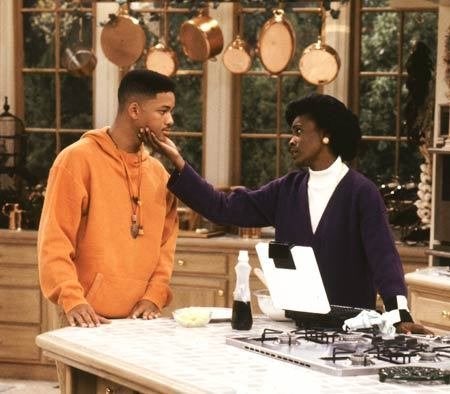 Count Janet Hubert, the first Vivian Banks, out of any heartwarming "Fresh Prince of Bel Air" reunion.
Last week, some of the major players from the early 90s Will Smith show got together at a charity event, leading to speculation that maybe, just maybe, fans would be treated to an on-air reunion. Smith even posted a photo of their get together on Facebook, writing "Got the Holiday season started right with a 'Fresh Prince of Bel Air' reunion...there's nothin' like spending Holidays with fam!"

Hubert, who played Will's aunt Vivian on the show, was noticeably absent, and it wasn't a clash of schedules.
"There will never be a reunion ... as I will never do anything with an as*hole like Will Smith," the actress told TMZ this weekend. "He is still an egomaniac and has not grown up. This constant reunion thing will never ever happen in my lifetime unless there is an apology, which he doesn't know the word."
Hubert was replaced on the show by Daphne Reid following the 1993 season when her contract ran up and she could not reach a deal with NBC. As she wrote in her 2010 memoir, she was only scheduled to work for ten weeks during the following season's production and was restricted by contract from other TV appearances, and could not make a living under those terms.
During the highly publicized fallout in 1993, Smith blasted Hubert for her attitude.
"I can say straight up that Janet Hubert wanted the show to be 'The Aunt Viv of Bel Air Show' because I know she is going to dog me in the press," he told an Atlanta radio station. "She has basically gone from a quarter of a million dollars a year to nothing. She's mad now but she's been mad all along. She said once, I've been in the business for 10 years and this snotty-nosed punk comes along and gets a show.' No matter what, to her I'm just the AntiChrist."
As she told BVonBooks at the time (the site is now part of HuffPost's Black Voices), "My departure was planned for a long time... There will never be a reunion of the 'Fresh Prince.' Will Smith and Alfonso [Ribiero, who played Carlton Banks] destroyed a 20-year-career with untruths. I got slammed. Will apologized later in an 'Essence Magazine' article, but it still lingers. It's still there."
"I was a dark-skinned, African-American mother, and Will used to tell the you're-so-black jokes to the audience before the show, and at one point, I came out and stopped him, and the audience went 'Woooo,'" she remembered. "He didn't understand how unbelievably disrespectful that was to women like me... 'Yo mama's so black, when she looks at her shoes, she thinks she's looking in the mirror. Ha, ha!'"
Popular in the Community