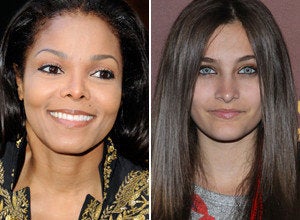 It's no secret that Janet Jackson felt forced into the spotlight as a child, and now that her late brother Michael's daughter, Paris, has landed her first movie role, Janet is again urging Paris to steer clear of the entertainment industry.
"We've spoken about the fact that you're only a child once. I think there's a time for everything, and now is not the time [to act in films]," she told the magazine. "I told her I thought she should enjoy being a kid, possibly go to college -- or not -- but wait till she turns 18. She's a very tough, smart girl. But it's a cutthroat industry. I wouldn't want my child to do it."
When news that Paris landed her first movie role first broke, Janet then too expressed her reservations about her niece's career aspirations.
"I got into the business at a young age. It's not an easy thing," she told "Access Hollywood". "Your childhood, you completely lose [it] and I didn't get to experience that, so she has the rest of her adult life to be that actress that she wants to be, and I told her that"
In the past, Janet had revealed the devastating effects that working in the entertainment industry as a child had on her self-esteem and body image.
"I was actually doing 'Good Times,' and on our first day of shooting they bound my chest because they thought my breasts were too big. I got the part when I was 10, we started shooting when I was 11 -- I was developing early. It made me feel that the way that I am, it's not good enough," she told ABC News in 2010.
As a result, the 46-year-old performer has struggled with her weight at both ends of the spectrum for decades, admitting that health was "always" a concern and revealed a health scare she dealt with a few years back.
"When I gained weight in 2005, my nutritionist was very worried. I was close to having diabetes. Even when I lost it [and] then gained quite a bit back, there was always the thought of heart disease," she told Prevention magazine.
It's been a struggle for the singer, but she also opened up to the magazine about how her loved ones help her stay healthy.
"Knowing I have these problems with body image, I ask my friends and family to tell me when I've lost too much too. Because I will continue to pick on myself, like all women do, and say, You need to [lose] more here, more there," she explained.
PHOTO GALLERY
Child Actors That Succeeded In Adulthood
Calling all HuffPost superfans!
Sign up for membership to become a founding member and help shape HuffPost's next chapter
BEFORE YOU GO