 WASHINGTON -- The Supreme Court on Friday morning officially relieved CBS of a $550,000 fine over Janet Jackson's infamous "wardrobe malfunction" during the 2004 Super Bowl Halftime Show.
The justices denied the government's petition in Federal Communications Commission v. CBS to review a lower court's decision that the hefty penalty for the brief moment when cameras caught Jackson's accidentally exposed breast constituted an unlawfully arbitrary departure from the FCC's prior policy of looking the other way when network censors failed to catch fleeting expletives.
Last week, the Supreme Court had dodged a First Amendment challenge brought by Fox and ABC against the Bush administration's more aggressive policing of broadcast indecency, instead throwing out the fines because the FCC had given "no notice to Fox or ABC that a fleeting expletive or a brief shot of nudity could be actionably indecent." The decision in FCC v. Fox Television Stations came as a surprise, with some high-court observers suggesting it was a compromise solution for a court that may have been deadlocked 4-4 over the free speech issues. Justice Sonia Sotomayor had recused herself from the case, which came from her prior posting, the U.S. Court of Appeals for the 2nd Circuit.
There were no recusals in FCC v. CBS, yet the case failed to obtain the four votes necessary for the justices to grant the petition. Usually such denials come without comment, but Chief Justice John Roberts and Justice Ruth Bader Ginsburg both issued opinions concurring with the order.
Roberts expressed sympathy for the FCC, noting that its pre-2004 leniency toward fleeting expletives had no bearing on fleeting images. "As every schoolchild knows, a picture is worth a thousand words, and CBS broadcast this particular picture to millions of impressionable children," he wrote.
Although the Supreme Court let ABC, Fox and now CBS off the hook, Roberts reminded the networks that they now have fair warning that "the brevity of an indecent broadcast -- be it word or image -- cannot immunize it from FCC censure." The chief also took a moment to rib Jackson and her Super Bowl co-performer, Justin Timberlake, for "subsequently strain[ing] the credulity of the public by terming the episode a 'wardrobe malfunction.'"
In her opinion, Ginsburg pointed in the opposite direction, suggesting that the FCC "reconsider its indecency policy in light of technological advances and the Commission's uncertain course since" the Supreme Court first gave its blessing to such regulation in 1978.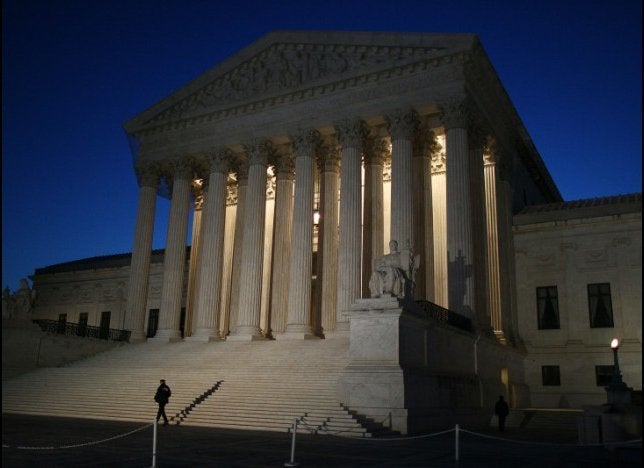 Political Reaction To Health Care Ruling
Popular in the Community