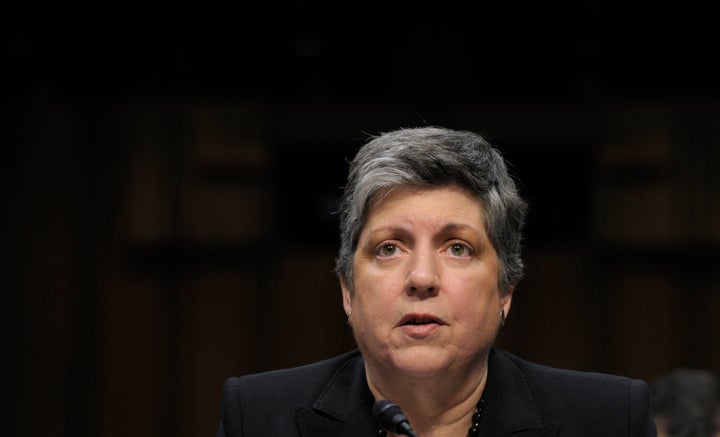 WASHINGTON -- Department of Homeland Security Secretary Janet Napolitano said Monday that the release of 2,000 undocumented immigrants from detention was primarily based on the normal ebb and flow of removal, not the budget.
"We are constantly ... moving people in and out of detention," she said at an event hosted by Politico.
Immigration and Customs Enforcement released "several hundred" immigrants from detention -- but not removal proceedings -- last week, citing budget concerns ahead of looming funding cuts. Both the White House and Napolitano herself have said the decision came from career public servants, not upper-level officials. The Associated Press reported Friday that those immigrants were among more than 2,000 people released from detention in total since February. There are plans to release 3,000 more, the AP reported.
Napolitano acknowledged that some undocumented immigrants were freed due to budget cuts, but said the report that all the releases were related to funding was "really inaccurate."
Still, she said, the ICE has a problem with funding. Napolitano said Congress expects the agency to keep 34,000 beds full, but doesn't always give the funding necessary to do so.
"With the sequester and the end of the continuing resolution in a couple of weeks, it's like the perfect storm," she said.
The move to release some people from detention was criticized by a number of Republicans, who said it showed the Obama administration's lack of commitment to immigration enforcement and would put the public in danger, although only non- and low-level criminals were released.
At the Monday event, Napolitano emphasized that immigration reform is necessary to prevent an increase in people illegally entering the country in the future, which she said can be expected if businesses can't bring in enough workers and the government doesn't offer a better way to police employers who hire unauthorized workers. Reforms should include some sort of biometric identification so that undocumented workers can be identified, she said.
"As the economy comes back, we are likely going to see more attempts to try to get to the United States for jobs," Napolitano said. "This is why -- one of the reasons why -- we need to address the immigration system writ large."
Calling all HuffPost superfans!
Sign up for membership to become a founding member and help shape HuffPost's next chapter
BEFORE YOU GO
PHOTO GALLERY
Bipartisan Immigration Plan's Key Provisions