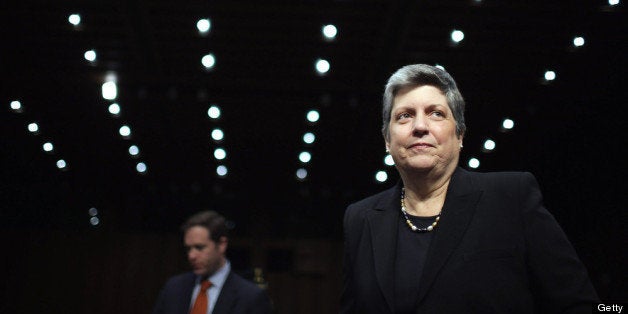 Homeland Security Secretary Janet Napolitano has resigned to head the University of California system, and many are remembering her efforts to secure the border while also advocating for immigration reform.
Napolitano, a Democrat, became the first woman to lead the department in 2009, after President Barack Obama appointed her. In a statement, Napolitano recalled some of the highlights of her career as head of the Department of Homeland Security (DHS), including the implementation of "smart steps that make our immigration system more fair and focused while deploying record resources to protect our nation's borders."
Obama responded to Napolitano's announcement to resign by thanking her for her "outstanding work." He also touted her efforts on border security:
"Since day one, Janet has led my administration's effort to secure our borders, deploying a historic number of resources, while also taking steps to make our immigration system fairer and more consistent with our values."
Janet Napolitano's record on border security, deportations
During her four-year tenure at Homeland Security, Janet Napolitano drew criticism from conservatives and immigrant rights advocates alike for her efforts to secure the border and ramp up the number of deportations.
Napolitano led efforts to deploy more resources to protect the United States' borders. Today, Border Patrol is better staffed than ever before, with more than 21,000 border agents — up from about 10,000 in 2004 — deployed mostly along the nation's border with Mexico. DHS has also deployed more surveillance technology along the highest trafficked areas across the southwest border.
According to DHS, these efforts have resulted in apprehensions decreasing by 53 percent since 2008. Over the last three years, DHS has also seized 74 percent more money, 41 percent more drugs, and 159 percent more weapons along the Southwest border. Crime along the four southwest border states — Arizona, California, New Mexico and Texas — has also dropped significantly since 2008.
Despite these numbers, many Republicans have criticized Napolitano, saying DHS has not done enough to secure the nation's borders.
At the same time, Napolitano has also received a lot of heat from immigrant rights advocates over the record-breaking numbers of deportations under her leadership. Approximately 400,000 people have been deported every year since she became DHS secretary, with about 1,200 people being deported every day.
Napolitano has defended these numbers, saying DHS is focused on deporting immigrants who have committed serious crimes and pose a threat to national security. But advocates have been quick to point out that many of the deportees have been deported after being jailed and charged with minor crime violations, including driving without a license.
In a statement responding to Napolitano's announcement to resign, Chris Newman, legal director for the National Day Laborer Organizing Network, denounced the 400,000 deportations quota set every year under Napolitano's leadership. He also criticized Napolitano for implementing the Secure Communities program, which allows state and local police to check the fingerprints of an individual using DHS's immigration database to see if that person is authorized to be in the country.
Newman went on to say that with the "sole exception" of the Deferred Action for Childhood Arrivals — a federal program announced last year that freezes the deportations of undocumented youth and allows them to get work permits — Napolitano's tenure on immigration "has been an unmitigated failure."
Meanwhile, Ali Noorani, executive director of the National Immigration Forum, had positive things to say about Napolitano. He said in a statement Friday:
"Secretary Napolitano has one of the most challenging jobs in Washington. She enforces an immigration system that even she recognizes is 'broken.' Importantly, Napolitano has welcomed debate. Whether engaging advocates or dealing with enforcement-only hawks, she has been a powerful advocate for immigration reform."
A long-time advocate of immigration reform
Besides pushing for borders security, Janet Napolitano has also been a strong supporter of immigration reform legislation that would pave a pathway to citizenship for undocumented immigrants.
Her call for immigration reform dates back to when she was governor of Arizona from 2003 to 2009. During her time as governor, the Arizona State Legislature proposed a number of tough immigration bills. She vetoed most of these bills, including one that would have made it a crime for day laborers to seek for work on public streets. She also vetoed other bills that would have penalized employers who hire undocumented workers and would have made it a crime for undocumented immigrants to merely be in the state.
As governor, Napolitano exercised her veto power more times than any other governor in Arizona's history, which drove state Republicans to call her "Governor No." Still, she kept an approval rating of more than 70 percent.
As governor, she also advocated for immigration reform. She continued that advocacy as DHS secretary and made numerous calls for legislation that would modernize the nation's immigration laws.
Most recently, she has been a vocal supporter of the Senate-approved immigration reform bill. In April, she testified in favor of the bill before the Senate Judiciary Committee. She told the members on the committee:
"We must not miss this opportunity to enact meaningful reforms to not only strengthen our immigration system but also to ensure that our nation remains a land of opportunity for immigrants, businesses, and all those whose dreams, aspirations, hard work, and success have contributed to our nation's uniqueness, diversity, cultural richness, and economic strength since our founding."
Before You Go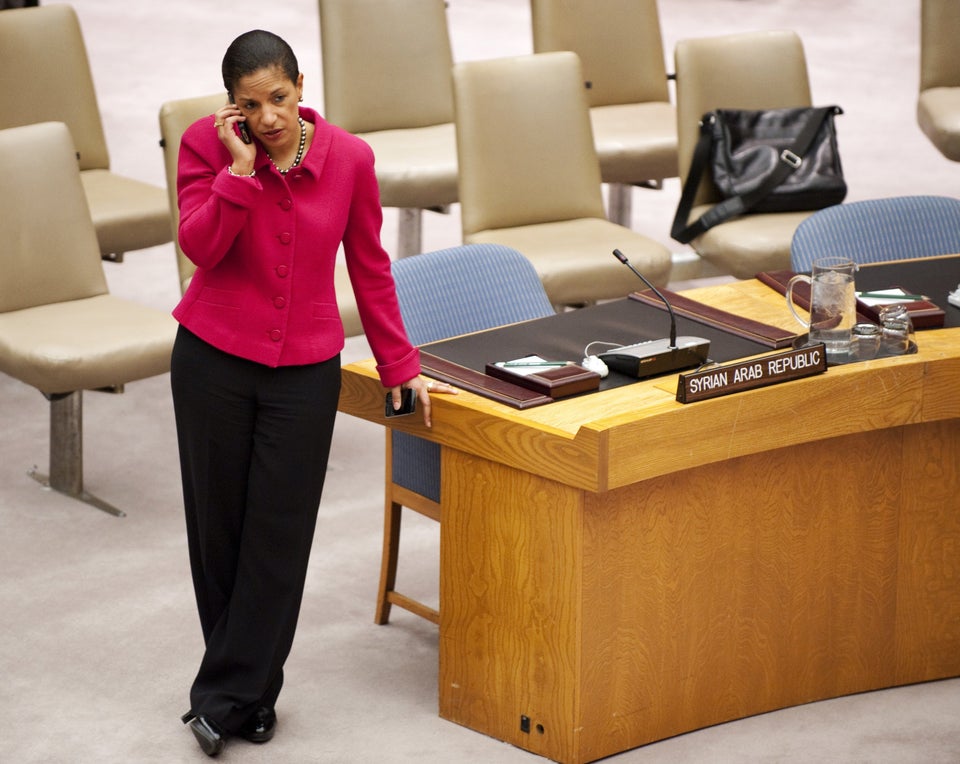 The Women Behind Obama's Presidency
Popular in the Community