President Barack Obama has the authority to take executive action on immigration -- and that's what he should do, says former Homeland Security Secretary Janet Napolitano.
"If Congress refuses to act and perform its duties, then I think it's appropriate for the executive to step in and use his authorities based on law ... to take action in the immigration arena," Napolitano, now president of the University of California system, told The Washington Post, according to an article published Monday morning ahead of Napolitano giving a speech at the University of Georgia School of Law.
The former secretary's remarks focus on the decision-making behind the 2012 Deferred Action for Childhood Arrivals, or DACA, a policy that allows young undocumented immigrants who came to the U.S. as children to apply for two years of work authorization and the ability to stay. The program was created and first implemented under Napolitano, and could serve as a model for broader executive action under consideration by Obama that could grant deportation reprieve to a far larger portion of the undocumented population.
Obama pushed back plans for executive action on immigration until after next week's midterm election, but has said he will make policy changes before the end of 2014. Those plans are a closely held secret -- the White House says no decisions have been made -- but they could include a DACA-like program that would apply to other undocumented immigrants with long-standing ties to the U.S., potentially numbering in the millions.
Plans for executive action come after immigration reform efforts failed in Congress -- much the same way that DACA was a follow-up to the Dream Act, which would have given legal status to undocumented young people but was killed in the Senate during Obama's first term.
In the wake of that defeat, Napolitano said that subsequent plans for helping Dreamers -- the immigrants to whom the DREAM Act would have applied -- were initially complicated by logistical concerns and slow movement within the Department of Homeland Security.
"The law, we believed, was on our side," she said, according to her prepared remarks for Monday's address at UGA. "Bureaucratic momentum was not."
Napolitano described DACA as having a legal basis in prosecutorial discretion, the decision-making processes that all law enforcement agencies use to prioritize cases when resources are limited. The key was that the program require each Dreamer to apply and be considered on a case-by-case basis, she said. Although there were concerns about how DHS would handle the applications and the details, DACA's supporters pushed forward and convinced the White House there were legal grounds for such a policy, she said.
DHS had previously expanded its use of prosecutorial discretion more generally, telling officers to focus on "bad actors" rather than "military veterans; long-time, law-abiding residents; nursing mothers; people with certain family ties; the severely ill; and, yes, individuals who might be called Dreamers," said Napolitano, according to her prepared remarks.
The agency has faced lawsuits and congressional anger in response to DACA, but Napolitano defended the program in her remarks.
"In the absence of action by the House of Representatives on comprehensive immigration reform, something at least needed to be done to address the plight of the Dreamers," she said. "Our answer to that challenge -- DACA -- was the right thing to do, and the lawful thing to do. It was doable, and it was defensible."
Napolitano didn't go into the specifics of what Obama's future immigration executive action could or should be.
"I do not intend to present any fresh, insider knowledge into how these issues will be sorted out going forward," she said Monday, according to the prepared remarks.
Napolitano's tenure as head of the Department of Homeland Security, from 2009 to 2013, was marked by record deportation levels as well as DACA, making her a controversial figure to advocates of immigration reform. In her time at the University of California system, she has increased financial aid and counseling available to undocumented students and voiced support for the Trust Act, a California law that limits local law enforcement's cooperation with DHS.
Napolitano touched on the department's critics from both sides of the immigration debate, recalling a time when she was testifying before the Senate Judiciary Committee and Sen. Jeff Sessions (R-Ala.) took her to task for being lax on enforcement. Just as that was happening, protesters interrupted to say that DHS was in fact deporting too many people.
"The politics of immigration have always been arduous," she said. "We liked to joke, or rather half-joke, at DHS that if both sides were kicking us with equal vigor, well, then we must be doing something right."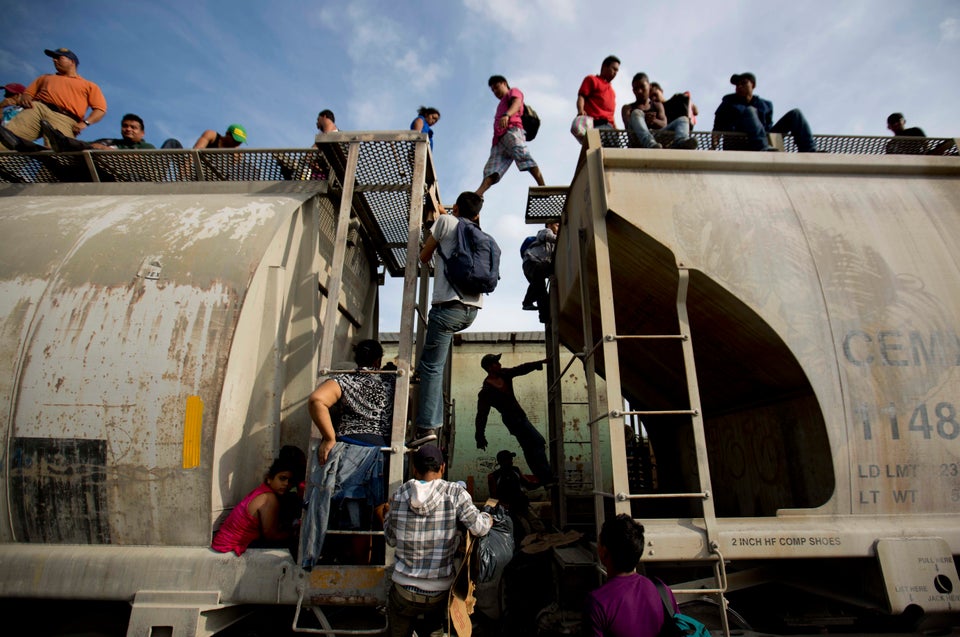 Why Latin Americans Really Come To The U.S.
Popular in the Community