Janet Reno, the first female attorney general of the United States, has died of complications from Parkinson's disease, relatives told the AP and CNN.
"From her work as a prosecutor in Florida pioneering 'drug courts' that gave first-time offenders the chance to avoid jail time, to her leadership enforcing the Violence Against Women Act and Brady Bill as Attorney General, she never forgot that policy matters and makes a difference in the lives of real people," he stated. "It's fitting that she spent her last years with family and friends, living in the house her mother built with her own hands. Janet was her mother's daughter. I will always be grateful for her service, counsel, and friendship."
But her career wasn't only defined by scandal. The longest-serving attorney general of the 20th century, she was a staunch advocate for women's rights and pushed Congress to pass stronger laws protecting abortion seekers and providers.
"I think we should do everything we can under federal law to protect a woman's right to choose from physical restraints that people would try to place on it," Reno told CNN at the beginning of her DOJ tenure.
She also oversaw the capture and conviction of some of America's most notorious criminals, including Ted "Unabomber" Kaczynski and Timothy McVeigh, the man behind the Oklahoma City bombing.
Outspoken, outrageous, absolutely indifferent to others' opinions. Janet Reno was truly one of a kind.

Paul Anderson, Janet Reno biographer
She is said to have had an uneasy relationship with the Washington elite during her years with the Justice Department.
"She simply does not respond to the system of positive and negative incentives that works in Washington: Fear of criticism and ambition for higher office. She's not driven by the need for approval," former acting Solicitor General Walter Dellinger, a close friend of Reno's, told the New Yorker in 1997. 
Reno spent much of her time in D.C. outside of the traditional political quarters. She was instead fond of reading, visiting friends and spending time outdoors. Her sister, Maggy Hurchalla, told the New Yorker that Reno especially enjoyed cutting down trees with a chainsaw as a hobby because it was "more soothing than dealing with Congress."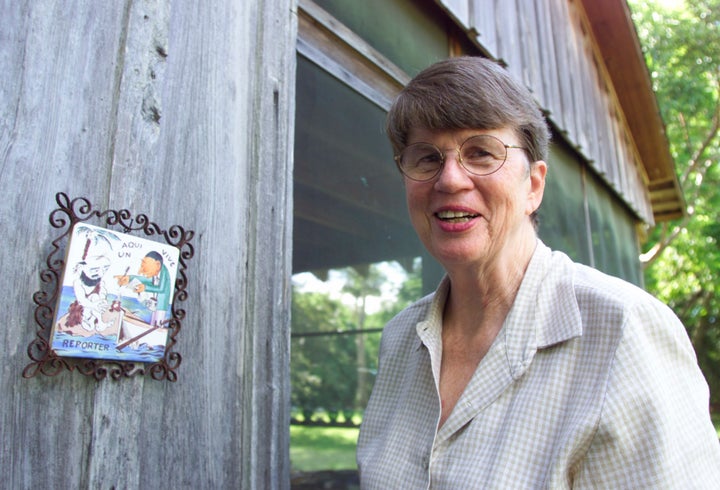 Originally from Miami, Reno began her legal career as an associate at the firm Brigham & Brigham. After serving for several years in both the public and private sector, she was chosen to be Florida's first female state attorney. 
Though she never returned to politics, Reno continued to speak on criminal justice. She was also on the board of directors of the Innocence Project, a reform group that works to exonerate wrongly convicted prisoners.
Late-night comedians often mocked Reno's unfashionable personal style and height. The 6-foot-2-inch attorney became a recurring punchline on "Saturday Night Live" in the skit "Janet Reno's Dance Party," in which she was portrayed by actor Will Ferrell. (She eventually appeared on the show in 2001 for a good-natured cameo sporting the same blue dress as Ferrell.)
After conservatives questioned her sexuality, Reno famously quipped that "the fact is, I'm just an awkward old maid with a very great affection for men."  
This story has been updated with a statement from President Bill Clinton.
CLARIFICATION: An earlier version of this article cited a quote about Jane Reno, Janet Reno's mother. It has been removed.
Calling all HuffPost superfans!
Sign up for membership to become a founding member and help shape HuffPost's next chapter
BEFORE YOU GO
PHOTO GALLERY
Notable People We've Lost In 2016